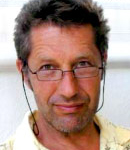 Professor Quentin Sattentau
Subject: Medicine and Biomedical Science
Department: Pathology
College appointment: Emeritus Fellow
Background
I'm a Londoner who did a BSc in microbiology at Bristol University and a PhD at The Royal London Hospital Medical School, Whitechapel. After some postdoctoral time in London I moved to the laboratory of Richard Axel in New York, then to a tenured post in Marseille. Seven years later I returned to a Senior Lecturer post at Imperial College London, and in 2003 took up a lectureship in the Sir William Dunn School of Pathology and associated fellowship at Magdalen College. I live with my family on an island in the West Oxford floodplain.
Teaching
My teaching to medical and biomedical science students covers aspects of infection and immunity, with emphasis on host-pathogen interactions and immune responses. I specialise in teaching HIV and AIDS to the FHS medical and biomedical sciences undergraduates and Immunology MSc students.
Research Interests
My research over the past 35 years has focussed primarily on cellular and molecular aspects of HIV-1 replication and pathogenesis. More recently we have harnessed chemistry to design vaccines to raise neutralizing antibodies to HIV-1. We are also interested more broadly in how immune responses are initiated, how this might inform vaccine design, and how this might lead to unwanted immune responses such as autoimmunity.
Selected Publications
Structural and Immunologic correlates of chemically stabilized HIV-1 envelope glycoproteins. Schiffner T, Pallesen J, Russell RA, Dodd J, de Val N, LaBranche CC, Montefiori D, Tomarase GD, Shen X, Harris SL, Moghaddam AE, Kalyuzhniy O, Sanders RW, McCoy LE, Moore JP, Ward AB, Sattentau QJ (2018). Plos Pathogens 14: e1006986.
Astrocytes resiste HIV-1 fusion but engulf infected macrophage material. Russell RA, Chojnacki J, Jones DM, Johnson E, Do T, Eggeling C, Padilla-Parra S, SattentauQJ (2017). Cell Reports 18: 1473-1483.
Macrophages and HIV-1: an unhealthy constellation. Sattentau QJ and Stevenson M (2016). Cell Host and Microbe 19: 304 – 310
Macrophage infection via selective capture of HIV-1 infected CD4+ T cells. Baxter AE, Russell RA, Duncan CJ, Moore MD, Willberg CB, Pablos JL, Finzi A, Kaufmann DE, Ochsenbauer C, Kappes JC, Groot F, Sattentau QJ. (2014) Cell Host Microbe. 16: 711-721
Wegmann F,Gartlan K,Harandi AM,Brinckmann SA,Coccia M, Hillson W, Kok W-L, Cole S, Ho L-P, Lambe T, Puthia M, Svanborg C, Scherer EM, Krashias G, Williams A, Blattman JN, Greenberg PD, Flavell RA, Moghaddam AE, Sheppard NC and Sattentau QJ (2012) Polyethyleneimine is a potent mucosal adjuvant for viral glycoprotein antigens. Nature Biotechnology30: 883-888.
Sattentau QJ (2011) A Sweet Cleft in HIVs Armour. Nature480: 324-325.
Jolly C, Welsch S, Michor S and Sattentau QJ (2011). The regulated secretory pathway in CD4 T cells contributes to human immunodeficiency virus type 1cell-to-cell spread at the virological synapse. Plos Pathogens7:e1002226.
Kong L, Sheppard N, Stewart-Jones G, Robson CL, Chen H, Xu X, Krashias G, Bonomelli C, Scanlan CN, Kwong PD, Jeffs SA, Jones IM and Sattentau QJ (2010) Expression system-dependent modulation of HIV-1 envelope glycoprotein antigenicity and immunogenicity. Biol.403: 131-147.
Sattentau QJ (2008). Avoiding the void: animal virus cell-to-cell spread. Nature Reviews Microbiology 6: 815-826.
Groot F, Welsch S and Sattentau QJ (2008). Efficient HIV-1 transmission from macrophages to T cells across transient virological synapses. Blood111: 4660-4663.
Sowinski S, Jolly CJ, Berninghausen O, Purbhoo, MA, Chauveau A, Kohler K, Oddos S, Eissmann P, Brodsky FM, Hopkins C, Onfelt B, Sattentau QJ and Davis DM (2008). Membrane nanotubes physically connect T cells over long distances presenting a novel route for HIV-1 transmission. Nature Cell. Biol. 10: 211-219.
Moghaddam A, Olszewska W, Wang B, Tregoning JS, Helson R, Sattentau QJ=Openshaw PJM (2006). A potential molecular mechanism for hypersensitivity caused by formalin-inactivated vaccines. Nature Medicine12: 905-907.
Jolly C, Kashefi K, Hollinshead M and Sattentau QJ (2004) HIV-1 cell-to-cell transfer across an Env-induced, actin-dependent synapse. Exp Med.199: 283-193.