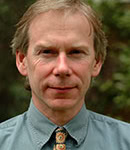 Professor Andrew Smith
Subject: Biology, Plant Sciences and Zoology
Department: Plant Sciences
College appointment: Emeritus Fellow
Background
M.A. (Cambridge); Ph.D. (Glasgow); Habilitation (Darmstadt).
After reading Natural Sciences at the University of Cambridge and doing postgraduate research for my PhD at the University of Glasgow, I spent 7 years as a postdoctoral researcher at the Technische Universität in Darmstadt (Germany). I then held an appointment for 5 years as a lecturer at the University of Edinburgh before moving to my present position in Oxford.
Teaching
I lecture in the following courses:
1st year Prelims: Organisms OB1.5 (plant physiological ecology)
2nd year Final Honour School: Adaptations to the Environment
2nd year Final Honour School (Molecular and Cellular Biochemistry): Plant Metabolism
3rd year Final Honour School: Metabolic Adaptations in Plants
I give tutorials in first-year Organisms and Cells & Genes, and in several themes and modules in the Final Honour School related to my research interests.
Research Interests
Cellular and molecular basis of plant adaptations to environmental stress, in particular water deficits, salinity and toxic metals. Evolutionary origins of complex physiological traits in plants.
Selected Publications
Jiang, C., Belfield, E., Mithani. A., Visscher, A., Raggoussis, J., Mott, R., Smith, J.A.C. and Harberd, N.P. (2012) ROS-mediated vascular homeostatic control of root-to-shoot soil Na delivery in Arabidopsis. The EMBO Journal 31, 4359–4370.
Fones, H., Davis, C.A.R.*, Rico, A., Fang, F., Smith, J.A.C. and Preston, G.M. (2010) Metal hyperaccumulation armors plants against disease. PLoS Pathogens 6(9): e1001093. ( * Former Magdalen undergraduate )
Smart, K.E., Smith, J.A.C., Kilburn, M.R., Martin, B.G.H., Hawes, C. and Grovenor, C.R.M. (2010) High-resolution elemental localization in vacuolate plant cells by nanoscale secondary ion mass spectrometry. The Plant Journal 63, 870–879.
Borland, A.M., Griffiths, H., Hartwell, J. and Smith, J.A.C. (2009) Exploiting the potential of plants with crassulacean acid metabolism for bioenergy production on marginal lands. Journal of Experimental Botany 60, 2879–2896.
Ingle, R.A., Mugford, S.T., Rees, J.D., Campbell, M.M. and Smith, J.A.C. (2005) Constitutively high expression of the histidine biosynthetic pathway contributes to nickel tolerance in hyperaccumulator plants. The Plant Cell 17, 2089–2106.
Behmer, S.T., Lloyd, C.M., Raubenheimer, D., Stewart-Clark, J., Knight, J.*, Leighton, R.S., Harper, F.A. and Smith, J.A.C. (2005) Metal hyperaccumulation in plants: mechanisms of defence against insect herbivores. Functional Ecology 19, 55–66. ( * Former Magdalen undergraduates )
Holtum, J.A.M.*, Smith, J.A.C. and Neuhaus, H.E. (2005) Intracellular transport and pathways of carbon flow in plants with crassulacean acid metabolism. Functional Plant Biology 32, 429–449. ( * Former Magdalen Visiting Fellow )
Crayn, D.M., Winter, K. and Smith, J.A.C. (2004) Multiple origins of crassulacean acid metabolism and the epiphytic habit in the Neotropical family Bromeliaceae. Proceedings of the National Academy of Sciences USA 101, 3703–3708.
Pollard, A.J.*, Powell, K.D., Harper, F.A. and Smith, J.A.C. (2002) The genetic basis of metal hyperaccumulation in plants. Critical Reviews in Plant Sciences 21, 539–566. ( * Former Magdalen Visiting Fellow )
Krämer, U.*, Cotter-Howells, J.D., Charnock, J.M., Baker, A.J.M. and Smith, J.A.C. (1996) Free histidine as a metal chelator in plants that accumulate nickel. Nature 379, 635-638. ( * Former Magdalen graduate student )