Magdalen is taking steps to improve its sustainability. This page contains information for College members on all aspects of sustainability, ranging from updates on new initiatives to suggestions for how you can take part.
What is sustainability?
Sustainability means "meeting the needs of the present without compromising the ability of future generations to meet their own needs". Sustainability covers our impact on climate, biodiversity, and ecosystems, resources, waste, human wellbeing, and sustainable economies", as embodied by the United Nations Sustainable Development Goals.
College recognises several areas for action, including carbon and climate, biodiversity, food, resources and waste, people, and scholarship. Our guiding principles are outlined in our sustainability policy and more detailed objectives in our sustainability strategy.
How can I help?
During this Term, take part in our 8-step path to self sustainability.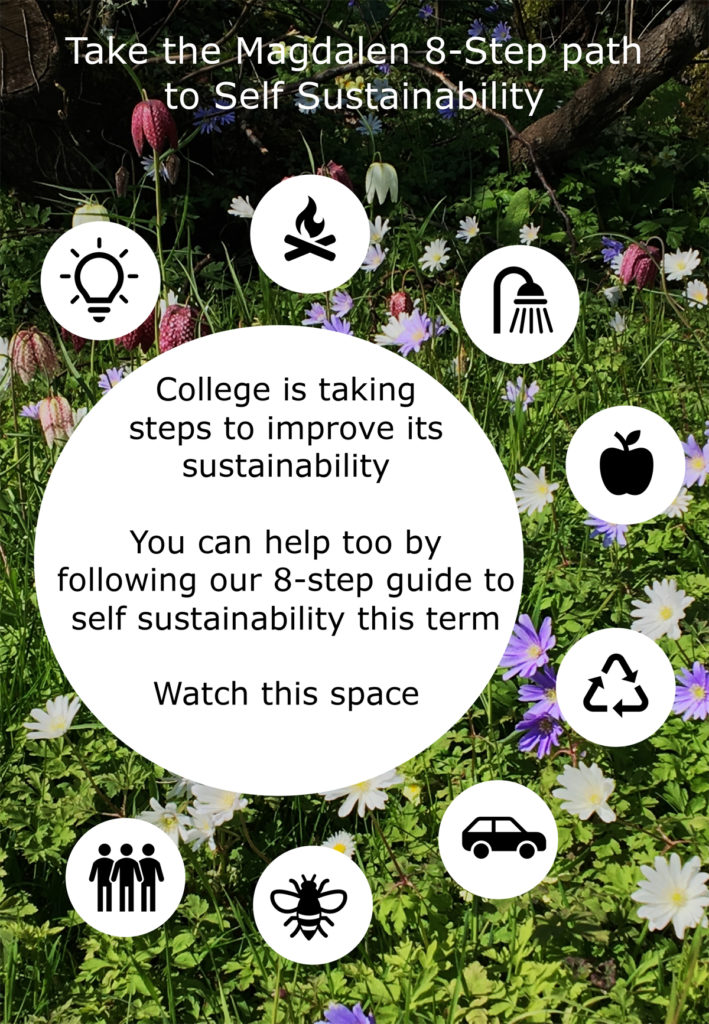 Explore resources and opportunities available across the University, see Further Information below
Check out the College mini-guide to sustainability including food, recycling, heating and more. (available soon)
Got you own ideas for a new initiative? Get in touch with your Common Room environmental reps or College's Sustainability Forum sustainability@magd.ox.ac.uk.
Further information
University resources on sustainability including 5 first steps for environmental sustainability and the University's strategy for reaching net zero and biodiversity gain by 2035. https://sustainability.admin.ox.ac.uk/home
Useful student guide for living sustainably in Oxford https://www.ox.ac.uk/students/news/2021-10-11-student-spotlight-how-live-sustainably-oxford
The Oxford Climate Society, dedicated to connecting and developing informed climate leaders https://www.oxfordclimatesociety.com
Guide for businesses and policymakers, hosted by https://netzeroclimate.org
College governance
Formed in 2020, the sustainability forum meets once per term, and additionally as required, to provide advice and propose actions to College committees. The forum provides a point of contact with initiatives across the Colleges, University and beyond. It monitors progress towards the sustainability goals and reports to College once per year. The forum comprises undergraduates, graduate students, Fellows, and staff to represent all College members.
Yearly report of the Sustainability Forum (to be updated soon)