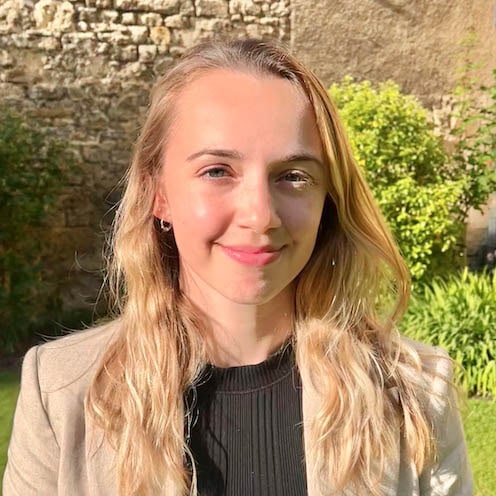 Dr Rachel Wheatley
Subject: Biology, Plant Sciences and Zoology
Department: Biological Sciences
Academic position: George Grosvenor Freeman Fellow by Examination
Background
I am an evolutionary microbiologist interested in microbiomes, antimicrobial resistance, and lungs. Prior to joining Magdalen College in 2021, I held a fellowship at the Wissenschaftskolleg zu Berlin, Institute for Advanced Study, and you can read more about my fellowship project here. I completed my BSc. in Molecular Biology and Biochemistry at Durham University, and my DPhil in Plant Sciences at University College, University of Oxford.  
Research interests
My research has investigated: (1) the processes underpinning host-microbe interactions (from human infections to plant symbioses), (2) the mechanisms behind bacterial responses to environmental perturbations (including antibiotics, host immunity, and phage), and (3) how these fundamental biological processes happen not just in single species settings, but in the context of a microbiome.
The primary focus of my current research is to understand antimicrobial resistance in the context of the microbiome. How is a single pathogen species able to emerge in the respiratory microbiome? And, how does acquiring antibiotic resistance influence this and the ability of a pathogen to invade new microbiomes?
My google scholar profile can be found here.
Selected Publications
Caballero, J. D., Wheatley, R. M., Kapel, N., Lopez-Causape, C., Van der Schalk, T., Quinn, A., … & MacLean, R. C (2023). Mixed strain pathogen populations accelerate the evolution of antibiotic resistance in patients. Nature Communications, 14, 4083.  
Wheatley, R. M., & Ogunlana, L. (2023). Gender shapes the formation of review paper collaborations in microbiology. Proceedings of the Royal Society B, 290: 20230965.  
Wheatley, R. M., Caballero, J. D.§, Van der Schalk, T., de Winter, F. H., Kapel, N., Recanatini, C., … & MacLean, R. C. (2022). Assessing the contribution of gut-to-lung translocation to bacterial colonization and antibiotic resistance in an ICU patient. Nature Communications, 13, 6523. 
Zaayman, M., & Wheatley, R. M. (2022). Fitness costs of CRISPR-Cas systems in bacteria. Microbiology, 168(7), 001209. 
Koskella, B., Hernandez, C. A., & Wheatley, R. M. (2022). Understanding the Impacts of Bacteriophage Viruses: From Laboratory Evolution to Natural Ecosystems. Annual Review of Virology, 9. 
Wheatley, R. M., Caballero, J. D., Kapel, N., de Winter, F. H., Jangir, P., Quinn, A., … & MacLean, C. (2021). Rapid evolution and host immunity drive the rise and fall of carbapenem resistance during an acute Pseudomonas aeruginosa infection. Nature Communications, 12(1), 1-12. 
Wheatley, R. M., & MacLean, R. C. (2021). CRISPR-Cas systems restrict horizontal gene transfer in Pseudomonas aeruginosa. The ISME Journal, 15(5), 1420-1433. 
Wheatley, R. M., Ford, B. L., Li, L., Aroney, S. T., Knights, H. E., Ledermann, R., … & Poole, P. S. (2020). Lifestyle adaptations of Rhizobium from rhizosphere to symbiosis. Proceedings of the National Academy of Sciences, 117(38), 23823-23834. 
Wheatley, R. M., Ramachandran, V. K., Geddes, B. A., Perry, B. J., Yost, C. K., & Poole, P. S. (2017). Role of O2 in the growth of Rhizobium leguminosarum bv. viciae 3841 on glucose and succinate. Journal of Bacteriology, 199(1), e00572-16.