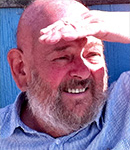 Professor Oliver Taplin
Subject: Classics, Ancient History and Archaeology
College appointment: Emeritus Fellow
Background
I did my first degree and doctorate at Oxford, and my first post was at Bristol University. I had the good fortune to be made a Tutorial Fellow at Magdalen in 1973 at the age of 30. I stayed in the post for 35 years, because there was, quite simply, no better job that I would have preferred. During that time I was made a Professor, a Fellow of the British Academy and President of the Classical Association. I retired in 2008, but I continue to come into the College now and then.
Teaching
My main teaching has been in all aspects of ancient Greek epic, tragedy and comedy. Further related subjects include vase-painting and theatre; performance studies; reception of ancient literature in modern poetry; practical translation workshops. I still hold some classes for Magdalen undergraduates, especially on Greek theatre.
Research
My research and my teaching interests have largely been the same, and have been mutually reinforcing. I am nearing completion of a book of the beginnings of Greek theatre and the significance of tragedy, especially Aeschylus, for its audiences. Its title is TRAGEDY – the first fifty years. Since retirement I have also found the time to embark on translations from ancient Greek into English verse.
Some publications
The Stagecraft of Aeschylus (Oxford 1977, reissued as a paperback 1989).
Greek Tragedy in Action (London and Berkeley 1978; revised edition 1985); also translated into Greek, Japanese and Polish.
Greek Fire (London 1990); also translated into Dutch, Portuguese, French, German and Greek.
Homeric Soundings. The Shaping of the Iliad (Oxford 1992, reprinted in paperback, 1994).
Comic Angels – and other approaches to Greek drama through vase-painting (Oxford 1993, reprinted in paperback, 1994).
Pots and Plays. Interactions between Tragedy and Greek Vase-painting of the Fourth Century BC (Getty Museum Publications, Los Angeles, 2007)
Sophocles Oedipus the King and other tragedies (Oxford World's Classics, 2016)
Aeschylus The Oresteia (Norton, New York, 2018)