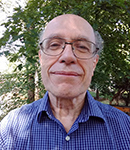 Professor David Norbrook
Subject: English
Academic position: Emeritus Fellow
Background
After school and university at Aberdeen, I studied for a D. Phil. at Balliol and then as a Prize Fellow at Magdalen. I was a Fellow and Tutor in English at Magdalen 1978-98, Professor of English at the University of Maryland 199-2002, Merton Professor of English Literature 2002-14. I was founding Director of the Oxford Centre for Early Modern Studies. I now live in Baltimore, USA, where my wife, Sharon Achinstein, teaches at Johns Hopkins University.
Teaching and Research
My tutorials and lectures included the period papers in English Literature 1509-1832, Shakespeare, Milton and Marvell. From the beginning a central interest has been the relations between literature, history and politics, with further interests in early modern women's writing and in neo-Latin literature. I also work on Scottish poetry, especially Hugh MacDiarmid. I am currently completing an edition and a biography of the seventeenth-century woman writer Lucy Hutchinson.
Selected publications
The Works of Lucy Hutchinson, vol. 2: Theological Writings and Translations, ed. Elizabeth Clarke, David Norbrook and Jane Stevenson (OUP, 2018); vol. 1: The Translation of Lucretius, ed. Reid Barbour and David Norbrook, with Latin text by Maria Cristina Zerbino (OUP, 2012).
David Norbrook, Philip Hardie and Stephen Harrison (eds.), Lucretius and the Early Modern (OUP, 2016).
Lucy Hutchinson's 'Order and Disorder', ed. David Norbrook (Blackwell Publishers, 2001).
Writing the English Republic: Poetry, Rhetoric and Politics, 1627-1660 (Cambridge University Press, 1999).
The Penguin Book of Renaissance Verse (with Henry Woudhuysen) (Allen Lane, 1992).
Poetry and Politics in the English Renaissance (Routledge & Kegan Paul, 1984; revised edition, Oxford University Press, 2002).