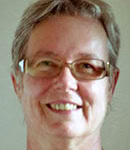 Dr Linda Hulin
Subject: Classics, Ancient History and Archaeology
Department: Archaeology
Academic position: Lecturer II in Archaeology
Background
I studied for my first degree at the University of Reading. After two decades working abroad in the field of academic publishing I returned to the UK and read for a PhD at the University of Reading in 2006. From 2006-2009 I was the G.A. Wainwright Fellow in Near Eastern Archaeology at the University of Oxford, before taking up my current position in the Oxford Centre for Maritime Archaeology.
Teaching
I teach archaeological theory, world archaeology, themes in urbanisation and the state, theoretical approaches to ancient maritime societies, and landscape archaeology.
Research interests
My research interests centre upon the eastern Mediterranean in the second and first millenia BC: the archaeology of Cyprus, the Levant, Egypt and Libya. I focus upon cross-cultural encounters: sailors' lives on land across the eastern Mediterranean, and social relationships in imperial contents in New Kingdom Egypt. I also research the material construction of social relationships within domestic contexts, ancient and modern.
Selected publications
'InHabiting space: archaeologists, artefacts and architecture', in L. Hulin, A. Buxton and J. Anderson (eds), InHabit: people places and possessions. Peter Lang. 2016.
'Constructing maritime worlds: the problem of objects', in Symbols and Models of the Mediterranean: perceiving through cultures, with D.Robinson ed. Mariarosaria Salerno and Aneilya Barnes. Malta UP. 2017
'Conversations between objects: the Egyptian ceramic world at Beth Shan"', in B. Bader and M.F. Ownby (eds), Functional aspects of Egyptian Ceramics in their Archaeological Context. 2012. Leuven: 351-71.
Pragmatic Technology: Issues on the Interpretation of Libyan Material Culture" in K. Duistermaat and I. Regulski (eds), International Connections in the Ancient Mediterranean, (OLA 202). 2011. Leuven: 101-14.
'Western Marmarica Coastal Survey 2010: preliminary report', by L. Hulin, J. Timby, A.M. Muftah and G. Mutri, Libyan Studies 41: 155-162.
Hulin, L.. and Walker Vadillo, V. 'The Dawn of Everything: a view from the water', Suomen antropologi 47 (3). forthcoming
'In the Footsteps of Honor Frost: The Life and Legacy of a Pioneer in Maritime Archaeology', PEQ 2023: 111-12.
2019. 'In praise of learned societies', PEQ 2019: 1-2.
Hulin, L., Crewe, L. and Webb, JM. (eds) 2018. Structures of inequality on Bronze Age Cyprus: studies in honour of Alison K. South.
Hulin, L. and Hatcher, HJ. 2018. Social aspects of the production and distribution of White Slip II ware, in Structures of inequality on Bronze Age Cyprus: studies in honour of Alison K. South 161-178.
'Up from the Sea: Mariner Networks in Ports across the Late Bronze Age Eastern Mediterranean', by L. Hulin and S. German, in Horejs, B, Schwall, C, Müller, V, Luciani, M, Ritter, M, Guidetti, M, Salisbury, R, Höflmayer, F, Bürge, T. (eds) ICAANE 10. 2010: 357-68.