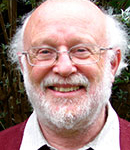 Professor Vernon Reynolds
Subject: Anthropology
College appointment: Emeritus Fellow
Academic position: Anthropology
Background
I was educated at Collyer's School, Horsham and after National Service in the Royal Artillery I studied Anthropology at University College, London (1956-59), followed by doctoral research on primates.
Teaching
I taught Anthropology in the Department of Sociology at the University of Bristol (1966-72), followed by appointment as University Lecturer in Biological Anthropology at Oxford in 1972. I taught at Oxford from 1972 until my retirement in 2001.
Research
I first studied the behaviour of wild chimpanzees of the Budongo Forest, Uganda in 1962. This was followed by research on the behaviour of human children (1966-72), and the ecology and biology of residents of the human population around Oxford (1972-89). I returned to the study of chimpanzee behaviour and ecology in 1990, with an increasing focus on conservation from 2000. My research currently focuses on the changing sources of minerals in the diet of the Budongo chimpanzees. In 1990 I founded the Budongo Conservation Field Station (www.budongo.org) which continues to the present time to flourish as a centre of excellence for research and conservation.
Publications.
Books:
Budongo: a forest and its chimpanzees. Methuen, London.
The Apes: ecology and behaviour. Dutton, New York.
(with R. Tanner) The Social Ecology of Religion. Oxford University Press, New York.
The Chimpanzees of the Budongo Forest. Oxford University Press, Oxford.
Article: