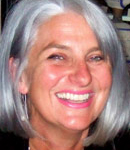 Professor Clare Harris FBA
Subject: Anthropology
Department: Anthropology and the Pitt Rivers Museum
Academic position: Tutorial Fellow
Background
Since my father was a member of the Royal Air Force, I spent some of my childhood outside the UK but I completed my education at King Edward VI School in Bury St Edmunds, Suffolk. I then took a year out and taught English in a school for Tibetan refugees in the Himalayan foothills in northern India. On my return to England I studied at the University of Cambridge for my BA and then went to the School of Oriental and African Studies (London University) for my MA and PhD. My first teaching post was in the School of World Art Studies at the University of East Anglia. In 1998, I came to Oxford to take up a post as University Lecturer in Anthropology and Curator for Asian Collections at the Pitt Rivers Museum. I became a Tutorial Fellow of Magdalen College in 2002. I am now Professor of Visual Anthropology at the School of Anthropology and Museum Ethnography and continue to act as Curator for Asian Collections at the Pitt Rivers. In 2019 I was elected to a Fellowship of the British Academy.
Teaching
At Magdalen I am usually the Course Director for the undergraduate degree in Archaeology and Anthropology and I teach all the core papers in anthropology within it for students in our College. Beyond Magdalen, I give lectures for all students taking the Archaeology and Anthropology degree from across the University and I have supervised undergraduate dissertations in anthropology, human sciences, history and the history of art. At postgraduate level I mainly teach on the Visual, Material and Museum Anthropology degrees. I also run a specialist course on the anthropology of art and I supervise doctoral students.
N.B. During the academic year 2021-2022 I will be on College leave and not teaching or acting as Director of Studies for Archaeology and Anthropology at Magdalen.
Research Interests
My research and writing focuses on contemporary art, photography in colonial and post-colonial contexts, monuments and memory construction, histories of museums and collections, and the politics of representation with particular reference to Tibet, the Himalayas and the Tibetan diaspora. These interests are reflected in my professional roles within the University of Oxford and in my publications and research projects.
Selected Publications
2019 Performing Tibetan Identities: Photographic Portraits by Nyema Droma, (with N. Droma – exhibition catalogue) Oxford: Pitt Rivers Museum
2016 Photography and Tibet', Reaktion Books, London
2012 The Museum on the Roof of the World: Art, Politics and the Representation of Tibet, University of Chicago Press, Chicago, USA (Winner of the E. Gene Smith Prize from the Association of Asian Studies in 2014.)
2010 Ladakh: Culture at the Crossroads (co-edited with Monisha Ahmed) Marg Publications, Mumbai, India
2003 Seeing Lhasa: British Depictions of the Tibetan Capital 1936 – 1947(co-authored with Tsering Shakya), Serindia Publications, Chicago, USA
1999 In the Image of Tibet: Tibetan Painting after 1959, Reaktion Books, London (Winner of the International Jury prize for the best book in Visual Anthropology from the International Centre for Ethnohistory in 2000).
Online Publication
Some Recent Essays
2017 'Photography in the "Contact Zone": Identifying Copresence and Agency in the Studios of Darjeeling' in Transcultural Encounters in the Himalayan Borderlands: Kalimpong as Contact Zone, Ed. M Viehbeck, Heidelberg: Heidelberg University Publishing pp. 95 -120
2013 'The Potala Palace: Remembering to Forget in Contemporary Tibet', in South Asian Studies Journal, Vol. 29. No.1 pp 97 – 111
2013 'The Future of the Ethnographic Museum' (co-authored with Mike O'Hanlon), Anthropology Today, Vol. 29. No.1 pp. 8 – 12
2013 'In and Out of Place: Tibetan Artists' Travels in the Contemporary Art World' Visual Anthropology Review, Vol. 28, Issue 2, pp 152 – 163
2011 Generation Exile: Exploring New Tibetan Identities, Rossi and Rossi and Hanart Hong Kong