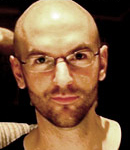 Dr Thomas Norman
Subject: Economics
Department: Economics
College appointment: Tutorial Fellow
Officer: Tutor for Graduate Admissions
Background
I received my BA from St John's College, Oxford, and my MPhil and DPhil from Nuffield College, Oxford. From 2003 to 2007, I was a Post-Doctoral Research Fellow of All Souls College, Oxford. I have been a Fellow of Magdalen College since 2007.
Teaching
I teach Microeconomics, Macroeconomics and Game Theory.
Research Interests
I research the equilibrium concepts used in Game Theory and Macroeconomics.
Selected Publications
"Dynamically Stable Sets in Infinite Strategy Spaces," Games and Economic Behavior, 62(2): 610-627 (2008).
"Rapid Evolution under Inertia," Games and Economic Behavior, 66(2): 865-879 (2009).
"Equilibrium Selection and the Dynamic Evolution of Preferences," Games and Economic Behavior, 74(1): 311-320 (2012)
"Learning, Hypothesis Testing, and Rational-Expectations Equilibria," Games and Economic Behavior, 90(1): 93-105 (2015)
"Inefficient Stage Nash is not Stable," Journal of Economic Theory, 178: 275-293 (2018)