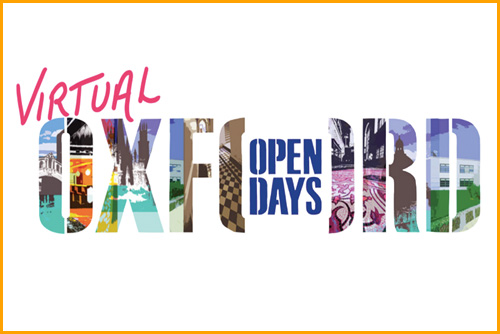 Magdalen is committed to ensuring that the brightest students get the information they need to make a competitive application to Oxford regardless of background. That's why this year to overcome the Covid-19 restrictions we moved our Open Days at the beginning of July online.
Special resources were produced to help prospective students explore the College virtually, including a 15-minute virtual tour narrated by the JCR Access Rep Eve McMullen, and a series of videos on 'student life' covering topics such as choosing a college, moving away from home, and financial support. Videos produced by the Admissions and Outreach teams, with input from students and tutors, proved especially popular with over 1,000 views.
'Meet the Tutors' videos offered prospective students guidance and encouragement, including Music Fellow Professor Leitmeir's advice 'not to compare yourself to others' and Politics Fellow Professor Billingham's suggestion to 'find the subject that really fascinates you [and] go for it!'
Student ambassadors, tutors, and members of the admissions team were also available to answer questions in live Q&A sessions. Student ambassadors answered 1,172 questions over the two days, with queries ranging from advice on specific subjects to student life and accommodation. When asked how helpful they found the sessions on a scale of one to five, prospective students gave an average score of 4.5 with just under 70% rating the help as 'highly useful'.
Outreach and Access Officer, Amy Forbes, said, "I think the live Q&A was a really successful alternative. The fact that questions could be submitted anonymously meant prospective students could ask about anything they were worried about without embarrassment. It also allowed multiple ambassadors to answer the same questions, giving students a range of student opinion."
Eve McMullen said, "I was really pleased with how it went and I think, even if you can't replace the feeling of seeing an Oxford college in person, there are some students for whom it actually made Oxford more approachable and less intimidating".
Senior Outreach and Access Officer, Olivia Webster, said, "The real success of the virtual event is that it allowed us to reach international and disadvantaged students who may not otherwise have been able to attend the in-person Open Day. It was only thanks to the contributions of academics and students that we were able to host such a successful event."
The Open days are part of a wider effort to provide as much information and advice to prospective students online as possible. Many of the resources used during the Open Day are now available on our YouTube channel, as is a resource pack designed to help students explore their chosen subject.
Following the success of this month's Open Days, we look forward to hosting the Open Day on 18th September the same way. Thank you to everyone who helped to make our virtual Open Days such a success.
The Law at Magdalen residential in August will also be an online event.