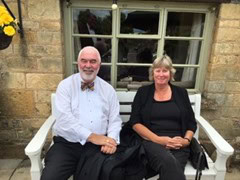 Colin Doak came up to read Classics at Magdalen in 1973. He is a loyal donor to the College and a member of both the Benefactor Society and the Fastolf Society.

Why did I choose Magdalen? I didn't. Magdalen chose me.
I have, sometimes unknowingly, had links to the College all my life. Born in to a modest background in Wandsworth, South West London, it transpires I was brought up on former Magdalen land with almost every road name around where I lived having a Magdalen connection. Thus, my primary school was on Patten Road, William Waynflete's birth name.
My earliest memory of College is standing nervously, in an early December, at the foot of a staircase in a damp and dimly-lit, shifting-shadowy Cloister, the freezing wind chilling my bones. I obviously had arrived early. The wait seemed an eternity. I was eventually called for interview.
It was an agonising wait, but eventually the letter arrived, on the last post of the last day before Xmas. It was from Olly Taplin who in his inimitable fashion cheerily said that 'we have this Anne Shaw scholarship which may be thrown open…….you got it'. He added: ' I am confident you will be very glad that you came to Magdalen'. He was of course so right, but being the first of my family to go to University, any University, the prospect of Oxford and Magdalen was daunting
Fast forward to today.I am a strong believer in 'giving back', and having been of a lucky generation of students who enjoyed financial support in its education it was a natural choice to 'give back' by seeking to support students in need.
It was natural too for me to donate to Magdalen. After the intense undergraduate experience, academically & socially, my bond with the College has over the years been nurtured over the years.
The joy of participating in the Benefactor Scheme and the Fastolf Society is that one gets to see the impact of one's donation now and at first hand. It is not just ticking the box 'Supporting students in need"; you get to experience this support in action. It is inspirational to attend the 'Scholarships and Bursaries Lunch', to meet the students who benefit from the funds I and others have helped to create, to hear why it is they need financial support from College, to hear how they use it and to hear their dreams and ambitions for the future.
By being a Legator one then has the immense satisfaction of knowing that one's bequest will continue to benefit future generations of Magdalen undergraduates in similar ways.
My wife Suzanne shares my love for College, and we both enjoy the additional benefits of the Benefactors' Gaudy, and the annual Fastolf Society lunch where we meet the President and like-minded alumni. If you are considering making a donation to College, and have the means to do it, I would urge you to do so. It is not only a good thing to do in itself, but dare I confess it makes you feel good too.