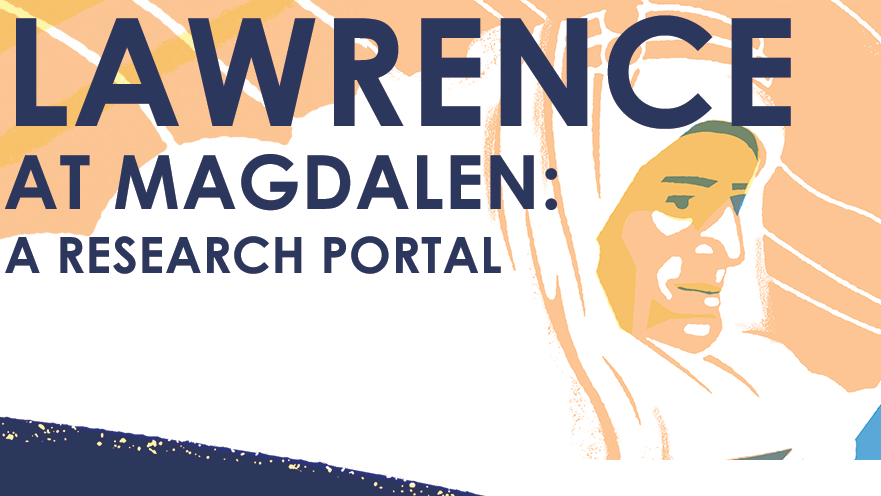 We are happy to announce that our new exhibition site "Lawrence at Magdalen" is now online!
"Lawrence at Magdalen" acts as a portal bringing together all our collections relating to T.E. Lawrence (1888-1935) and his world. Lawrence was a Senior Demy (funded postgraduate) at Magdalen from 1911-1914 and last Monday, 16th August marked his 133rd birthday – a fitting occasion for our portal to mark Magdalen's reputation as a hub for Lawrence research!
The site is headlined by our online exhibition which explores Lawrence's many connections to Oxford city and University, his exploits in Arabia and his cultural legacy. This exhibition is based on the widely-acclaimed physical exhibition at Magdalen in 2018-19, curated by Dr Rory McCarthy and Daryl Green. As well as this exhibition, "Lawrence of Magdalen" highlights our newly-acquired collections relating to Lawrence, which will be made available to researchers for the first time. Visitors to the website will be able to explore the recently-catalogued papers of D.G. Hogarth (1862-1927), the distinguished archaeologist and mentor of T.E. Lawrence, and the archive of Jeremy Wilson (1944-2017), the authorised biographer of Lawrence, which is currently being catalogued in a three-year project ending in 2023. These two collections contain swathes of previously unseen material including Hogarth's letters and diaries, and Wilson's drafts and his eclectic collection of Lawrence research material.
New for this online exhibition, "Lawrence at Magdalen" includes a blog which will feature articles on the latest finds in the Wilson archive, as well as news and events relating to all our Lawrence collections and connections. Explore the site now and keep checking for new posts: https://lawrenceatmagdalen.magd.ox.ac.uk/