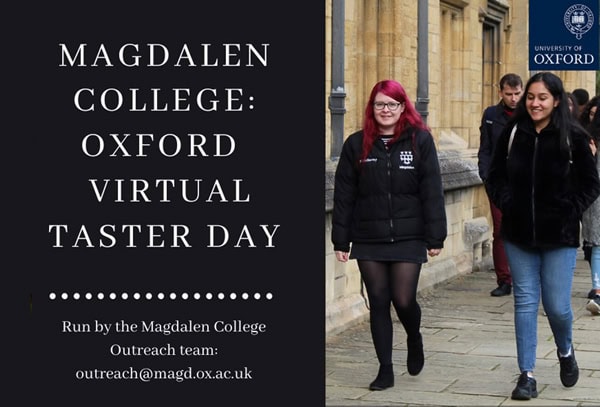 During the disruptions caused by the coronavirus lockdown, our Outreach and Access team has been running virtual 'taster days' for young people who are interested in finding out more about studying at Magdalen.
With the help of academic staff and student ambassadors, these two-hour events provide an introduction to the University and our College,  admissions advice, a virtual College tour, and an opportunity to ask questions.  
Student ambassador Catrin said, "I've really enjoyed talking to students about my experiences, it helps me feel connected to Magdalen whilst at home. It's really interesting having the tutors answering questions at the same time, to hear how their ideas of what makes a good application compare to ours. 
"I love the idea that even if we convince only one of the students to apply, we've made a positive difference to Oxford." 
By the end of the term, over 200 students will have taken part in these events, which have been booked up quickly by students keen to seize the opportunity to learn more about Magdalen. The students come from a wide range of schools across our link regions and over 35% of participants so far would be the first in their family to go to university. After attending the virtual taster day, over 90% of participants said that they felt more confident about making an application to Oxford.  
Outreach and Access Officer, Olivia Webster, said, "Covid-19 will have a disproportionate impact on the education of the most disadvantaged and vulnerable students. Some schools are less able to move teaching or application support online and the disparity in young people's home circumstances will be having a further effect on their education at this time.  
"Our outreach work will continue to adapt and improve to face these new challenges." 
In addition to virtual taster days, the team has also been preparing for the University's first ever virtual Open Days – taking place on 1 and 2 July – and adapting the Law at Magdalen residential (which piloted successfully in 2019) to an online event. 
For young people unable to attend live events, the team has also created a bank of online resources – available via Magdalen's YouTube channel – including academic and admissions talks, and a resource pack to help students explore their chosen subject.
In addition, Magdalen in a Minute, a brand-new video series in which current students provide an insight into Magdalen life, has just been launched. Videos are being released daily via the Magdalen JCR Instagram, where prospective students can learn more about student life. "I really liked getting information from the students, as it gave me a better idea of what it is like to go to Oxford," said a year-12 student from King Ecgbert School, Sheffield. 
We look forward to welcoming pupils back to Magdalen, in person, once College reopens.