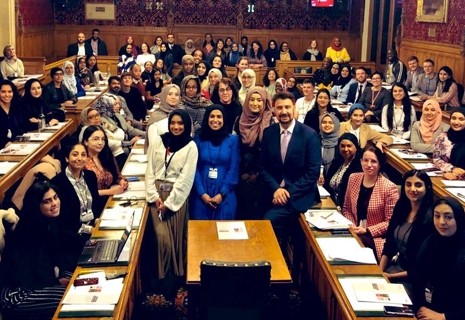 Magdalen alumna Dr Suriyah Bi (2011) recently launched a parliamentary report entitled Empowered Employment: Unlocking the Workplace for Muslim Women.
The report is the result of an eighteen-month research project by Dr Bi exploring British Muslim women's experiences of work and career development. Empowered Employment is the most comprehensive study of its kind and seeks to influence best practice in the workplace and inform policy-making.
The launch event was hosted by Afzal Khan, Shadow Foreign Office Minister, in the Palace of Westminster. Dr Bi provided an overview of her research at the event and thanked those who supported the project. She also invited audience members to read out anonymous testimonials by Muslim women detailing the Islamophobia and discrimination they have faced. A key finding of the report is that 47.2% of those interviewed stated that they had encountered Islamophobia and discrimination in the workplace.
Dr Bi was accompanied by a range of distinguished speakers at the event, including Baroness Helena Kennedy QC (former Principal of Mansfield College, Oxford) and Dr Samina Khan (Director of Undergraduate Admissions and Outreach at the University of Oxford). Samina Khan spoke about the report's findings on education and detailed some of the initiatives taking place – including new translations of the University's Families Guide into Hindi, Urdu, and Bengali – to ensure that the University attracts talent from all backgrounds.
Members of the Magdalen community were invited to attend the launch including JCR and MCR Representatives for issues relating to race and ethnicity, and participants from Magdalen's Pathways to Success programme.
Hannah Rana, DPhil student in Space Cryogenics said, "It was a pleasure to attend Dr Suriyah Bi's launch report at the Houses of Parliament.
"This report sheds light on the existing fierce contribution of working Muslim women in the UK and will serve to inspire the next generation of young British Muslim women to continue breaking glass ceilings and pushing themselves in all working sectors of British society."
Download Empowered Employment.