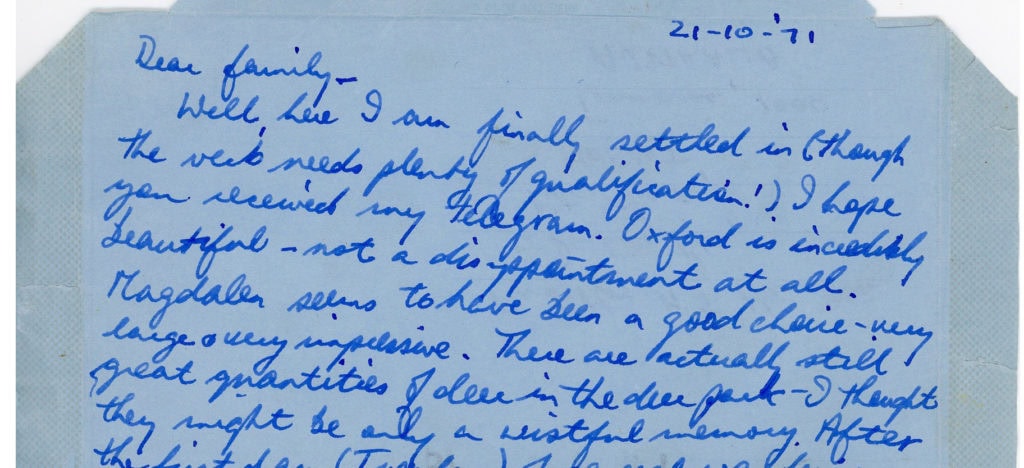 In an age of email and instant messaging, the handwritten letter is, for most, a thing of the past. And yet, for most of Magdalen's history it was the main—and sometimes only—way in which students at college could communicate with their friends and loved ones back home.
The latest exhibition in the Longwall Library showcases the student correspondence preserved in the Magdalen Archives, as well as in repositories elsewhere, covering a period of nearly 500 years from the turn of the 16th century to the 1980s. Research in preparation for the exhibition threw up some truly exciting finds, while the exhibition has also given us an opportunity to explore in greater detail some of the correspondence that has long been in the college Archives (or has just very recently arrived).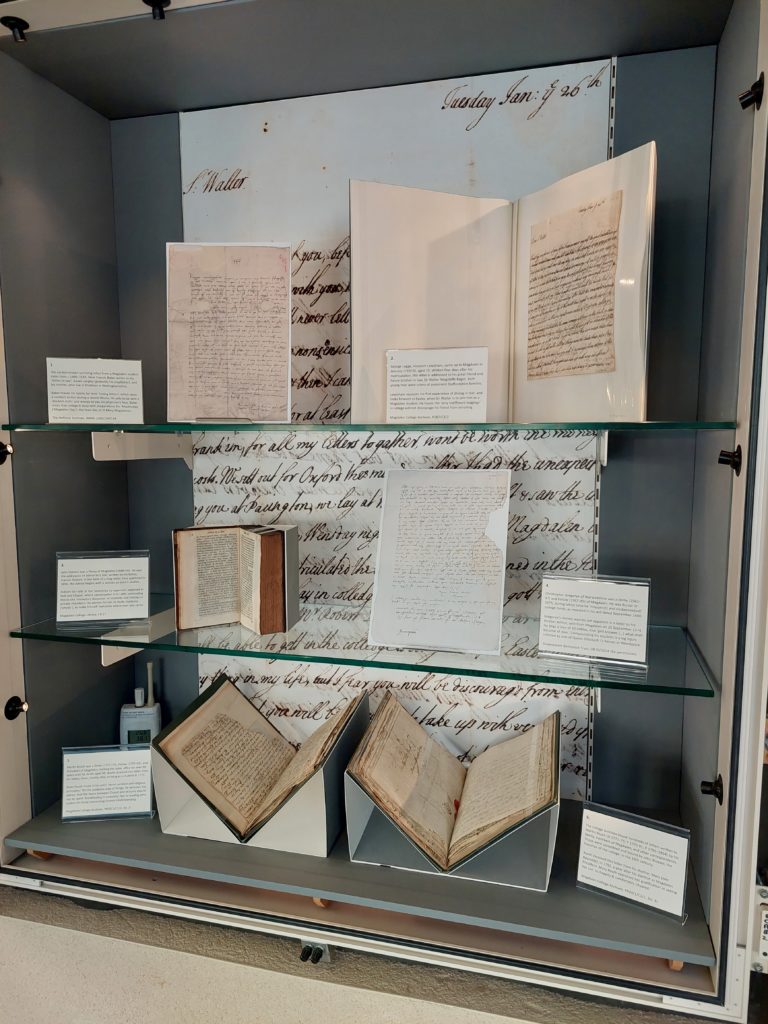 So, what have students written about over the centuries to their friends and family? Well, while each letter in the exhibition offers a unique perspective on its author's experiences, the one thing that binds almost all of them together is how many touch on the same issues. Food, finances, and lodgings are therefore constant themes throughout, with students sometimes offering their forthright opinions on the living conditions they encountered within Magdalen's walls.
In the earliest undergraduate letter preserved in the college Archives, therefore, the Viscount Lewisham, who came up to Magdalen in January 1719/20, aged 15, recounts his first experience of dining in Hall and laments the 'very indifferent lodgings' with which he has been provided. Such is his apparent displeasure that the young viscount, scion of a prominent Staffordshire family, writes that he 'long[s] more for Easter [and the inevitable return home] than ever I did for anything in my life.'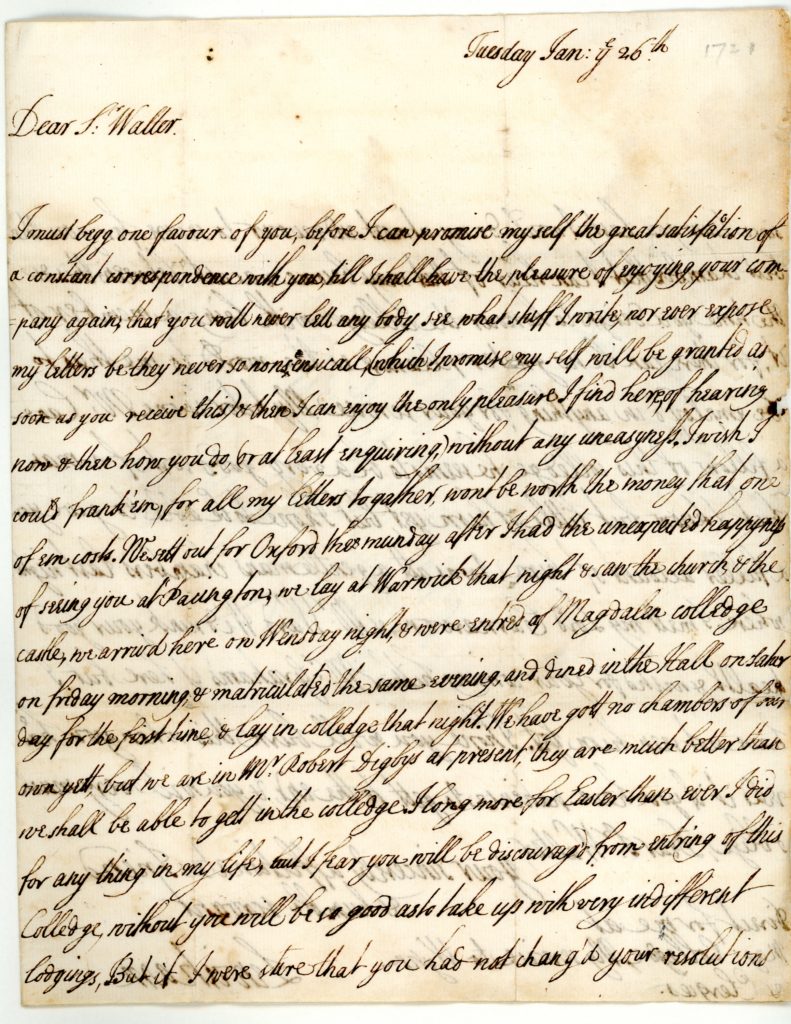 Fast forward nearly 240 years, and a letter from the Revd Dr Richard 'Dick' Pfaff (1936–2016), a US Rhodes Scholar, perhaps gives one of the most vivid insights into life in post-war Magdalen. Written on 13 October 1957, the letter details Pfaff's first experiences of college and of Oxford more generally. Although largely happy, he ends his letter with three 'gripes': the cold in his room, the lack of sanitation, and the state of the food ('absolute slop'). He also encloses a map of the college, traced on the toilet paper then in use, thereby illustrating for his family both Magdalen's layout and its rather basic amenities.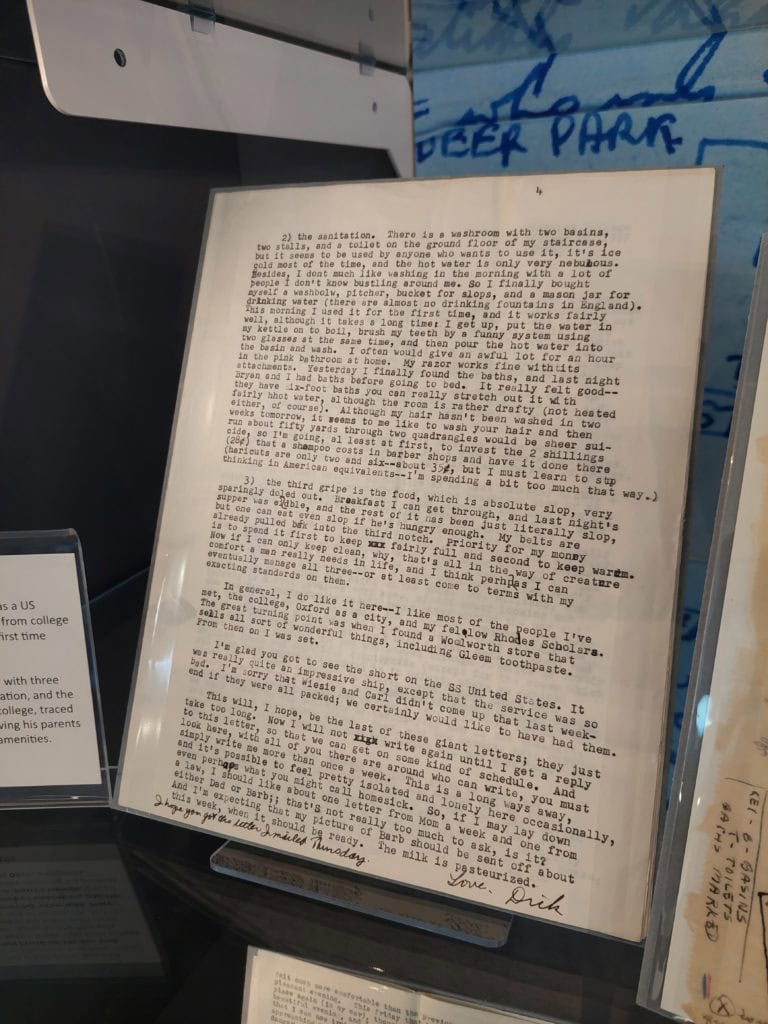 Unsurprisingly, fretting over finances is another constant theme of the letters on display. In what is our earliest undergraduate letter, previously unknown, Francis Baker writes to his parents in c.1490–1510 to ask for money to pay for physician's fees incurred as a result of a recent illness, during which he was 'sore secke' ('sore sick') for three weeks. (My colleague, Emily, who discovered this and another previously unknown Baker letter in The National Archives, will be doing a separate blog on these intriguing items in due course – watch this space!)
Not everything is so trivial, however. For some students and recent graduates, world events intruded violently on their lives. An entire cohort was therefore caught up in the horrors of World War I, with many finding themselves writing letters not from Magdalen to home but from the frontlines to Magdalen. A copy of one such letter, written by George Esmond Haggie (C 1909–13) on 27 September 1917, was forwarded to the college towards the end of the conflict. It offers a startlingly moving account of Haggie's first experiences of going over the top. Tragically, Haggie never had a chance to send what turned out to be his last ever letter to its intended recipients, his parents, who instead received it enclosed with a note of condolence from one of their son's comrades.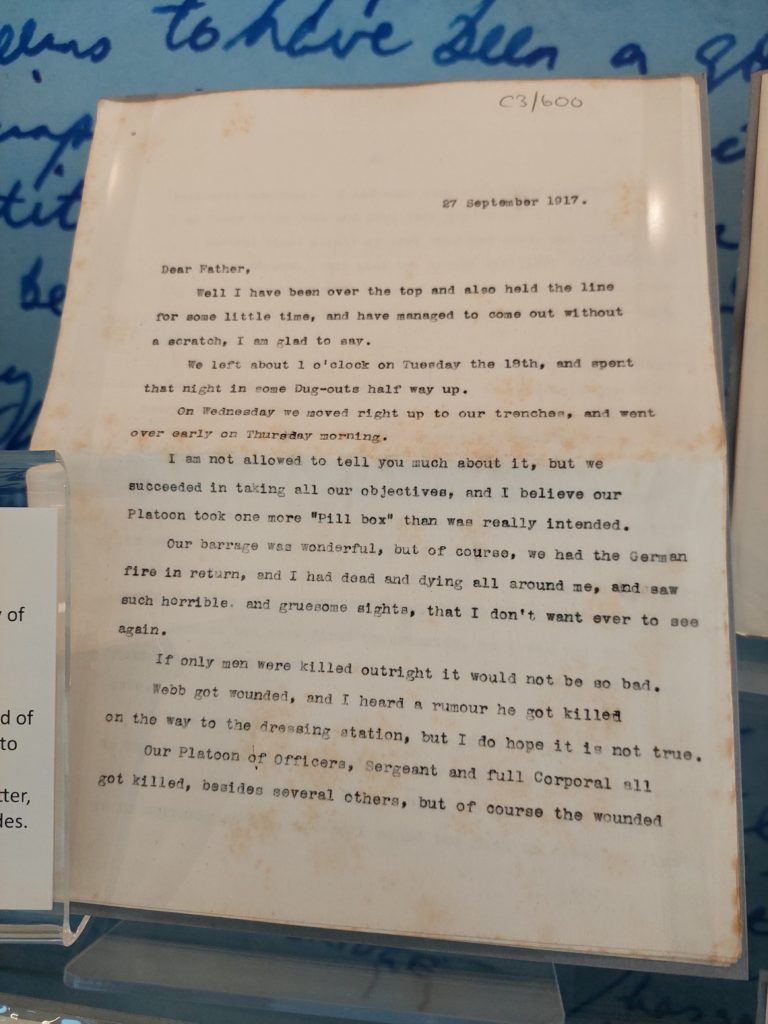 The letters sent to Magdalen from the trenches, which were compiled in their hundreds by President Herbert Warren (1885–1928), form one of the backbones of any survey of the experiences of Magdalen men during World War I, which are today meticulously catalogued on our 'Slow Dusk' website.
While other student letter collections may not be quite so solemn, they are nevertheless just as important for the insights they offer into the student experience at various points in Magdalen's history. This is particularly true of the correspondence from the college's more recent past, in which students write about a wide range of topics, including their tutors, their fellow students, and their academic and extra-curricular pursuits.
In some sense, they are also one of the main ways in which student voices are captured, both individually and collectively. In a letter back home to his parents in Australia, written in October 1971, Stuart Hamilton (RS 1971–74) therefore expresses the exasperation likely felt by many new arrivals when he writes that he has 'spent the last 2 [days] trying to get established – and, my god, is Oxford incredibly vague!'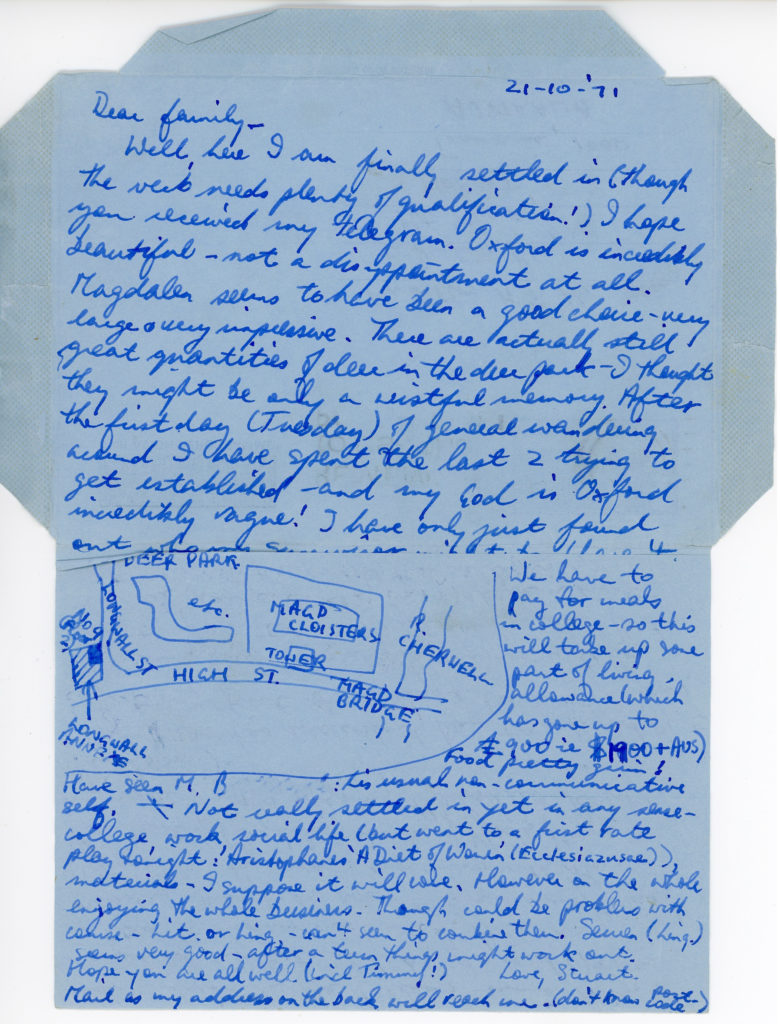 Of course, alongside the grumbles, one thing the more modern letters generally record is a sense of happiness at being at Magdalen and Oxford. The collections of Dick Pfaff (some 200 items) and Stuart Hamilton (over 30 items) capture this perfectly. They also reflect a sense of belonging that is undoubtedly felt by many during their time here. Dick Pfaff captures this neatly in another of his letters displayed in the exhibition, when, following his matriculation, he notes that, while still feeling like something of an outsider in the UK, he is now officially a member of the University and of Magdalen, 'where my name will be on the books as long as the college exists.' In an age of WhatsApp and FaceTime, how such sentiments will be recorded for posterity in the Archives by Magdalen's current and future students remains to be seen.
As for Stuart Hamilton, he will be coming back to Magdalen in late May to celebrate his 50th wedding anniversary (he and his wife met at Oxford) and to pop in to see one of his letters on display. If you're a Magdalen member, please do similarly take a moment to swing by the Longwall to take a look at the exhibition, which will be on display until the end of the summer.
Of course, if you're reading this and have student letters of your own that you might like to donate to the Archives, or anything else relating to your time at Magdalen, please do not hesitate to get in touch – either by letter (if the spirit so moves you!) or email (archives@magd.ox.ac.uk).
Written by Dr Richard Allen, Archivist and Records Manager