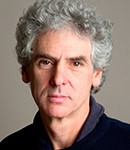 Professor Nicholas Stargardt
Subject: Modern History
Department: History
College appointment: Tutorial Fellow, Vice President
Academic position: Professor of Modern European History
Background
I was educated at Hills Road Sixth Form College in Cambridge and at King's College, Cambridge, where I stayed on to do my Ph.D and then held a research fellowship. In 1993, I was appointed to a lectureship at Royal Holloway, University of London, where I taught modern European History until moving to Magdalen in 1999.
Teaching
I teach a wide range of undergraduate courses, mainly focused on 19th and 20th century European and global history, but also reaching back into 18th century intellectual history, as well as a special subject on Nazi Germany, based on primary sources. I also teach at undergraduate and Masters level on historical concepts and on ways of writing history. At a graduate level, I have mainly supervised students working on 19th and 20th century German history, and I host a fortnightly workshop which brings together Masters and doctoral students as well as postdocs to discuss each other's research in an informal atmosphere. I also co-convene two research seminars, on German History and on Modern European Social and Cultural History.
Research Interests
As a historian of modern Germany, I am most interested in the human scale of history, how ordinary people experienced and understood the periods they were living through and what choices they imagined they had at the time.
For the last 20 years, I have tried to understand the experience of those who lived in Germany and under German occupation during the Second World War. This has resulted in two major books. Witnesses of War: Children's Lives under the Nazis (2005) was the first work to show how children experienced the Second World War under the Nazis, exploring the widely divergent experiences of German and Jewish, Polish and Czech, Sinti and the disabled children. The book showed how, as the 'safe' bounds of childhood were destroyed by the war and by a regime bent on separating children out along racial lines, children became increasingly important social actors in their own right.
The German War: A Nation under Arms, 1939-45 (2015) answers the key question without which we cannot understand how Germans were able to continue the war till the bitter end: What did they think they were fighting for? How did the changing course of the conflict — the victories of the Blitzkrieg, the first defeats in the east, the bombing of Germany's cities — change their views and expectations? When did Germans first realise that they were fighting a genocidal war and how did they deal with this knowledge?
My first book, The German Idea of Militarism (1994) dealt with an earlier catastrophe – how hopes for a peaceful, democratic and demilitarised Europe were destroyed when the First World War broke out in 1914.
Selected Publications
The German War: A Nation under Arms, 1939-45 (Bodley Head, 2015)
Witnesses of War: Children's Lives under the Nazis (Jonathan Cape, 2005)
The German Idea of Militarism: Radical and Socialist Critics, 1866-1914 (CUP, 1994)
'The Troubled Patriot: German Innerlichkeit in World War II', in German History, 28/3 (2010)
'Jeux de guerre. Les enfants sous le régime nazi', in Vingtième siècle. Revue d'histoire, 89 (2006)
'Children's art of the holocaust', Past and Present (161, 1998)