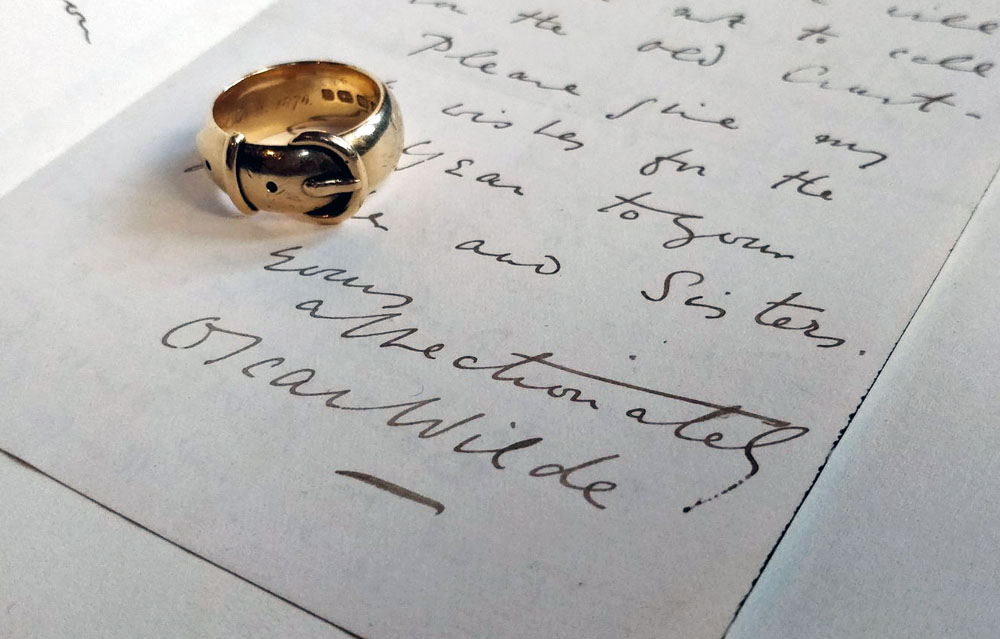 Almost two decades after it was stolen from College, a ring gifted by Oscar Wilde to his close friend William Ward has made its way back to Magdalen.
The 18-carat gold band, which is shaped like a belt and buckle, was taken from College the day after the May Morning celebrations in 2002. Following initial investigations, the College feared that the ring had been melted down and would never been seen again.
"We thought it had disappeared," said Magdalen President, Professor Sir David Clary. "So I was delighted when we heard it had been found."
The ring was found by Arthur Brand a Dutch 'expert in art recovery', with the help of commodity broker George Crump.
"We heard very strong rumours that [the ring] was linked to this theft: [the Hatton Garden jewellery raid]," said George. "I didn't think it would come back – it was impossible. And basically, lo and behold, A went to B, to C, to D, down the line.
"I was absolutely astonished. A small thing like that could have been chucked away and lost forever; a needle in a haystack."
"Oscar Wilde was our most gifted alumnus," said Sir David. "We are very grateful to everyone who helped bring his ring back to Magdalen College."
The friendship ring was given as a joint gift to William Ward in 1876 by Oscar and another friend, Reginald Harding. On the outside, it bears an inscription in Greek which reads 'Gift of love, to one who wishes love', and on the inside, the initials of Oscar, Reginald and William, 'OFOFWW + RRH to WWW'. (Wilde's full name is Oscar Fingal O'Flahertie Wills Wilde.)
Oscar mentions the ring to William in a letter held in the College archive. He writes, "I am so glad that your people liked the ring, and if the Greek lines you quoted to me would fit it would be charming. Perhaps, however, our initials inside and (Greek inscription) outside would be all that would fit conveniently."
The ring was donated to College originally at the end of the 19th Century along with letters written by William Ward. It was ceremoniously returned to Magdalen College on Wednesday 4 December by George Crump.