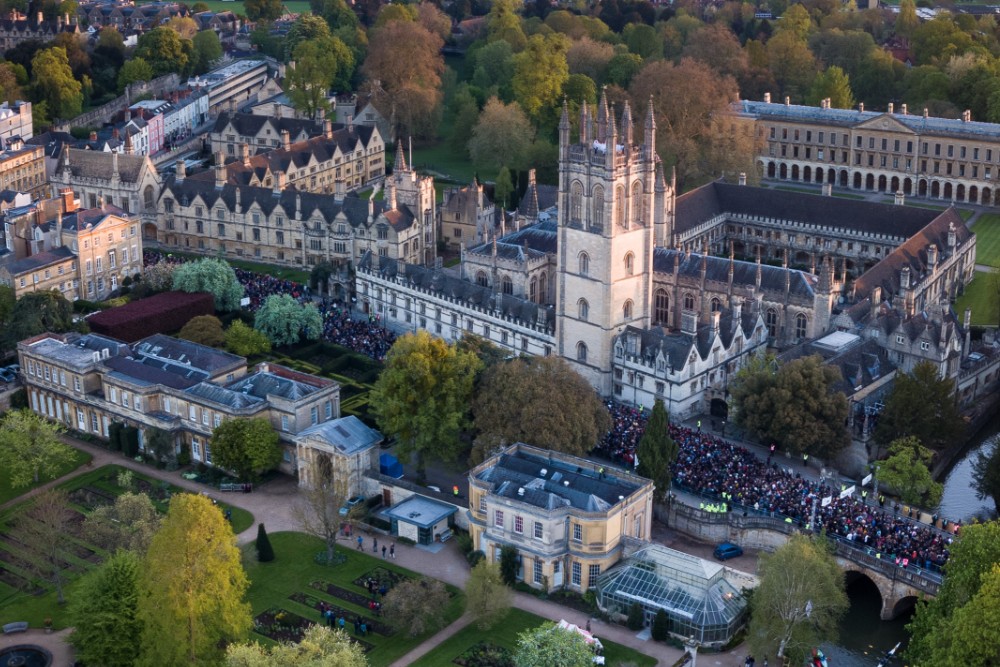 The May Morning celebrations may well have been cancelled, but the Choir of Magdalen College is determined not to let this 500-year-old Oxford tradition go unmarked.
The Choir will welcome the coming of spring this year, but the Choristers and Academical Clerks won't be singing from the top of the Great Tower. Instead, they'll be singing from their homes across the country via video link in a video produced for the occasion.
Mark Williams, the Informator Choristarum at Magdalen College has been working with the 28 members of the Choir over the last few weeks to complete new virtual renditions of the Hymnus Eucharisticus and a traditional madrigal for May Morning.
"May Morning is a highlight of our calendar," said Mark, "so, when I mentioned the idea of a virtual May Morning to the choir, everyone was delighted to take part.
"It's been tricky to get everyone all together, but I am glad that the members of the Choir have thrown themselves into this. We're pleased that we will still be able to celebrate May Morning with the Magdalen community – and with thousands of others – this year."
You can watch this very special May Morning performance at 6am on Friday 1 May on the Choir's Facebook page (www.facebook.com/magdalencollegechoir/), and later, on their webpage (https://www.magdalencollegechoir.com/).
Watch the 'Making a virtual May Morning' video.
---
About the Choir of Magdalen College 
The Choir of Magdalen College was founded in 1480 and enjoys an international reputation as one of the finest ensembles in the UK. The Choir is made up of Choristers who are part of the College Foundation and attend Magdalen College School, and Academical Clerks and Organ Scholars who are undergraduates at Magdalen College.
---
About May Morning
The precise origins of May Morning are uncertain but the tradition is thought to date back to at least 1509, when the College tower was completed. Over the centuries the nature of the event has taken several forms, ranging from a solemn Requiem in memory of King Henry VII, via a lengthy celebration involving bands of musicians, to the event as we know it today, which evolved in the mid 19th century, thanks to the historian John Bloxam, Bursar, Dean and Librarian of Magdalen. He introduced the singing of the Hymnus Eucharisticus, which was composed in the 17th century by Benjamin Rogers, Informator Choristarum and Fellow of Magdalen. The event is famously captured in a painting from 1890 by William Holman Hunt, entitled 'May Morning on Magdalen Tower'.