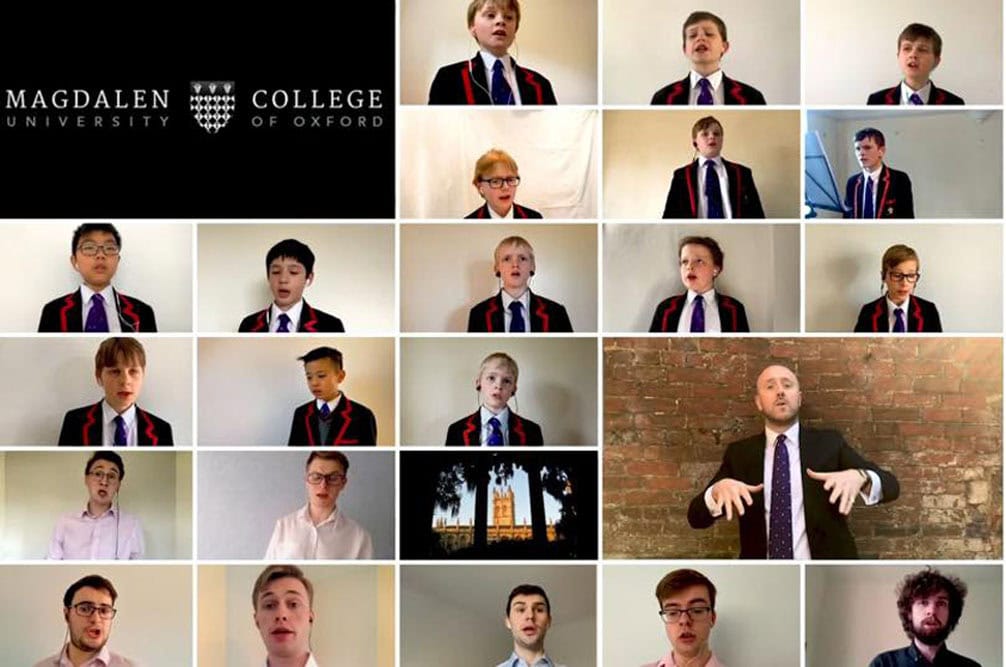 When Mark Williams, the Informator Choristarum at Magdalen College, first came up with the idea of a virtual May Morning, he had no way of knowing that it would become the most viewed ceremony in the tradition's 500-year history.
Last year, around 10,000 people gathered in the streets outside College to hear the Choir sing, but this year's virtual performance has already been watched over 180,000 times*.
"We were determined to keep the tradition alive and celebrate May Morning with the Magdalen community this year," explains Mark, "but we had no idea that so many people from around the world would be able to join us!"
Mark worked with the 28 members of the Choir and producers Andy Doe and Simon Kiln via video link to complete new renditions of the Hymnus Eucharisticus and a madrigal for the May Morning performance. The video premiered on the Choir's Facebook page at 6 am on Friday 1 May.
"Over 1300 tuned in at 6 am, but then the numbers just kept going up," says Mark.
"The response has been overwhelming. We have had hundreds of messages of thanks and congratulations, and lots of people have asked that we do something similar next year.
The story of our virtual May Morning was also picked up by local, national, and international media, including:
BBC
The Times
The Guardian
India Education
University of Oxford
Oxford Mail
JackFM
This is Oxfordshire
* On the College YouTube channel and College and Choir Facebook pages.