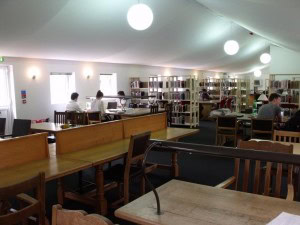 The new St. Swithun's Library opened at the start of Trinity Term 2014, featuring all the oak furniture from the New Library, 47 reader work spaces (as opposed to the 48 that the New Library had), 3,500 of our most popular books, the entire DVD collection, 3 SOLO search stations, a self-issue machine, and a book return drop. From now our main reader helpdesk will be the one in the St. Swithun's Library, and books that have been requested/ordered will be kept there for collection. Access is by swipe-card, and is step-free. The building is light and airy, with thermostat controlled heating (a big improvement on the current library!) We are aiming to have an official launch party next week, but it is available to use now.
The St. Swithun's Library contains our most heavily used and popular books, and these have now been marked on SOLO as "Magdalen College Library St. Swithun's Library". We are also adding white stickers to the top of their spines when they are returned, to mark them out. If you notice any glaring omissions from the collection and have any recommendations for books that we should keep here rather than in the New Library/Swindon (set texts, key textbooks, and reference works that you need to frequently consult), please email them to library@magd.ox.ac.uk.
The New Library stayed open until the end of term, with trestle tables replacing the oak desks. There was still be a book return drop and a self-issue machine there. The books in the New Library were shipped out to the Bodleian's Book Storage Facility in Swindon through the term, which caused some noise and disruption.
Once a book had left our shelves it took around a week for it to be boxed, shipped to Swindon, processed into their warehouse, and updated on SOLO. Once its status on SOLO becomes "Books / Requestable from stack", it can be ordered up to the St. Swithun's Library through SOLO. Simply log in using your Single Sign On, click "Hold" next to the book, and then "Hold" again on the next screen (just like placing a hold on books on loan). Books ordered before 7:30pm will be delivered before 9:30am the next day. All of the books in Swindon are fully loanable (including the ex-reference books). The reference, Magdalen author and folio collections are now fully processed, and they are moving into the main book sequence.
Finally, please note that all of our library books now have their barcodes on the top left of the front cover (because that is where the Swindon warehouse needs them to be). So please don't panic if you see that the barcode inside a book has been crossed out, just use the one of the front cover.