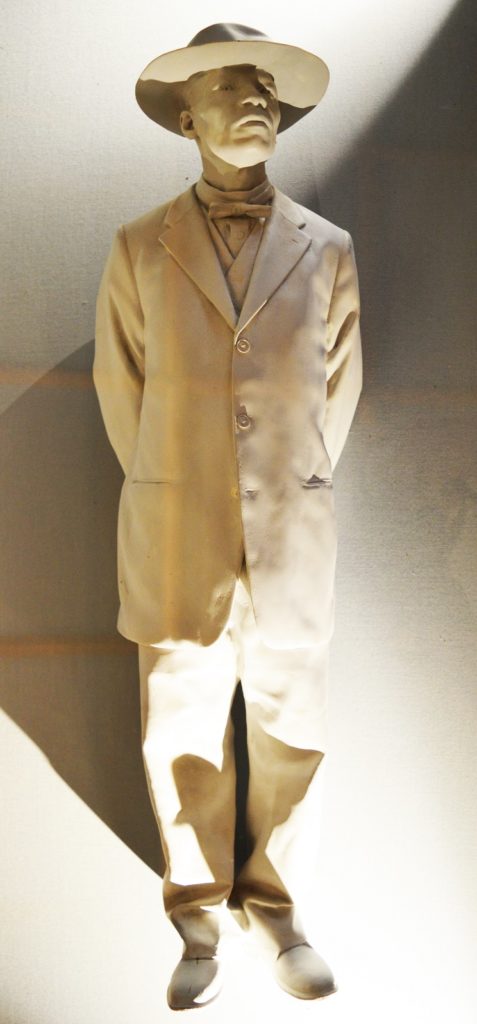 Fractured Mission: The Library and the Making of Antelope
Curated by Samson Kambalu, Fellow of Magdalen College and associate professor of the Ruskin School of Art, and Lucy Gwynn, College Librarian, Magdalen College
This exhibition brings together Kambalu's preparatory studies for Antelope, his sculpture recently commissioned for a place on the 'fourth plinth' in Trafalgar Square, with books from the artist's library on Malawi's history, John Chilembwe, and the Chilembwe Uprising of 1915. Antelope restages a photograph of pan-Africanist and Baptist preacher John Chilembwe (1871-1915) with John Chorley, a white European missionary. Today Chilembwe is seen as the founding hero of the Malawi nation thanks to the unifying effect of his unsuccessful uprising.
At Magdalen, the clay pieces of his preparatory models for Antelope are positioned with photographs chronicling his work on the sculpture and with reproductions of the demolition of Chilembwe's mission church after the uprising. These fragments speak to the fracturing of Chilembwe's legacy but also resonate with the philosophy of Nyau masking that informs Kambalu's art.
The exhibition makes a striking intervention in the medieval space of Magdalen's Old Library, a fifteenth-century room containing nearly 20,000 historic volumes. The library is, itself, made up of fragments, books as incomplete objects damaged and excised by time. Situating Kambalu's research library of Malawiana within this space highlights the ongoing marginalisation of the history of Malawi by academic publishers. The Old Library, by contrast, represents the Western canon at its most venerated – a canon that provided the intellectual framework for imperial expansion and oppression.
Tickets can be booked for our Wednesday afternoon openings on Eventbrite: https://fractured-mission.eventbrite.co.uk.
Please note that the exhibition is free, but that Magdalen College charges an entrance fee to some visitors. The fee is as follows:
Adults £8; Over 65s, children, students £7; Family ticket (2 adults and up to 3 children aged 7 or over) £25.
The following are admitted free of charge:
Children under 7 years of age
Potential applicants and their families
Pathway to Success participants and a small number of guests
Those who live locally, or who hold an Oxford University card, an OUP card, or alumnus card can come in with up to one guest
Payment will be by card only, no cash. More information on visiting the college, including travel information and accessibility, can be found here.
Access: The Old Library is accessed via a steep flight of stairs. There is disabled access via a lift, but please contact us in advance so that we can arrange this for you. Many thanks.