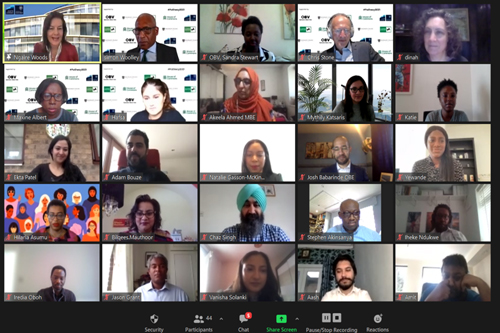 Rising stars from the world of politics and business are taking part in the second year of the Pathway to Success Leadership and Development programme, an initiative designed to help create the next generation of ethnic minority leaders.
The week-long programme was developed by Operation Black Vote and The House of Commons in collaboration with Magdalen College, The House of Commons, the Blavatnik School of Government, and Lloyds Banking Group and aims to equip participants with the tools and knowledge required to stand for leadership roles.
Participants are selected based on their proven skills and will undertake a week of intensive masterclasses in politics, governance, community, business, commercial and civic environments to build their know-how in running for political office and further develop their leadership skills.
Due to the coronavirus pandemic, sessions this year are being delivered online.
As an extension to Pathway to Success, Magdalen College has developed a mentoring programme that offers one-to-one support to participants in the following months, as well as providing access to a network of mentors and fellow participants. All mentors are alumni of Magdalen.
Professor Robin Cleveland, the Access Fellow at Magdalen College, said, "Magdalen is delighted to continue its involvement with Pathway to Success programme in order to grow diversity in leadership positions in society.
"Pathway provides the participants from Black, Asian and other minority ethnic backgrounds with an unparalleled experience by having them engage with outstanding individuals from leading social, political, academic and business institutions. Crucially, this is followed by a long-term mentoring scheme in which Magdalen alumni support each participant on their individual pathway to success."
The mentoring programme and the Pathways to Success Leadership and Development programme provide a unique opportunity for Magdalen College to support diverse leadership in politics and society in general, and to connect with, and learn from, these future leaders.
Magdalen College would like to thank its Pathways partners, the programme participants, and the alumni who have supported this initiative. You can follow the programme on Twitter using #Pathway2021