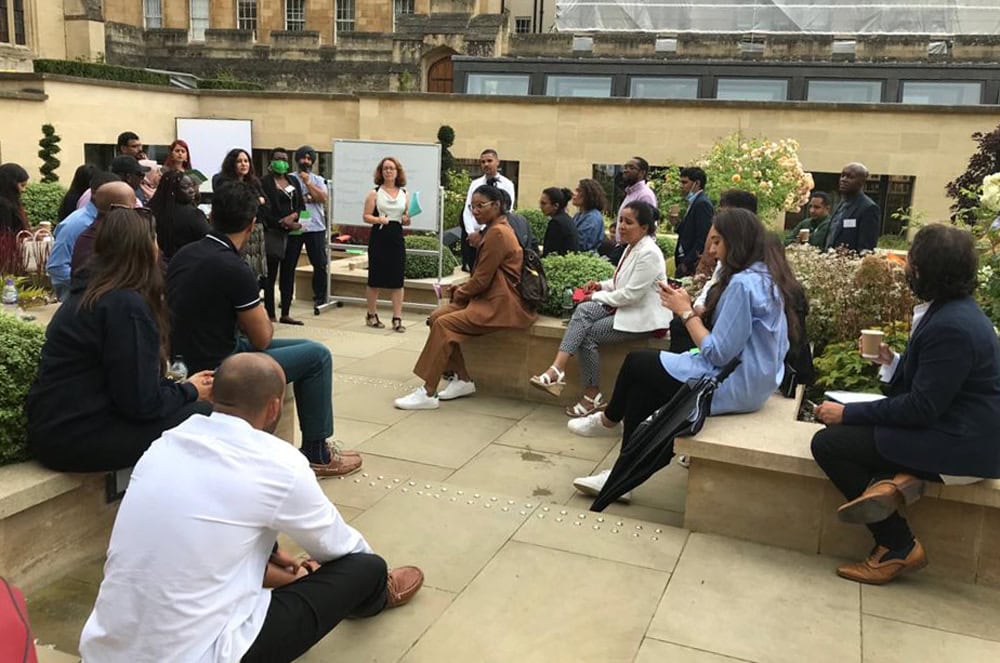 Rising stars from the world of politics and business visited Magdalen for a residential as part of the Pathway to Success Leadership and Development programme, an initiative designed by Operation Black Vote (OBV) and the House of Commons in collaboration with Magdalen College, the Blavatnik School of Government (BSG), and Lloyds Banking Group to help create the next generation of ethnic minority leaders.
The Pathway programme, which is now in its second year, began online in March, but the participants were finally able to met for the first time at Magdalen earlier this month.
Magdalen was delighted to host participants for a number of sessions including a talk on demystifying the House of Commons led by Honorary Fellow and Founder of OBV, Lord Woolley, a morning of workshops on negotiation run by BSG, and an Oxford Union debate experience. Magdalen Fellow Professor Timothy Barraclough also delivered a session in the colonnades of New Buildings about climate change.
As an extension to the Pathway programme, earlier in the year, participants were assigned a Magdalen alumni as a mentor, and, on the second day of the Magdalen residential, mentors and participants met in person for the first time.
Mentors were also invited to an 'in conversation' session with Dominic Grieve, a mentor himself, followed by a reception and dinner opened with a speech by President Dinah Rose.
Professor Robin Cleveland, the Access Fellow at Magdalen College, said, "Magdalen is delighted to continue its involvement with Pathway to Success programme in order to grow diversity in leadership positions in society.
"Pathway provides the participants from ethnic minority backgrounds with an unparalleled experience by having them engage with outstanding individuals from leading social, political, academic, and business institutions. Crucially, this is followed by a mentoring scheme in which Magdalen alumni support each participant on their individual pathway to success."
Magdalen College would like to thank its Pathways partners, the programme participants, and the alumni who have supported this initiative.
You can follow the programme on Twitter using #Pathway2021