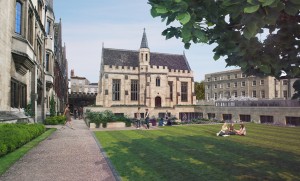 Construction of Magdalen's long-awaited renovated and extended New Library (detailed here) began 30 June 2014. A lot of preparatory work had to take place before that, including building a temporary library in St. Swithun's Quad, re-barcoding the books, shipping them to the Bodleian's Storage Facility (BSF) in Swindon, testing the automated-stack-request system (ASR), selecting, boxing, and moving the 3000 or so books that remained on site, &c. If you have any questions, ask the library staff!
An online questionnaire was sent around members of College at the end of Hilary Term 2014, asking for advice on different options, such as what lending periods are preferred, the best time for book deliveries, and which books we should keep in the Temporary Library.
The rough plan is:
Easter Vac 2014
New Library open, with re-barcoding work going on in Basement and 1st Floor (so there will be beeping as we scan the barcodes). At the end of the vacation, book move to Bodleian Storage Facility (BSF) in Swindon begins.
Temporary St. Swithun's Library built 7–24 April.
Trinity Term 2014
St. Swithun's Library opens for business in 1st week, with 45 reading spaces, helpful librarians, all the oak desks from the NL, 3000 books, our DVD collection, as well as thermostat-controlled heating, good lighting, and a roof that does not leak.
Book move to Swindon continues, books ordered from Swindon are delivered to Magdalen in well under 24 hours. All currently borrowable books still will be, and College members will still have up to 999 loans, unlimited renewals, and no fines. But books will have to be ordered online, via SOLO (except for the 3000 St. Swithun's Library books).
New Library first floor remains open until 9th Week, furnished with trestle tables.
Summer Vac 2014 to Hilary 2016
St. Swithun's Library open, with Swindon book deliveries Monday through Saturday during term.
Construction on new New Library begins 30 June 2014, continues until 2016.
Hilary and Trinity 2016
Construction work hopefully finishes around February 2016.
Building is furnished, interior finished, books returned, problems snagged during February and March.
If all goes well, the New New Library will open for Trinity Term 2016, with more than twice as many seats, varied reading areas (including in Longwall Quad when the weather is fine), better environmental conditions, high-standard of lighting, some exhibition space, and no leaks in the roof!