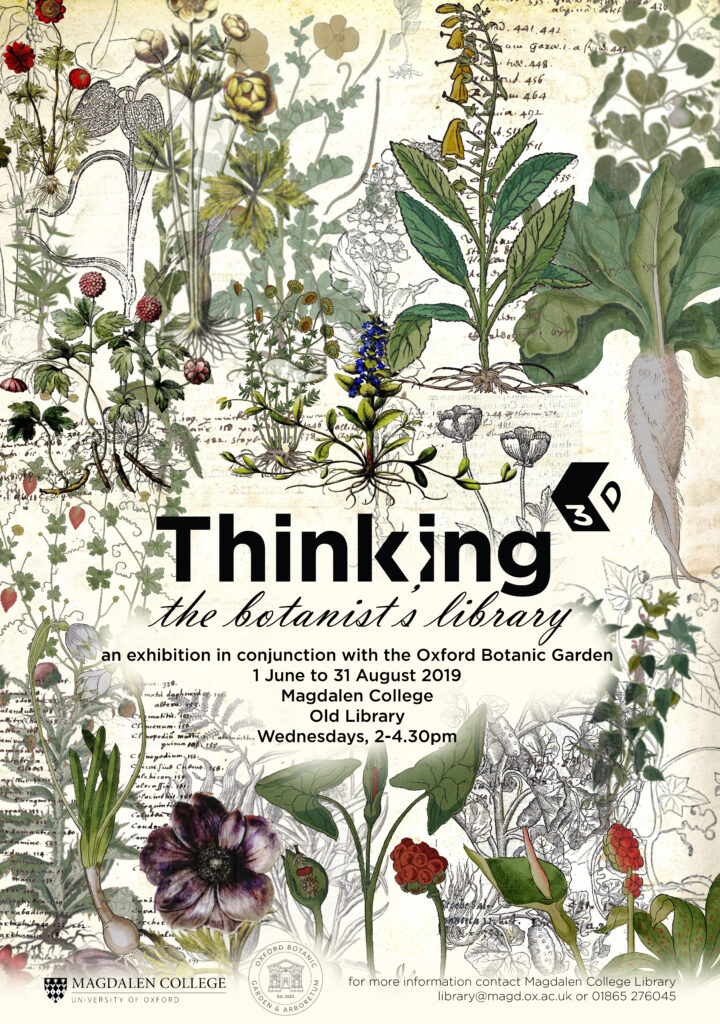 The intellectual world of the early 17th century was an electrifying mix of new discoveries and experiments, journeys to blank spots on the globe, and the intersections of new cultures. At the heart of all of these activities was a network of individuals and nascent intellectual societies that helped to distribute and challenge new ideas across borders and geographical divides. The culture of letters and the making of books were the main tools for this enterprise; the former allowing for the rapid sharing of new observations and ideas, the latter the great equalizer of the spread of knowledge, allowing complex concepts and arguments to be distributed over time and space.
The next exhibition in Magdalen's Old Library will explore an individual at the heart of a growing network of botanists across Europe at the opening of the 17th century, John Goodyer (1592-1664). Goodyer was never formally trained, but by the end of his life he was the most respected and well-connected botanist in England. His collection of books and manuscripts were left to Magdalen College on his death, and they provide a unique window on to the state of plant sciences in the early modern period — a time in which images of plants were recycled across numerous editions, and in which the definition of what a book of plants was actually used for had begun to change. Images and indexes were of particular interest to Goodyer, and his surviving books are full of his own notes comparing information and illustrations across multiple texts.
Thinking 3D: the botanist's library is part of the international Thinking 3D network which includes a major 10-month exhibition at The Bodleian Library, and partner exhibitions at The Ashmolean, Christ Church and The Natural History Museum, as well as further afield. This exhibition is paired with an exhibition at the Oxford Botanic Garden, Thinking 3D: Flower to Frame opening on 1 June.
The exhibition will run from 1 June-31 August 2019, in the Old Library at Magdalen College. It will be open each Wednesday afternoon (2-4:30pm), or by prior appointment (please email library@magd.ox.ac.uk).
Event
Dr José Ramon Marcaida Lopez (University of St Andrews)
"Picturing the passion flower. Art, science and religion in the early modern period"
13 June 2019, 5.30pm, Daubeny Laboratory, Magdalen College.
Booking is free, RSVP essential (email library@magd.ox.ac.uk or phone 01865 276045).
This event is supported by the School of Art History, University of St Andrews