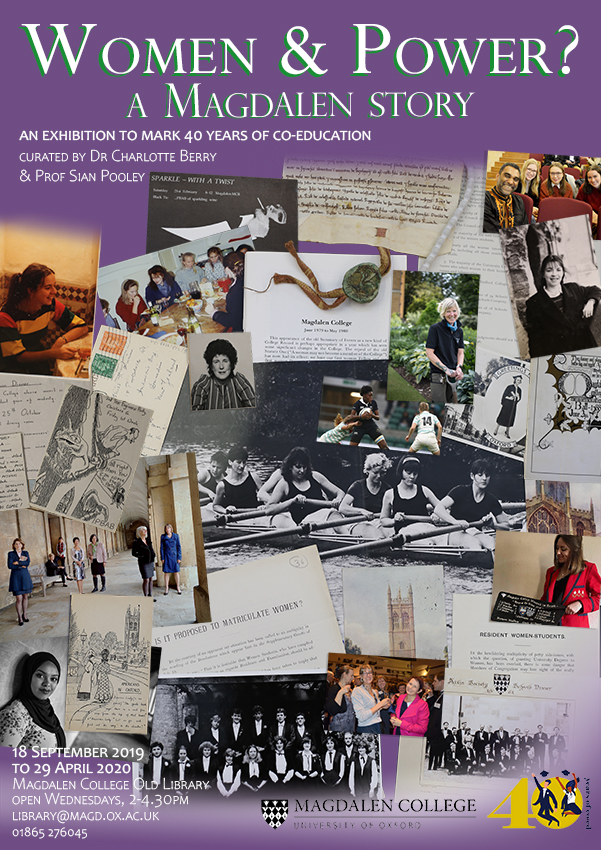 Magdalen College Library and Archives are happy to announce the upcoming exhibition Women & Power? A Magdalen Story coming to the Old Library in mid-September.
Why has power been dominated by men in institutions such as Magdalen? How have women accepted, used and resisted power structures within the College? In what contexts have women found ways to shape Magdalen, for themselves, for their peers, and for future generations?
Women and Power? A Magdalen Story is part of the College's celebrations in 2019-20 to mark forty years since women were admitted as equal members of Magdalen. Since 1979, Magdalen women have been undergraduate students, graduate students, and fellows within a formally co-educational institution. In spite of the historic buildings and seemingly timeless landscape, much has changed since 1979.
The exhibition will also trace a longer history of how since Magdalen's foundation in 1458 women influenced a college from which they were formally excluded. Women took on crucial roles most particularly as benefactors, staff, and relatives of the men who were members of College. Women's crucial work to sustain an all-male 'Society' can easily be overlooked. We have to look harder to find these peripheral and often disempowered women within the College's history, but they were always there.
Women and Power? A Magdalen Story will be open to the public from 18 September 2019 to 29 April 2020, on Wednesday afternoons in the Old Library. More information on the day-long celebration that marked 40 years of co-education can be found here.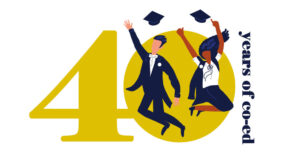 Further 40th anniversary events will be held throughout the year. If you would like to suggest and event or nominate an alumna who you feel should be recognised during our anniversary celebrations, please email us at alumni.office@magd.ox.ac.uk