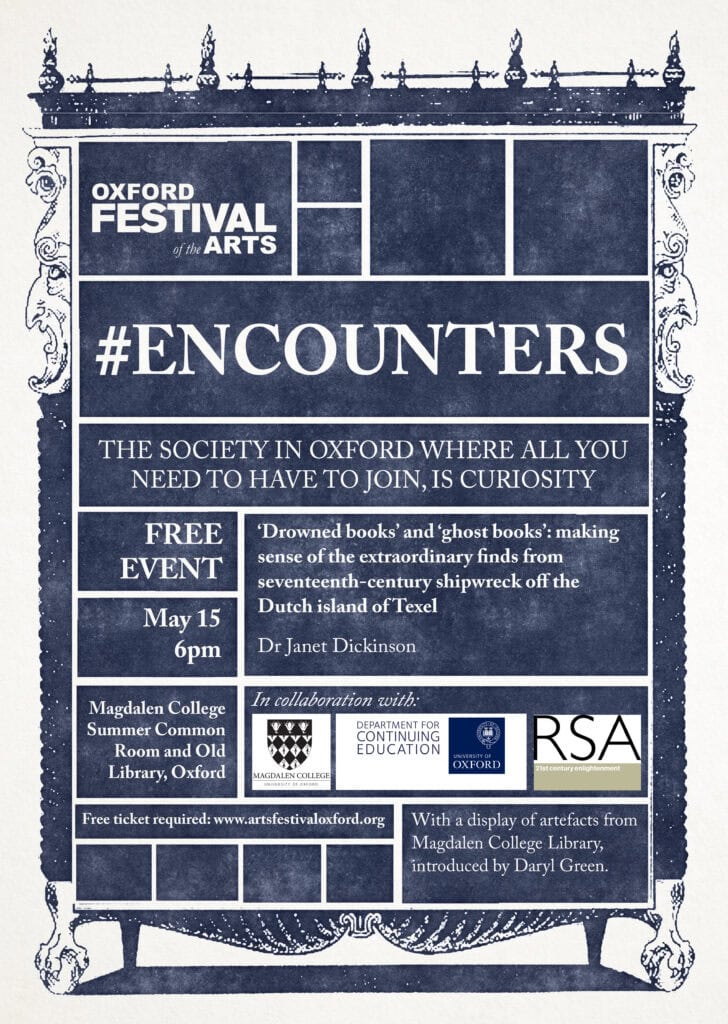 As part of the Oxford Festival of the Arts' #Encounters series, the College Library and Archives are delighted to collaborate with the University's Department for Continuing Education and the Royal Society of Arts to bring you a free event!
In her talk, "Drowned Books and Ghost Books", Dr Janet Dickinson (history tutor at Oxford University's Department for Continuing Education and Research Member of Kellogg College) will discuss her recent work on an Anglo-Dutch project entitled 'Maritime Archaeology meets Cultural History'. This focused on the extraordinary objects retrieved from a 17th century shipwreck off the Dutch island of Texel, and in particular a collection of textual materials (the 'drowned books' and 'ghost books' of the title).
Join us and Dr Dickinson on Wednesday May 15, from 6-8pm, in the Summer Common Room of Magdalen College, Oxford, to learn more about these remarkable salvaged books and the secrets they hold. A display of artefacts from the College Library, introduced by Librarian Daryl Green, will accompany the lecture.
Entry to the event is free, but spaces are limited and a ticket booking is essential. Please register for a place on the Oxford Festival of the Arts webpage, here: http://www.artsfestivaloxford.org/whats-on/encounters/drowned-books-and-ghost-books