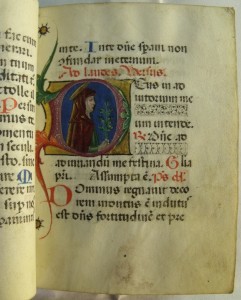 Hilary Term 2014's Old Library Open Day and Library & Archives Talk both highlighted medieval items from our collections:
An exhibition of manuscripts and facsimiles from Magdalen College Library & Archives exploring how key details, such as a book's binding, size, or script, can tell us something about the production and use of medieval manuscripts. Guest curated by Sarah Laseke, with assistance from the Library & Archives team.
It included several of the McGowan Collection of facsimile volumes (currently on loan to Magdalen) and items featured in our Treasure of the Month: Books of Hours.
The Exhibition Open Day was Wednesday 6th Week (26th February), 12:00-14:00 & 16:00-18:00. The exhibition has also been put online, on our Facebook page here. Sarah Laseke has written a blog post on one of the items, the medical recipes in the limp leather binding, here.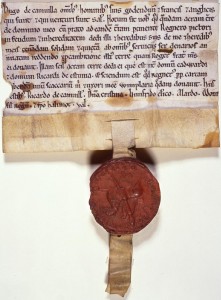 Magdalen College has over 12,000 title deeds relating to its various properties in England, which have been kept in the medieval muniment room especially built for them in the late fifteenth century. 2013 saw the end of a major decade-long conservation project to clean, conserve and sort the deeds, and rehouse them in a way which would preserve the original method of storage, but take account of more modern approaches to their preservation. This was one of the largest conservation projects undertaken in any Oxford College archive, organised by the Oxford Conservation Consortium.
Dr. Robin Darwall-Smith (Archivist of Magdalen College), Jane Eagan (Head of the Oxford Conservation Consortium) and Sean Rippington (formerly Archives Assistant at Magdalen, and now Archivist of St. Peter's College) gave a joint presentation about the history and contents of the collection and its significance, the origins of the deeds project, and its execution.
On Monday 7th Week (3rd March), 17:30-18:30, in Magdalen College Summer Common Room (Cloisters III). It was followed by refreshments and a chance to view several original title deeds & the 'Medieval Manuscript Production' exhibition in the Old Library.
The title deeds featured in a Treasure of the Month here, and the conservation project is covered in detail here.