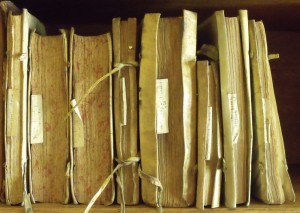 You are cordially invited to this term's Magdalen College Library & Archives Talk:
Libraries and the Elizabethan Country House: the Case of Sir Arthur Throckmorton
Mark Purcell
Mark Purcell is Libraries Curator for the National Trust and author of The Big House Library in Ireland. He is currently working on a larger book on the history of the country house library in Britain and Ireland, and has recently consulted the collection at Magdalen given to us by Sir Arthur Thockmorton (Magdalen alumnus, Elizabethan courtier, and Sir Walter Raleigh's brother-in-law).
Join us to hear about some of his findings, and uncover the secrets of Elizabethan book collections.

Followed by refreshments and a chance to view our exhibition Ex Libris: What Can Books Tell Us About Their Owners? (also available online).
Monday 8th June (7th week), 17.30
Magdalen College Summer Common Room, Cloisters III
All welcome, R.S.V.P. to library@magd.ox.ac.uk