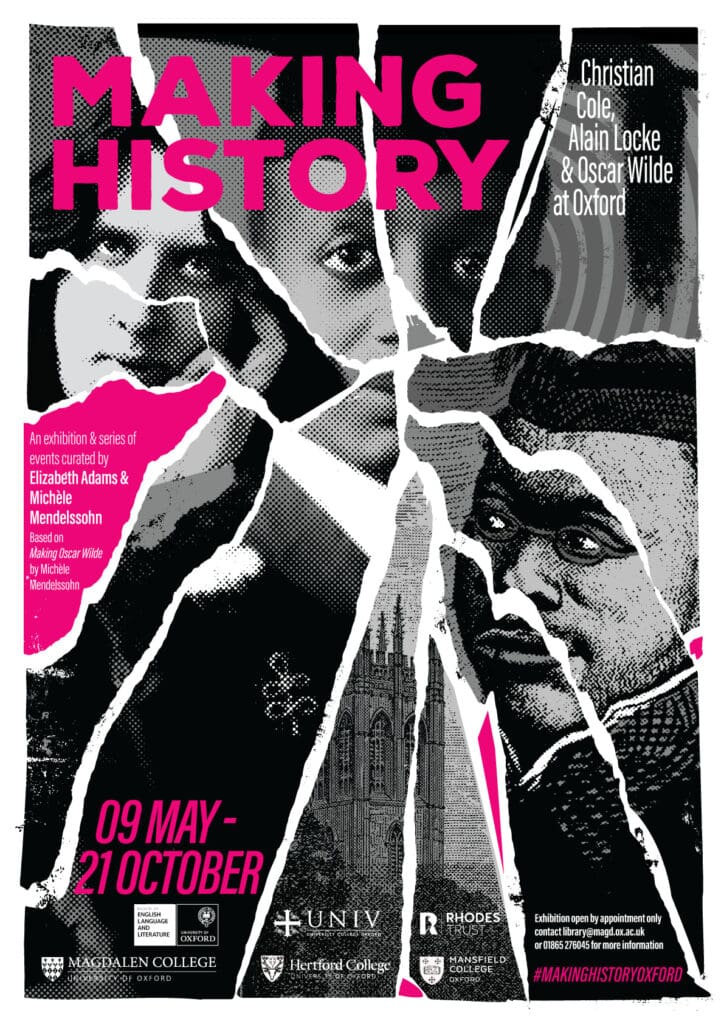 The Library and Archives is happy to announce the opening of a new exhibition and events series celebrating Oxford University's first Black African undergraduate, Christian Cole; the first African-American Rhodes scholar, and midwife to the Harlem Renaissance, Alain Locke; and the great Irish wit and dandy, Oscar Wilde. These three were undergraduates at University, Hertford and Magdalen College, respectively. By drawing these exceptional men together, the exhibition highlights the surprising shared histories of Oxford's Queer, Black and First-Generation undergraduates. By showcasing rare archives, Making History allows the public a unique glimpse of the documents and drawings that bear witness to these remarkable young men's lives and times. The exhibition is curated by Elizabeth Adams (University College, Oxford) and Michèle Mendelssohn (Mansfield College, Oxford) in collaboration with Daryl Green (Magdalen College, Oxford), and draws upon Michèle's acclaimed new biography, Making Oscar Wilde.
Making History: Christian Cole, Alain Locke and Oscar Wilde at Oxford will run from May 9-October 21 2019 in the Longwall Library at Magdalen College, Oxford. Access for non-Magdalen visitors is by appointment during office hours (Monday-Friday, 9am-5pm). Please email library.desk@magd.ox.ac.uk to schedule your visit. There is no fee. Members of Magdalen College may enjoy the exhibition without making an appointment.
Making History Events Series
A series of lectures, talks, tours, and discussions have been programmed to accompany the exhibition. Details of these events can be found below. Please click on the links next to each event to register and save your seat.
Making History: Exhibition Launch
'Making History: Christian Cole, Alain Locke and Oscar Wilde at Oxford – Exhibition Launch Party and Salon with Michèle Mendelssohn, Elizabeth Adams, &c.'
5.15pm-6.30pm, 9 May 2019, Magdalen College Auditorium
Attendance free, registration required: http://tinyurl.com/makinghistory9May
Making History: Alain Locke Memorial Lecture
'Making History: Alain Locke Memorial Lecture with Donald Brown (Harvard)'
5.00pm-6.30pm, 13 May 2019, Rhodes House
Attendance free, registration required: http://tinyurl.com/makinghistory13May
Making History: Magdalen Garden Play (A Woman of No Importance)
22nd-25th May, 2pm/7pm, Magdalen College President's Garden
Tickets required: www.ticketsource.co.uk/magdalen-players
Making History: Lunchtime Discussion
'Making History: Free Lunch and Discussion about Alain Locke's Legacy with Nicholas Gaskill (Oxford)'
12.00pm-1.30pm, 30 May 2019, Hertford College
Attendance free, registration required: http://tinyurl.com/makinghistory30May
Making History: Black Oxford Walking Tour
'Making History: Black Oxford Pioneers and Trailblazers walking tour with blue badge guide Angela Morgan'
12pm-2pm & 5pm-7pm, 4 June 2019, starting at Magdalen College
Attendance free, registration required: http://tinyurl.com/makinghistory4June
Making History: Christian Cole Lecture
'Making History: Christian Cole Lecture with Pamela Roberts, FRSA'
6.00pm-7.00pm, 12 June, University College
Attendance free, registration required: http://tinyurl.com/makinghistory12June
Making History: Oscar Wilde Lecture with Merlin Holland
'Confounding the critics and surviving the scandal: the remarkable reputation of Oscar Wilde'
4.45pm-6.00pm, 19 October, Magdalen College Auditorium
Attendance free, registration required: https://tinyurl.com/makinghistory19October