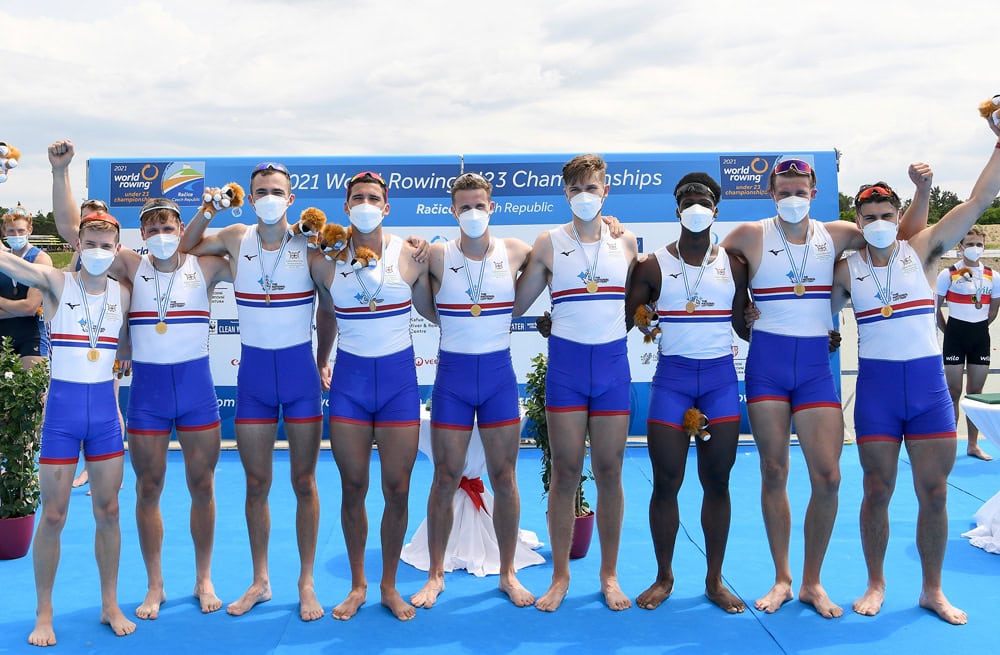 Recent graduate, Tobias Schroder (2017) was part of the Men's Eight that won gold for Great Britain at the recent World Rowing Under 23 Championships in the Czech Republic.
"Preparation for the World Championships was not straightforward," explains Tobias. "After being selected for the eight in mid-June, the crew lived in an isolated bubble for the best part of a month, as mandated by British Rowing considering the rising Covid cases. Yet the pandemic still managed to find its way into the team, preventing five of the nine selected crews from competing. Fortunately for my boat, we all managed to stay healthy and away from positive cases.
"It was clear in training that the boat was going very quickly, but we knew that we wouldn't really know how good we were until racing began. We went into the heat with no idea how fast other nations would be after a year with few competitions. Off the start we found ourselves a little behind the German eight, but we were able to move past them fairly quickly and with low effort to win our first race. This put us directly into the final, with the United States qualifying from the other heat in a marginally quicker time.
"Preparing for the final, we were confident that we could win but fully expected a difficult race. This proved to be exactly the case as the Germans produced another quick start and were much more competitive through the middle of the race. The United States too were able to sit marginally ahead over most of the course. We spent much of the final in 3rd or 4th place as Italy also looked to take a hold of the race early on, but we remained confident that we were rowing more efficiently and with lower effort than those around us, and that eventually the gap would close. We stuck to our own pace, comfortable in being a little behind, and eventually Italy and then Germany dropped off. With forty seconds to go we were in second, a few feet behind the USA. We were able to up our pace and sprint to the line, finishing 0.21 seconds ahead and claiming the gold medal.
"I'm incredibly proud to have been a part of this boat, and it provides a sweet reward after a difficult year and disappointing Boat Race campaign. It's an honour to represent Magdalen and Oxford internationally and hope to do so again in the future!"