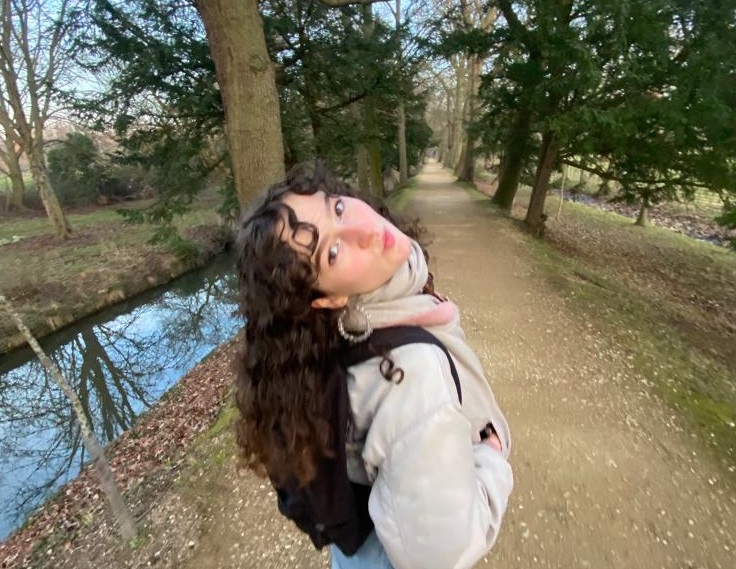 We caught up with Magdalen Psychology second-year Jess to chat about College, Commemoration Ball, and cycling in the countryside.
What does Magdalen mean to you? 
It sounds a bit corny, but Magdalen does mean home to me now – at least when I'm in Oxford. I was terrified about coming to this university, but the college community really helped me find my place here – and my place is definitely Magdalen.
What interested you most about studying Psychology?
I mainly wanted to study Psychology because I think learning about the human mind is so interesting, and the subject has so much potential to improve aspects of life for all kind of people. It's an amazing combination of different disciplines.
What's been the biggest highlight of your time at Magdalen?
The biggest highlight of my time at Magdalen so far was definitely helping to organise our Commemoration Ball in the summer. It was a lot of work but brought me so many new friends and it was so rewarding to see everything come together.
Where's your favourite spot in college?
My first thought was Addison's Walk, but I reckon a lot of people say that, so I wanted to mention the lawns! I love that in the summer term (Trinity) students can just rock up with their dinner, a guitar or even a croquet set and relax in the sunshine.
What's Oxford's best kept secret?
I love cycling out to the countryside just outside the city centre, and I feel like not enough people explore it. There are some absolutely beautiful places and the peace and quiet makes it easy to forget you're in a university city.

What about Magdalen's?
I've already said I'm a big fan of the lawns, but I think the ones in front of New Buildings are so glorious that the others don't get enough attention. St Swithun's lawn is surrounded by beautiful flowers and is a lovely spot (especially if you live opposite it like me)
How do you relax?
I'm a big fan of lying down, reading, and drinking cups of tea. If I'm at Magdalen, a walk around Addison's accompanied by a friend (or just some good music) and a massive rant about whatever's stressing me out is always appreciated.
Who should we be following on socials?
@magdalenoxford of course! And @discover.magdalen for some great student-led outreach content.
What are you listening to right now?
I have to admit that 'August' by Taylor Swift has been on repeat for the entire month…but I've really been enjoying HAIM, and my favourite recent release is 'Sunburn' by Dominic Fike.
How would you spend your perfect day?
My perfect day probably involves a lot of sunshine, lots of my friends, some swimming in the sea, a bit of really good food and a little reading. So not exactly feasible in the English summer we're having, but one can dream!
Tell us a joke
I would, but I don't think it'd be anywhere near as funny as Pete the Porter's TikTok so I'm too embarrassed to try.