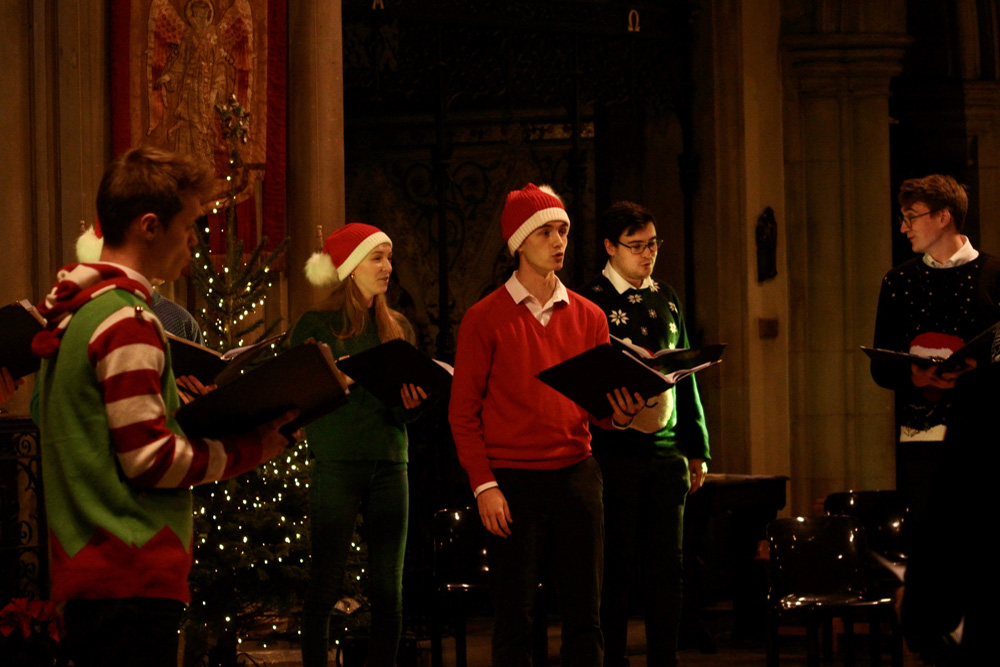 Members of Magdalen College Choir travelled to London earlier this month to perform in a Christmas concert as part of a partnership with the charity Pimlico Musical Foundation (PMF).
PMF works to reduce inequalities and bring communities together by offering free musical education to primary school children in Pimlico. The concert was part of a campaign to raise £10,000 to support future projects.
"This new and exciting partnership began in the last academic year," said Mark Williams, Magdalen's Informator Choristarum. "We were delighted to welcome children from PMF to sing Evensong with our Choir at College as the first in a series of planned events which includes this wonderful Christmas concert."
"At a time when so many musical projects have disappeared, we were so pleased that some of our Academical Clerks and members of the Consort of Voices were able to take part."
William Prior is one of the College's Academical Clerks and the Director of Lilium, the name for the Clerks when they sing together outside College. "It was an absolute pleasure to go to London and work with PMF for this concert," he said. "Not only had they gone to so much trouble to ensure the safety of all involved, but the Church was also beautifully decorated and we were welcomed very warmly upon arrival.
"It was a joy to make live music again after a long hiatus, especially when it was laced with festive cheer."
"We were really excited to take part in the concert," said Seb Hill, the Choir's Head Clerk. "We hope we brought some Christmas cheer to the PMF and the audience, and look forward to future collaborations."
The partnership with PMF is part of the College's growing Access and Outreach work, which aims to make Magdalen more accessible to those who have been under-represented historically at Oxford.
"We have found that the key to a successful Access and Outreach programme is to engage in a variety of different ways," said Olivia Webster, Magdalen's Senior Access and Outreach Officer.
"We have worked with care-experienced young people from across Oxfordshire and embedded an Access Project staff member into Ashfield School in Nottinghamshire, one of the College's link regions, as well as finding new ways to engage with prospective students. We have also hosted the Pathway to Success programme for members of the BAME community aiming to take leadership roles in politics and business.
"The collaboration between Pimlico Musical Foundation and our Choir is another example of the breadth and diversity of our work."