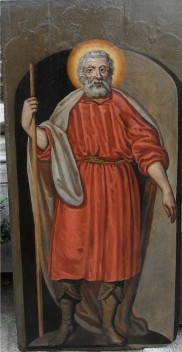 A painted panel of a saint which was removed from the Chapel in the 1830s has returned from Sweden.
Choral Evensong on Thursday 23 October concluded with a special event, as we welcomed back an item of our Chapel furnishings: a painted panel which would have been removed from the building in the 1830s. Prior to that, it had been in Chapel for about two hundred years, since the redesign carried out in the time of President Accepted Frewen in the 1630s. It was one of a whole set of panels of painted saints situated behind the old misericord stalls.
The painted panels of saints were sold at auction in 1837, then acquired again for use by the College School, then sold again much later. We know that at Christies, a lot 'comprising St John the Evangelist and six other saints' was sold in the 1930s. After that they disappeared but one turned up in Sweden, on the island of Ingaro in Stockholm County, where it was found in an earth cellar in 1970. The panel could not be displayed in the condition in which it arrived at Magdalen, so once it was returned, restoration took place under the supervision of Jane Eagan of the Oxford Conservation Consortium.
The daughter of the person who found it was, to our delight, present in Chapel for Evensong and a brief ceremony of rededication on the 23rd. Mrs Ann Britt Lundberg, having learnt where the painted saint came from, has most generously given it to the College, so after extensive restoration it has made its way home, 177 years after it was first sold off.
The saint's identity is uncertain. He may be St John the Evangelist, St James, St Peter, or someone else. He will therefore have to be emblematic, for us, of all the saints, at least until an expert is able to set us right. Because of the extraordinary changes that were made in Cottingham's restoration (1829–34), today's Chapel must look quite different from the Chapel our saint knew. To make him feel at home where he is now situated, beneath the organ screen, we have put him above one of the old misericord stalls, so he has a familiar object nearby. This also gives us a sense of what effect would have been created by the immediate conjunction of the painted panels and the misericords, before Cottingham swept them away.
Further details of the restoration of the panel can be found in the online edition of the Magdalen College Record 2014