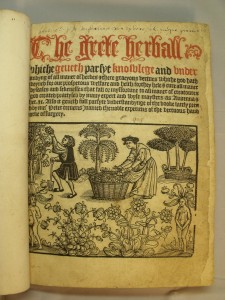 Trinity Term 2014's Libraries & Archives Exhibition & Talk looked at our collection of botanical books, particularly those donated to Magdalen College Library & Archives by John Goodyer (c.1592–1664).
The exhibition has now been taken down, but researchers wanting to see any of the items from it can book an appointment by emailing library@magd.ox.ac.uk. Alternatively the exhibition has been put online, on our Facebook page here and part of it is a Treasure of the Month here.
The Exhibition Open Day was Friday 4th Week (23rd May 2014), 12:00-14:00 & 16:00-18:00.
On Monday 7th Week (9th June 2014), 17:00-18:00, in the Magdalen College Summer Common Room (Cloisters III), Liam Dolan Sherardian Professor of Botany spoke about botany and botanical books through the ages. The talk was followed by an exhibition viewing.