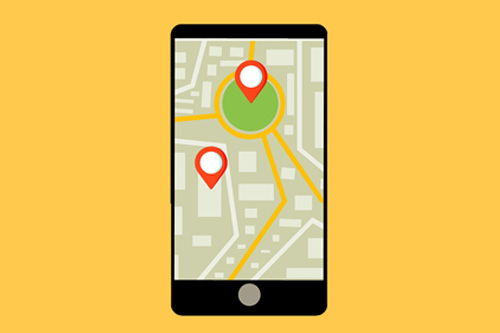 Two Magdalen students have developed an app to improve the efficiency of the Covid-19 vaccine rollout for housebound patients. VaxiMap has already helped find the optimal route for more than 61,000 GP home visit vaccinations in Britain in the last few weeks. 
The UK's vaccine programme is now well under way, with plans to vaccinate almost 14 million people in the top four priority groups by mid-February. Most people will receive the vaccination at their local hospital, surgery, or vaccination centre, but for those who cannot leave their houses an efficient GP home visit schedule is vital. 
"I saw that GP's were using an almost manual process to check which patients lived close by, and it seemed relatively straightforward to automise this for them. This would save them much needed time, mental space, and effort," said Robert Staruch, a DPhil student from the Department of Engineering Science and one of the brains behind VaxiMap. "Practice Managers were inputting addresses individually into Google maps to create routes. These people are already overstretched so I thought a simple intervention could really help them. That's when I called Tom."
Tom Kirk, a fellow DPhil student at the Department of Engineering Science, agreed with Robert and worked day and night in the 48 hrs following Rob's call to create VaxiMap.
"It's a simple, user-friendly system to help GPs plot routes," said Tom. "They upload a spreadsheet containing patient IDs and their locations and choose how they want to group patients together, for example, according to the number of vaccine doses in a vial, and VaxiMap will produce the optimal route on Google maps with a travel time."
(Above) Robert Staruch and Tom Kirk
David Andrews from Dowlais, Merthyr Tydfil, was one of the first GPs to use VaxiMap. After tweeting about the problems of using generic mapping software to plot routes to his housebound patients, he was contacted by Robert, a friend from their medical school days. 
"Rob said he knew a guy who could improve the situation," remembers David, "and within two days they had created this software. It was my first real experience of Twitter magic. 
"We have to do something huge, a mammoth task on top of lots of extra work. So anything where we can gain an efficiency is really helpful. Vaximap takes seconds and it saves time. It's so useful because it helps the most vulnerable groups."
"Thanks a lot for putting this together, we have already vaccinated our first 70 or so housebound patients using your wizardry," wrote one Vaximap user. "I used this for our vaccine lists and it's amazing. It saved me so much time," wrote another.
"We are so pleased that GPs all over the UK are now using VaxiMap," said Rob. "We have helped created 6,000 routes so far, and are seeing that number go up day by day." 
"We hope VaxiMap will have a positive impact on the vaccine rollout," said Tom, "helping GPs provide protection earlier to some of the most vulnerable people in our society." 
VaxiMap has recently been made available internationally. 
Magdalen College provided seed funding for VaxiMap, and Robert and Tom have since created an incubator project for the app through Oxford University Innovation.  
If you, or someone you know, are involved in the vaccine rollout to housebound patients, you can find VaxiMap at www.vaximap.com  If you have any feedback on the app, please email Robert and Tom at vaximap@gmail.com
This is the second time Robert and Tom have put their knowledge to use in the fight against Covid-19, as they were both also involved in creating the rapidly deployable, scalable, low-cost mechanical ventilator as OxVent.