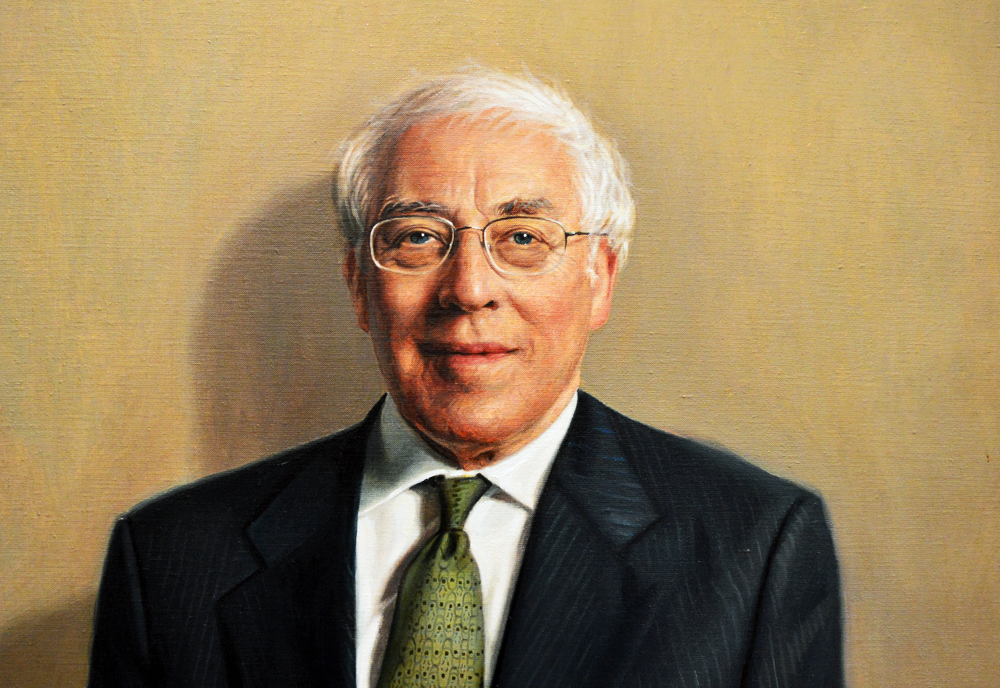 It is with deep sadness that I write to inform you of the death of Anthony Smith CBE, President of Magdalen College from 1988 to 2005. Tony died at his home in Albany, Piccadilly on 28th November following a long illness.
Tony Smith had a long and distinguished career in broadcasting culminating in the role of Director of the British Film Institute, but it is as President of Magdalen that he will be most remembered. His Presidency was characterised by his unwavering devotion to the College, his infectious pride in its buildings, music and academic life, and his kindness and care for all its staff and students. After his retirement he took on new challenges while always remaining loyal to Magdalen.
Magdalen owes an enormous debt of gratitude to Tony. The Grove Building provides a constant reminder of his legacy and future generations of students will continue to benefit from the Student Support Fund which he did so much to build up. Tony also had the foresight to encourage Governing Body to inaugurate and develop the Oxford Science Park which is now playing such an important part in safeguarding the long term financial security of the College.
Tony's funeral will take place in Magdalen College Chapel at 11.30am on Saturday 11th December 2021 followed by a buffet lunch in College. Old Members can request seats for the service but numbers will be limited by space restrictions in Chapel and the Antechapel. You can watch a live stream of the funeral on our YouTube channel. You can also find the order of service on our website.
At Tony's request, Magdalen will not be holding a memorial service but we hope to find other ways of celebrating his life, and acknowledging his immeasurable contribution to College, during 2022; a book of condolence will also be available in the College Chapel. For further information and queries please contact alumni.office@magd.ox.ac.uk
Although we are all mourning let me end with Seamus Heaney's tribute on Tony's retirement:
A Toy for Tony 
Fritillaries in flower, the deer,
He'll miss them, miss them. And the tower.
And choir and cloisters, fellows' gardens,
The office even and its burdens.
And we shall miss his just being there,
His sprezzatura, staying power.
His presidential head of steam.
His smile. His visionary gleam.
Dinah Rose QC
President, Magdalen College