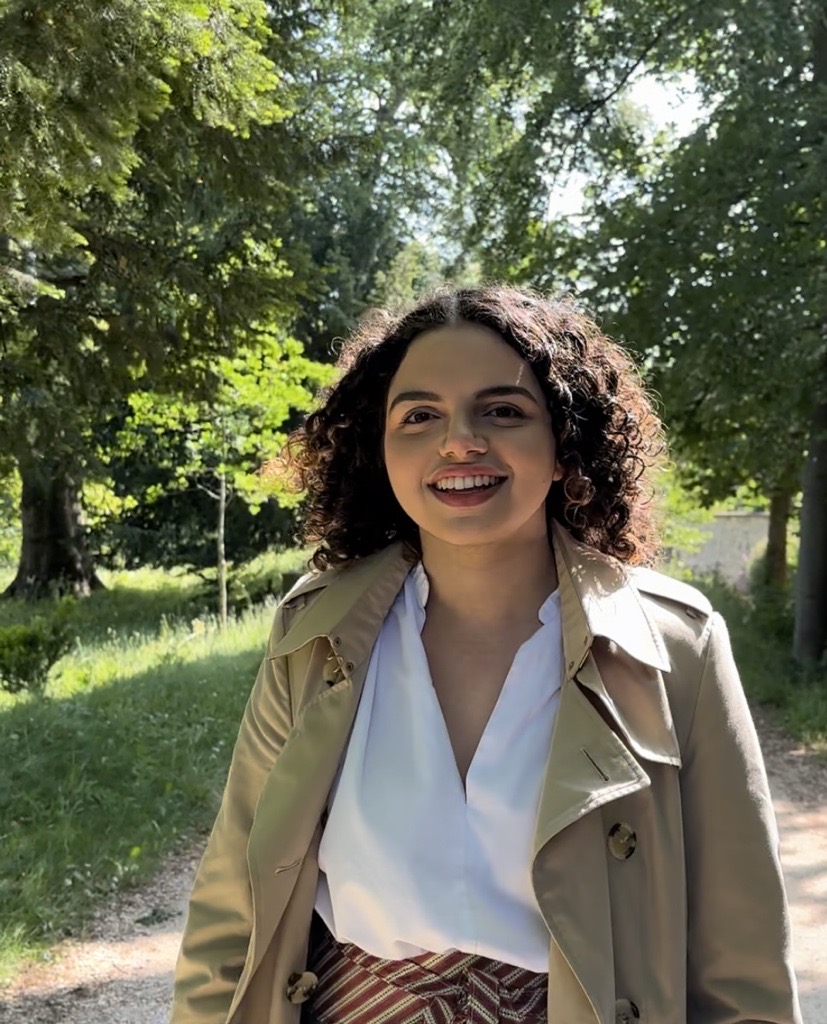 Habiba is in her second year of reading Law and came up to Magdalen in 2021. During her time here she became the first female choral scholar and has sung from the Great Tower with the choir on May Morning. We caught up with her to get the low-down on College life.  Watch the video interview
What does Magdalen mean to you?
I promise I'm not trying to be cliché but it really does feel like home, except one with a MASSIVE garden. Within my first week here I was thinking "how I will ever be able to leave?"
Within my first week here I was thinking "how I will ever be able to leave?"
What interested you most about studying law?
I used to study biochemistry, but I left and applied to Oxford for Law after realising that what I was interested in was how we implement new technologies and discoveries into our lives, which raises so many legal issues. I remember reading a case judgment before applying, thinking "right… this is a bit dry", then getting to the crux of the judge's argument and being immediately so impressed by his reasoning. What interested me most was the prospect of learning how people craft such clever arguments and get their points across, which is so useful across different areas.
What's been your biggest highlight?
Do I have to pick just one? It has to be singing on the tower on May Morning. Watching the crowds assemble, and realising they've come to see us sing as part of a centuries old tradition is really mind boggling. I will never forget how excited people would get in the lead up to the day when they asked what I'd be doing on May Morning, and I'd say I'd be in the tower. Although the question only asked for one highlight, I also have to give an honourable mention to sitting in the President's Chair for the Wes Anderson video.
Where's your favourite spot in college?
The bench opposite the gate in the middle of Addison's walk – perfect for meteor showers and a good sunrise.
What's Oxford's best kept secret ?
Zaid Supermarket, Cowley – you can find literally any Arabic food there, and probably a long-lost cousin.
How about Magdalen's best kept secret ?
The deer are actually not vegetables (this is a niche joke)
How do you relax?
Iconic question. I haven't relaxed since 2001! But really, I relax by getting a load of snacks and declaring it bedtime at a frighteningly early hour (4pm is ideal).
Who should we be following on socials?
Me! @habiba_alkhatib
What are you listening to right now?
3 Daqat by Abu
How would you spend your perfect day?
Wake up just before sunrise and go on an Addison's walk before Hall breakfast *with pancakes* – the best breakfast in Oxford), then sit on the lawn and play some croquet. Then I'd have lunch at Zaatar Grill in Cowley and buy a mango lassi on the way home from Tribe. Have a long chat with my Grove Kitchen friends, probably tasting the food they've been making. I'd end the day with a movie I've seen too many times and tea, or a long scroll on TikTok.
Hall breakfast *with pancakes* – the best breakfast in Oxford.
Tell us a joke
What do you call a fake noodle? An impasta