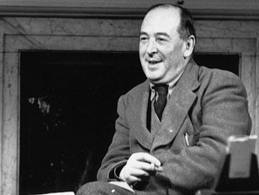 Friday 22 November 2013, was the 50th anniversary of the death of C S Lewis. Lewis was a Fellow and Tutor in English Language and Literature at Magdalen College from 1925-1954. He became very well known not just as a teacher but as a writer, lecturer, and broadcaster. His Chronicles of Narnia became classics of children's literature.
The College held a special event to commemorate C S Lewis on the afternoon of Saturday 23 November. The speakers were Professor Alister McGrath, author of a recent biography of Lewis; Walter Hooper, the literary advisor of the estate of C S Lewis; Revd. Dr Michael Piret, the Dean of Divinity at Magdalen; and Lord Williams, the Master of Magdalene College Cambridge and until recently the Archbishop of Canterbury. A dinner was held in the College Hall at which Laurence Harwood, the godson of C S Lewis, spoke.
On 22 November the President and Mrs Clary and Professor Simon Horobin, Tutorial Fellow in English, represented the College at the unveiling of a memorial to C S Lewis in Poet's Corner at Westminster Abbey.
C S Lewis is also the focus of the College Chapel this term.