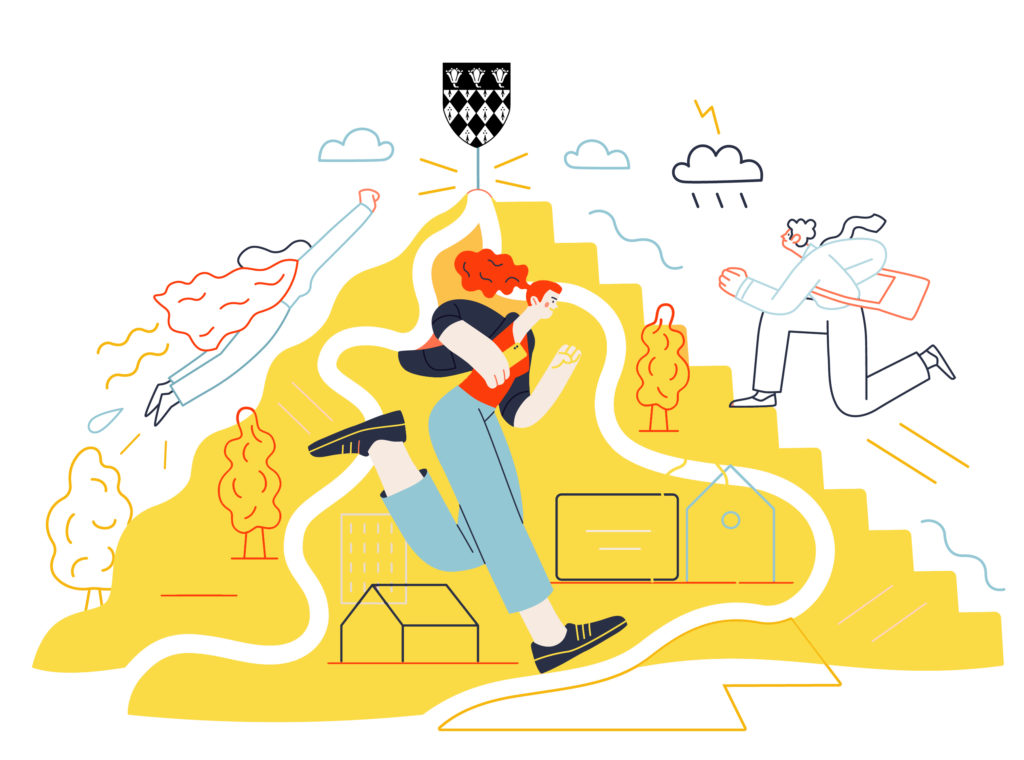 Applying to Oxford
Applications for undergraduate courses at the University of Oxford take place between 1 September and 15 October each year, for places beginning the following Autumn. To apply you must complete a UCAS form. Further information can be found in the University application guide.
Applying to Magdalen College
Magdalen is one of Oxford's 33 undergraduate colleges – all student members of the University are also members of a college. You can:
Select a preferred college on your application forms, or
Make an 'open' application, where a college is selected for you
Find out more about: Choosing a college
Why Magdalen students think you should pick Magdalen
Before you apply
Before you apply to Oxford:Choose a course and check it is right for you
Check the entrance requirements for your course
Check the admissions deadline for your course
Check which colleges offer your course
If you are an international applicant check the additional information about qualifications, language requirements and application arrangements
Remember: entry is competitive, and every year there are not enough places for the number of qualified candidates who apply. On average around 1 in every 5 or 6 applicants is offered a place
Students with additional needs
We welcome applications from students with additional needs and encourage early disclosure on the UCAS application form. Mentioning your disability or Specific Learning Difficulty will not affect your application, as admissions decisions are made solely on the grounds of academic merit. It will instead enable us to ensure that we are able to put in place any necessary adjustments should you be shortlisted for interview.
Further information for students with additional needs
Supporting your move to Oxford
Preparing to apply
Please look at our Resource Pack and our Youtube channel for further help.
First steps
Use the relevant Department/Faculty website to learn more about your course: look at lecture timetables, reading lists, academic profiles etc.
Explore your subject beyond the school curriculum. This may include: reading articles, going to exhibitions, entering essay competitions, listening to podcasts, watching lectures etc.
Personal statement
The personal statement is your chance to tell us why you want to study the course you have chosen: what interests you about it; what motivates you to study it; and how you have deepened your engagement with it – especially on your own initiative.
We only select on academic criteria, so we will only be interested in your extra-curricular activities and work experience insofar as they are directly relevant to the course you are applying to. Your other university choices may well have different selection criteria, so you should make sure to include something about extra-curricular interests – but keep it to a minimum. We would recommend 80% focus on academic interests and 20% focus on extra-curricular interests.
It's important to remember that the same personal statement will be seen by all the universities you apply to and should therefore focus on the course you want to study, not the universities themselves.
Some tips:
Discuss, don't list your interests and activities
Depth rather than breadth – if you try to cover too much ground you won't be able to provide sufficient detail
Read everything you claim to have read
Be critical and analytical rather than descriptive
No errors – proof-read
More advice on writing your personal statement
Admissions tests and written work
Some courses require you to take a test before you are invited to interview – you have to register for this, so make arrangements in good time
Download past papers and mark schemes to familiarise yourself with the test format and question style. Completing past papers under timed conditions is good preparation
These tests are designed to show us how you think: how you analyse and solve difficult questions. You won't be expected to know things that aren't taught at A-level; but you will be asked to apply that knowledge to texts or problems you won't have encountered beforeSome courses require you to send in examples of your written work as part of your application
Written work deadline is usually early November
Your work needs to have been marked by a teacher and each piece needs a cover sheet that has been verified by your school. Don't leave it to the last minute to arrange this!
Interviews
Interviews are a crucial part of our selection process, and are entirely academic in nature. They are a short conversation about your subject – like a mini tutorial – where the tutors are looking to see you demonstrate your ability in and commitment to your subject, as well as the flexibility of mind that the tutorial system requires.
Some tips:
Take time before you answer each question
Ask for clarification if needed
Listen carefully to the tutor's responses
Get used to thinking out loud
Remember that tutors are human!