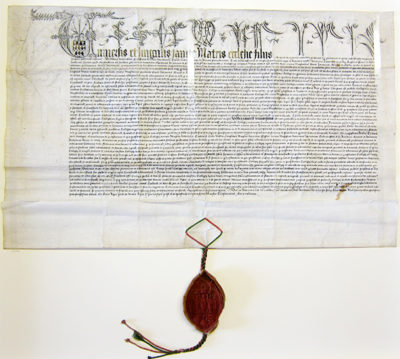 Magdalen College was founded by William Waynflete, Bishop of Winchester and Lord Chancellor of England, on the site of the Hospital of St. John. In this charter, dated 12 Jun 1458, Waynflete formally inaugurates his new foundation. It will have a President and Scholars (i.e. Fellows) who will study theology and philosophy, and he nominates William Tybard as its first President. The College was named after St. Mary Magdalene, Waynflete's patron saint, and is dedicated to her, the Virgin Mary, St. John the Baptist, and the Apostles Peter and Paul.
This splendid document marked only the start of a long journey: Magdalen was founded at the height of the Wars of the Roses, and it is not surprising that the College took a little time to settle down. Work on its splendid buildings did not start until the 1470s, a more tranquil time, and Waynflete only compiled the College's first statutes in 1480.
The charter bears Waynflete's episcopal seal, which shows the bishop at the bottom humbly kneeling below a group of saints, while the decorated initial at the start of the document includes Waynflete's coat of arms, which his College has used ever since.
People are regularly surprised at why Magdalen College is pronounced "Maudlin". This charter offers a reason why. Waynflete decreed that his College should be known as "Collegium beatae Mariae Magdalenae" in Latin and "Maudelayne College" in English. In the 15th century, English speakers called St. Mary Magdalene "St. Mary Maudelayne" (or "Mawdelayne"), without the "g" – like "Madeleine" in French. It was only later that we put the "g" back. Magdalen College, however, like Magdalene College, Cambridge, has preserved the old pronunciation of her name.