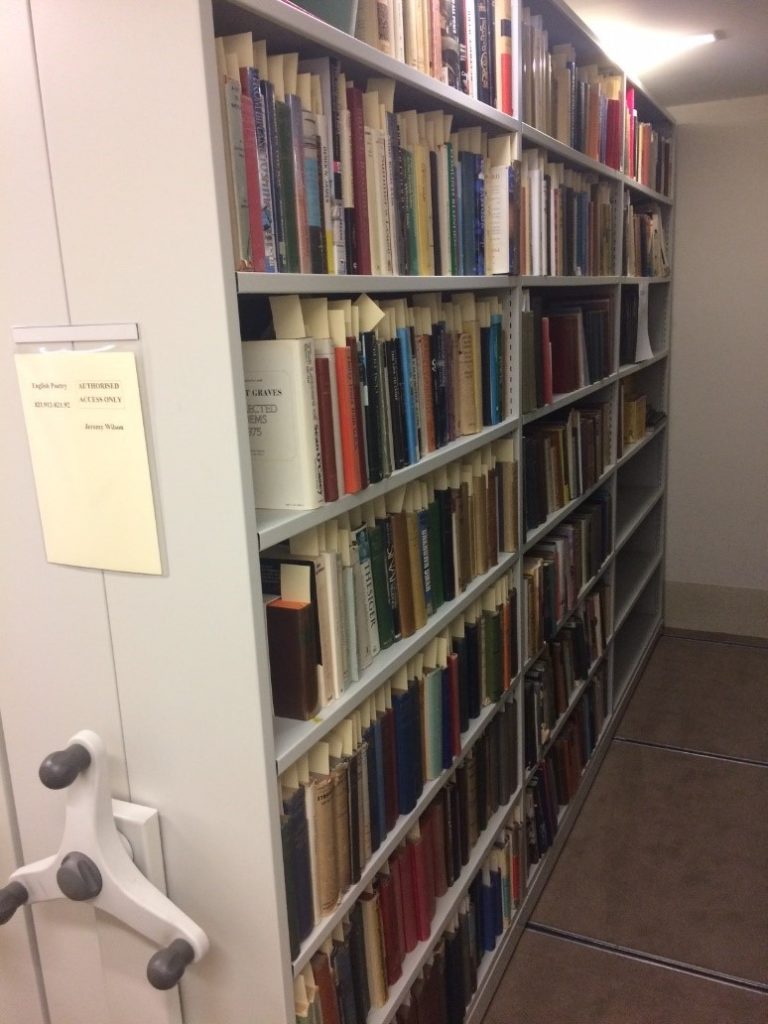 This month's Illuminating Magdalen post is a treat for all interested in Lawrence of Arabia! It details the cataloguing of the archive and library of Jeremy Wilson, Lawrence's official biographer. Read on to discover more about this amazing collection…
Jeremy Wilson's Archive:
The archive of historian Jeremy Wilson (Ref: P450) might initially seem like a rich collection limited within the confines of a very specific area. Wilson (1944-2017) was the official biographer of TE Lawrence, and worked on this single biographical subject for almost half a century. However, far from being narrow, the collection is wide-ranging, and of interest for both dedicated Lawrence researchers and anyone who is interested in subjects as diverse as the First World War, the cultural world of the early twentieth century, the making of myths and posthumous reputations, and the construction of history itself. This is due to both Lawrence's extraordinary life and the vast range of his interests and friendships, and Wilson's extensive research which covers all angles of his subject's life, times and legacy.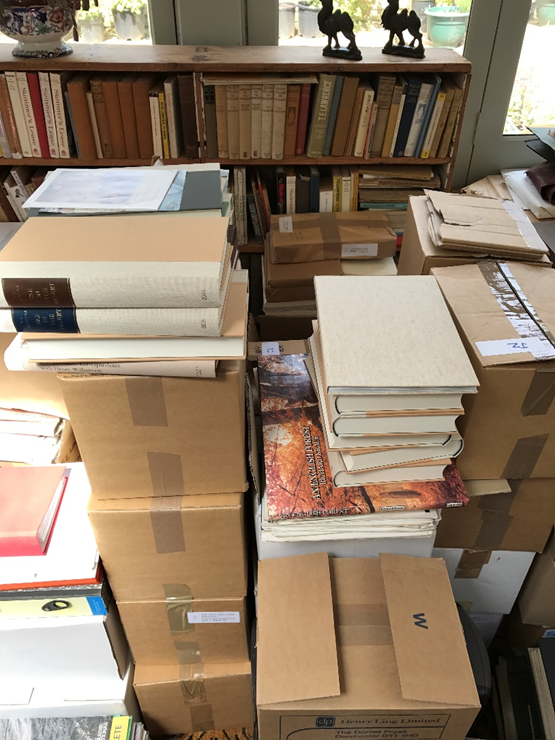 Thomas Edward Lawrence (1888-1935) took on an important role as Liaison Officer to Faisal bin Hussein bin Ali al-Hashemi in the Arab Revolt against the Ottoman Empire from 1916-1918, for which he became famous as 'Lawrence of Arabia'. He was also an archaeologist, diplomat, writer, translator, motorcyclist and marine engineering expert. He was Senior Demy at Magdalen College from 1911-1914, during which time he worked on archaeological digs at Carchemish on the borders of modern Turkey and Syria. After the First World War, seemingly disgusted by his part in the Arab Revolt which had ended in the occupation of the Middle East by Britain and France, and uneasy with his new-found fame, he retreated into obscurity in the RAF and Tank Corps under assumed names. Remaining in service for the next 13 years, he found time to write works including Seven Pillars of Wisdom, his epic account of the revolt, and to cultivate friendships with many of the famous writers, artists and figures of the day including Thomas Hardy, George Bernard Shaw, Nancy Astor and Augustus John. Shortly after leaving the RAF in the spring of 1935, he died in a motorcycle crash.
Jeremy Wilson (1944-2017) was a historian, book collector and marketing writer for business. He studied at Balliol College and the London School of Economics where he became interested in Lawrence as part of his work on International Relations. Due to his work on a number of Lawrence projects, he ended up being selected to write TE Lawrence's official biography, published in 1989. Wilson and his wife Nicole set up the Castle Hill Press to publish editions of TE Lawrence's writing including his numerous letters.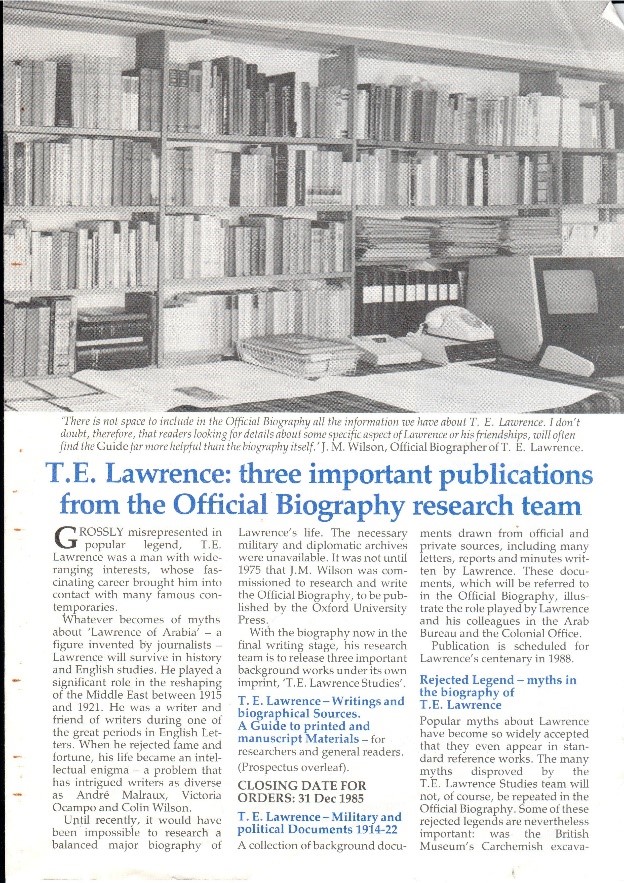 The collection consists of over 80 boxes of physical material as well as over 80 GB of digital material. Spanning research from the late 1960s to the 2010s, it consists of everything from typescripts, diskettes and faxes to digital images and emails, as well as earlier material collected by Wilson and others. The paper collection contains highlights such as correspondence with AW Lawrence, Wilson's reconstructed Lawrence diaries and his subject files for the biography. As well as this key material, there are also many boxes of unsorted research material including some obscure gems with tangential connections to Lawrence. I will discuss a couple of these items here.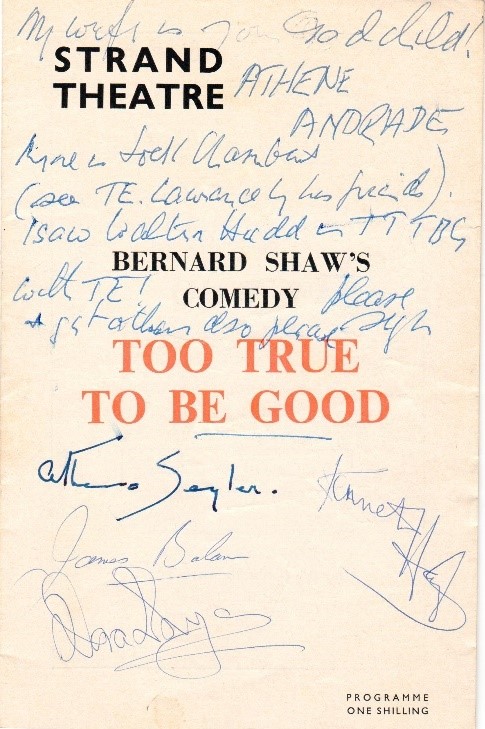 I found this programme for George Bernard Shaw's play Too True To Be Good, signed by the cast of the 1965 Strand Theatre production, in a box otherwise containing modern journals. George Bernard Shaw based his character Private Meek on Lawrence's post-war RAF persona. Like Lawrence, Private Meek pretends to be very self-effacing, but turns out to be effectively in charge. In the 1965 production, Private Meek was played by the actor James Bolam, whose signature can be seen on the left, second from bottom.
What is interesting about this programme is in the inscription on the top half of the cover which reads 'My wife is your Godchild! ATHENE ANDRADE [?] is Jock Chambers (see TE. Lawrence by his friend [sic]). I saw Walter Hudd in TTTBG with TE! Please sign and get others also please'.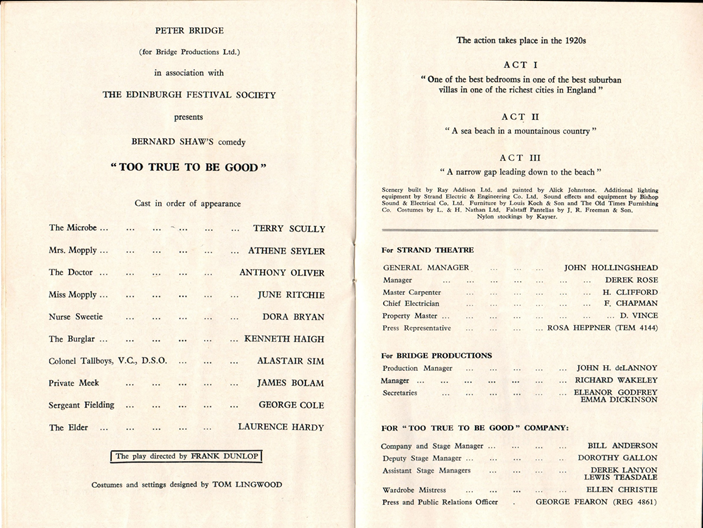 Jock Chambers was the nickname of AE Chambers, a friend of Lawrence's from the RAF, who was a contributor to TE Lawrence By His Friends, an anthology of personal encounters with Lawrence, published just after Lawrence's death. Chambers writes here of going with Lawrence to see the original UK production of Too True To Be Good at Malvern in 1932, which starred future film actor Walter Hudd as Private Meek.
Chambers wife, Athene Andrade (1908-1973) was an artist, specialising in theatre sketches, who has work held at the Victoria & Albert Museum. According to the inscription she was the godchild of the recipient, which we can presume to be Athene Seyler, Andrade's namesake, whose signature appears under the play's title. Seyler (1889-1990) was a stage and film actress who played Mrs Mopply, the mother character in Too True to Be Good.
Another link with art and another aspect of Lawrence's life can be found in correspondence relating to Wilson's writing of an introduction for Lawrence's translation of The Odyssey. Lawrence undertook this translation work from the Greek whilst serving in the RAF in India and the UK. Although he denigrated his own work and took laborious pains over it, the translation is still in print.
The correspondence reveals that in 1979, Wilson approached a publisher who had announced the forthcoming publication of Lawrence's Odyssey, to ask if he could write an introduction. The publishers agreed and then introduced him to the American illustrator Barry Moser (b.1940), who they had commissioned to produce a series of wood engravings to accompany the text. Moser and Wilson began corresponding about their collaborative approach to the book. The archive contains a copy of a beautifully handwritten letter sent by Moser to Wilson in January 1981.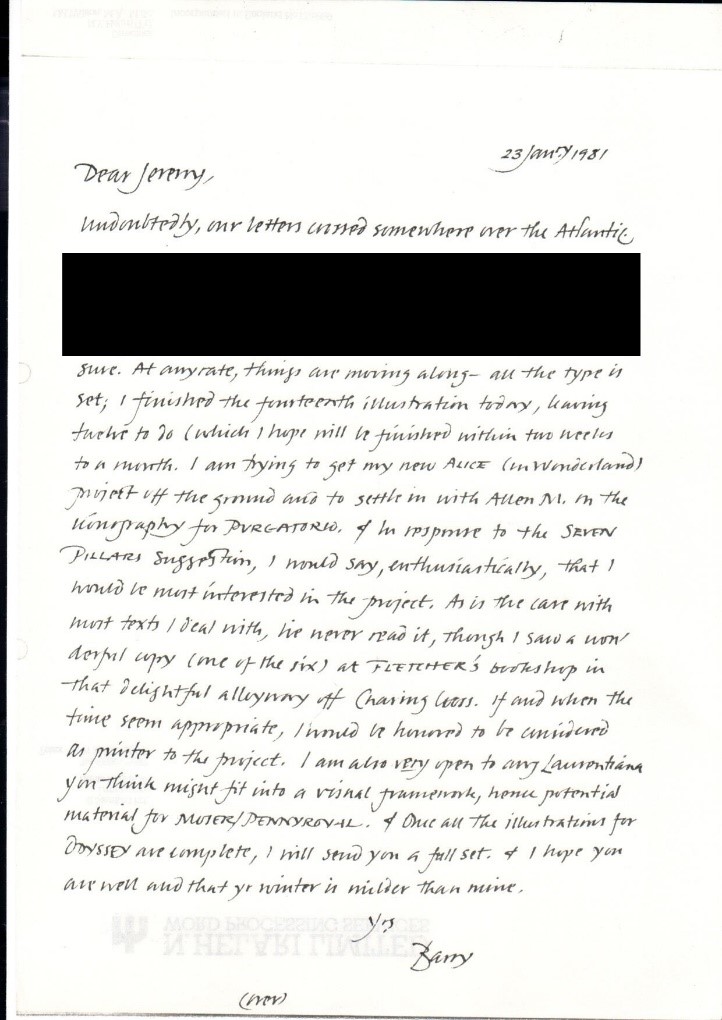 In this letter, Moser discusses his work on illustrations for Lawrence's translation of The Odyssey as well as other projects including illustrations for Alice in Wonderland and Dante's Purgatorio. He also discusses a potential illustration project for Seven Pillars of Wisdom, which sadly never occurred.
These two items show how the scope of this research collection on a single historical figure is far from limiting, and can encompass fascinating connections to history, the arts and the stories of people from Lawrence's day to our own.
Written by Dr. Lucy Smith, Wilson Project Archivist.
Jeremy Wilson's Library:
When the Archive received Jeremy Wilson's extensive papers, the Library was pleased to also acquire his extensive collection of books. In May 2018, 75 boxes arrived at Magdalen crammed full of the texts that Wilson used throughout his long life. These books, an excellent complement to his archive, are now being catalogued to ensure that they can be accessed by researchers the world over.
As Wilson's books form an extensive and unique research library relating to T E Lawrence, it was decided that this collection should be kept together as much as possible. As such, the majority of Wilson's collection will be stored in a dedicated Wilson sequence (shelfmark WILS), located in the rolling stacks in the Longwall Library. The only books to be removed are those written by T E Lawrence himself, which will be added to the existing T E Lawrence sequence in the Old Library.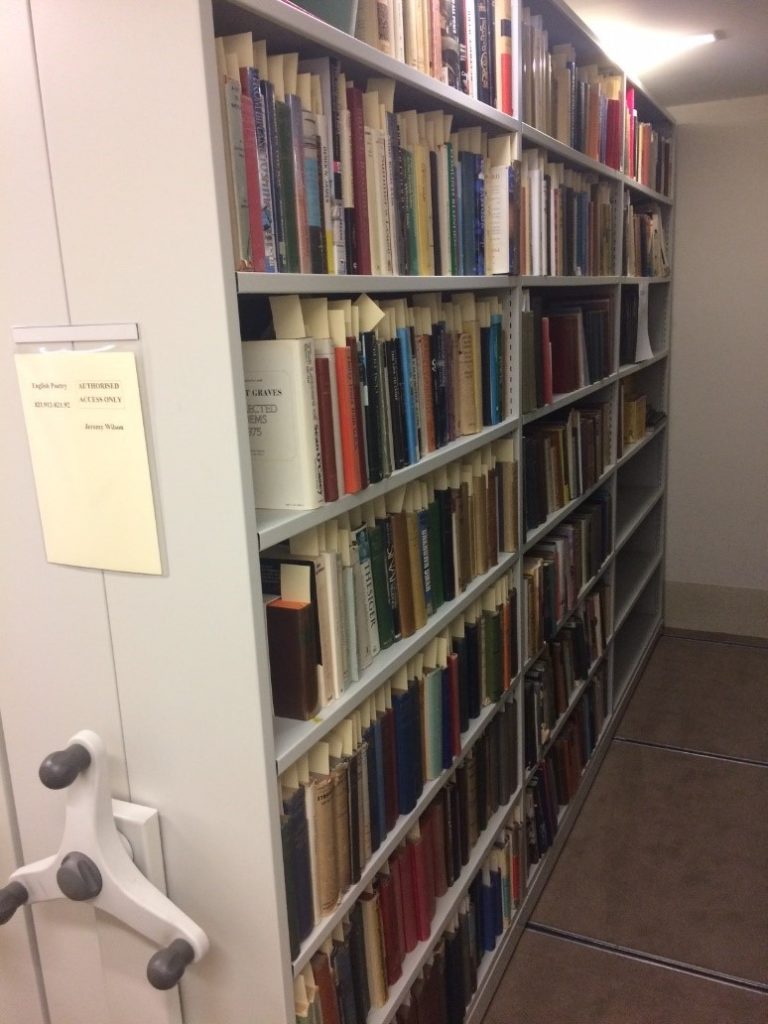 The cataloguing of this extensive collection is ongoing, but has already revealed some fascinating volumes. Indeed, the depth of Jeremy Wilson's passion and interest in Lawrence and the Middle East can be gleamed from the sheer variety of texts he collected throughout his life. I will describe some particularly interesting examples from the collection below.

Firstly, Wilson's interest can be clearly seen in these texts on British military operations in the Middle East during the First World War (WILS 915.69 PAL and WILS 915.691 SYR). Published by the Naval Intelligence Division, these texts contained material so secret that they were classified upon publication – only available to members of the armed forces. In Wilson's library, you will find the volumes published on Syria, Palestine and Transjordan, Persia, and Western Arabia.
Secondly, the extent of Wilson's knowledge is clear from the wide variety of texts he collected in multiple languages. These range from the memoirs of Ferdinand Foch, the French Supreme Allied Commander during the First World War (WILS 940.414 FOC) to diary entries written by German troops stationed in the Holy Land (WILS 940.415 STE). There are even texts written in Chinese and Arabic – these will definitely need to be sent to a specialist cataloguer!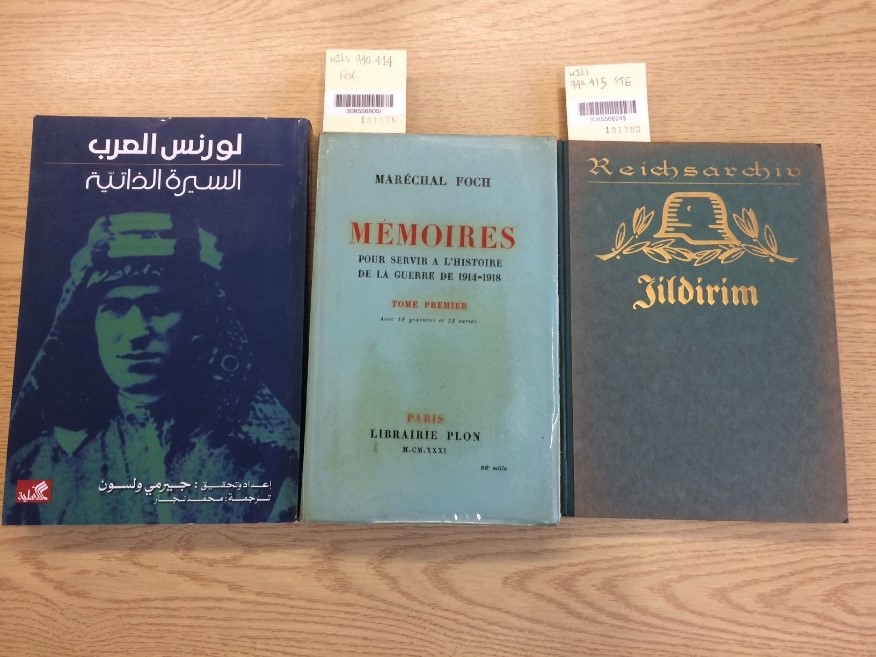 Additionally, Wilson's library naturally contains all of Lawrence's published works. A nice link between the Archive and the Library is this First Edition copy of Lawrence's translation of the Odyssey that Lucy mentions above (WILS 883.01 HOM (ODY)). Interestingly, T. E. Lawrence's name does not appear on the title-page at all. Indeed, it would be easy to overlook Lawrence's involvement, as the only information we have is listed at the end of the "Translator's Note", as it is signed a "T. E. Shaw". Shaw was one of Lawrence's assumed names that he used after leaving the RAF in February 1923.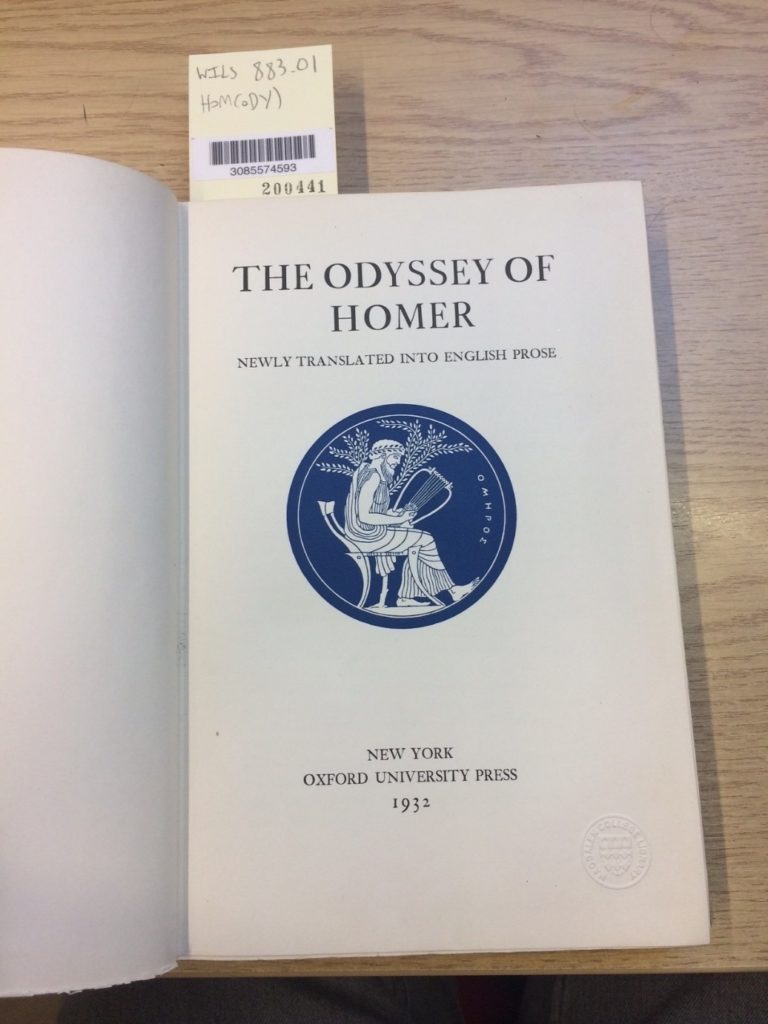 Finally, Jeremy Wilson's passion for Lawrence can be seen in a vast array of auction catalogues spanning several years. These catalogues are from the major auction houses Christie's and Sotheby's and focus on sales of first editions, autograph letters, and literary manuscripts. Several of these catalogues contain handwritten notes from Wilson, highlighting items he was interested in and writing potential bids next to individual lots. These auction catalogues reveal a life-long interest in T E Lawrence and emphasise the true extent of Wilson's research.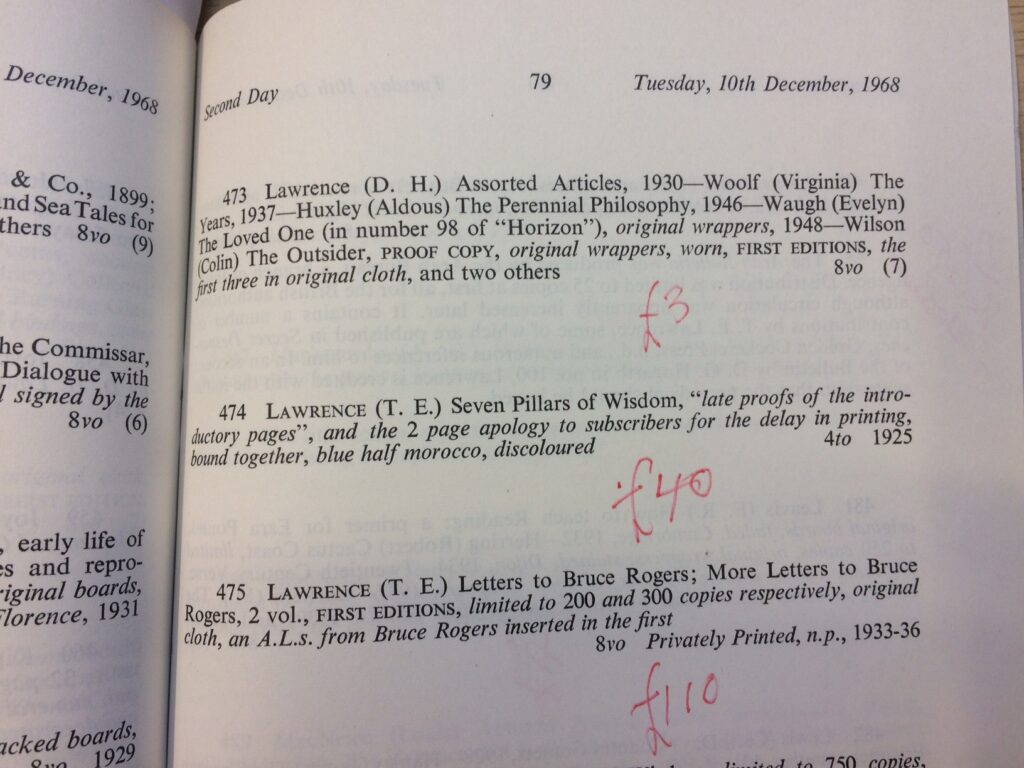 When fully catalogued, it is hoped that Jeremy Wilson's archive and library will be of interest to scholars the world over that focus on both T E Lawrence and the wider history of the Middle East. Moreover, these combined collections reveal key insights into the historical research process and demonstrate the varied and changing life of Lawrence with connections not only to the Middle East, but also to topics as wide ranging as the theatre, literature, and classics. As cataloguing continues, we will no doubt uncover yet more insights in future months!
Written by William Shire, Assistant Librarian
Acknowledgements
The library and archive of Jeremy Wilson was acquired by Magdalen College in May 2018. It was purchased through the generosity of Justin Huscher (R.S. 1978-1980) and Hilarie Huscher.
References and Further Reading
Andrade, Athene. "Drawing". 1961. Victoria and Albert Museum Website. 2020.
Homer. The Odyssey. Trans. T.E. Lawrence. Illustrated by Barry Moser. Preface by Jeremy M. Wilson. New York: The Limited Editions Club, 1981.
Lawrence, A.W. (ed.). T.E. Lawrence By His Friends. London: Jonathan Cape, 1937.
Shaw, George Bernard. Plays Extravagant: Too True to be Good, The Simpleton of the Unexpected Isles, The Millionairess. London: Penguin, 1991.
Wilson, Jeremy. Lawrence of Arabia: The Authorised Biography. London: Macmillan, 1989.