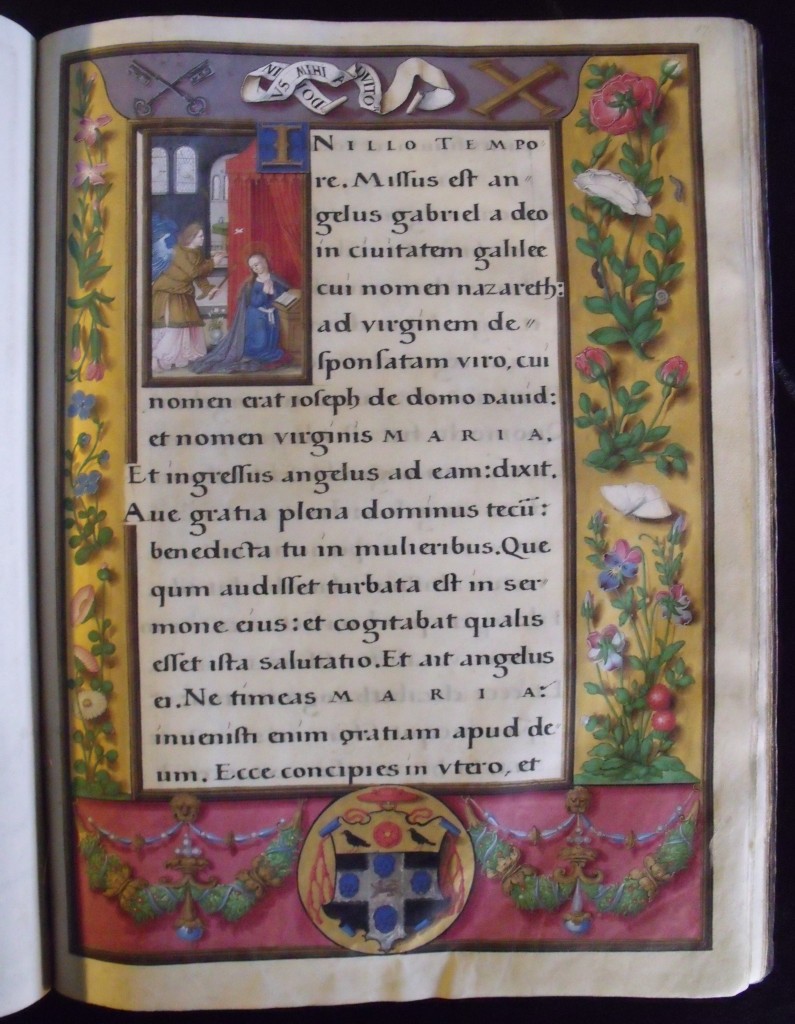 This year's Christmas Treasure is possibly the most beautiful manuscript that Magdalen College owns: Cardinal Wolsey's gospel-lectionary, MS Lat. 223.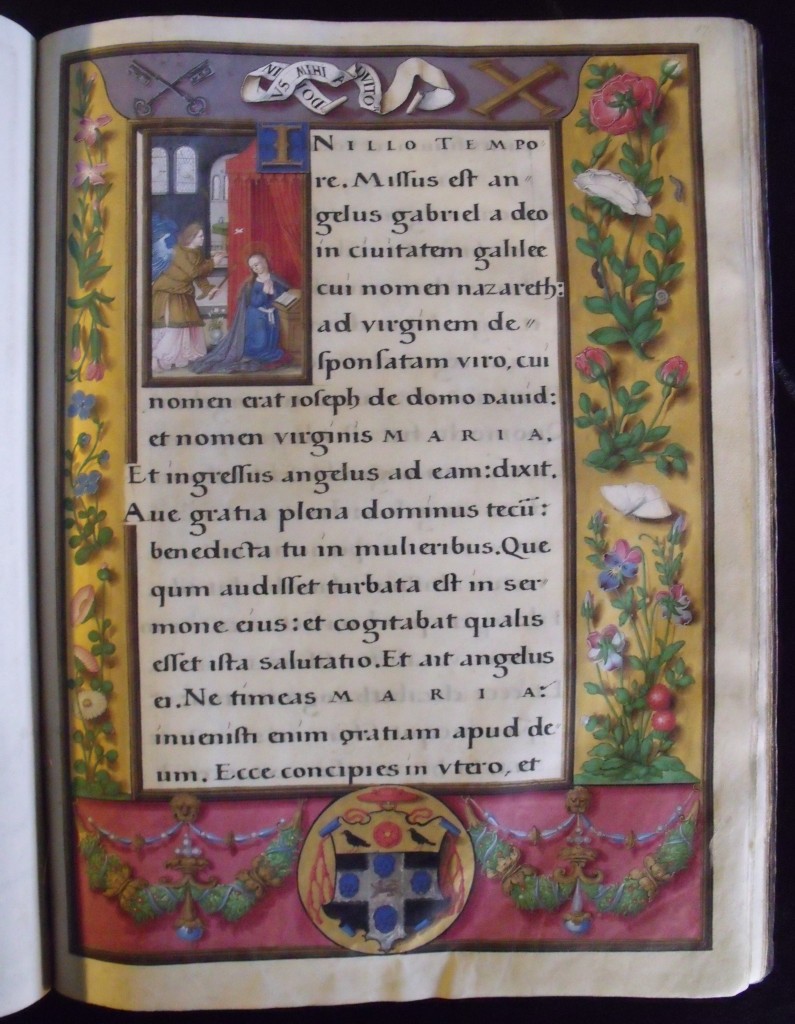 Thomas Wolsey is one of our most famous alumni. From a humble background in Suffolk, he went to school in Ipswich before studying here. He became a Fellow of Magdalen and Master of Magdalen College School, and then moved into politics, acting as chaplain to the Archbishop of Canterbury and to Henry VII. When Henry VII died in 1509 he became a close advisor and Privy Councillor to Henry VIII, in 1514–15 rising even higher to become Bishop of Lincoln, Archbishop of York, a Cardinal, and Lord Chancellor. He gained more and more titles over the next 15 years, including Bishop of Bath and Wells, Prince-Bishop of Durham, and finally Bishop of Winchester in 1529. He also founded an Oxford college, Cardinal College (now known as Christ Church College). However, his increasing political power made him enemies and his inability to resolve the issue of Henry's annulment from Catherine of Aragon led to him losing the King's trust. In 1529 he was stripped of his Lord Chancellorship. He travelled north to his See of York, but was accused of treason and ordered back to London, dying on the journey back in 1530.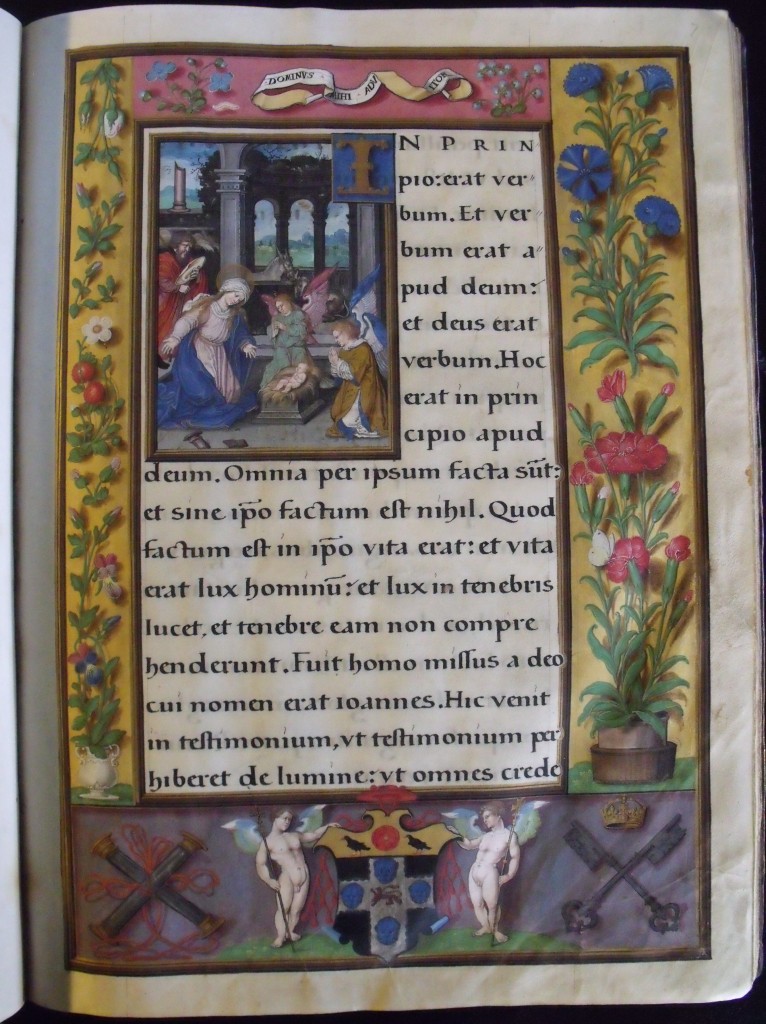 The coats of arms in the margins of this book show his split loyalties: the white cross and 4 leopards also feature on other arms from Suffolk, showing his origins; the red lion symbolises Pope Leo X, showing his loyalties to the Church; the rose is for King Henry VIII, his great patron; the Cornish choughs are from the attributed arms of St. Thomas à Becket, his namesake; and the shield is surmounted by his cardinal's galero. The inclusion of the choughs of Thomas à Becket on his arms, like the picture of Thomas's martyrdom below, takes on an extra dimension when you consider Wolsey's own doomed relationship with a king.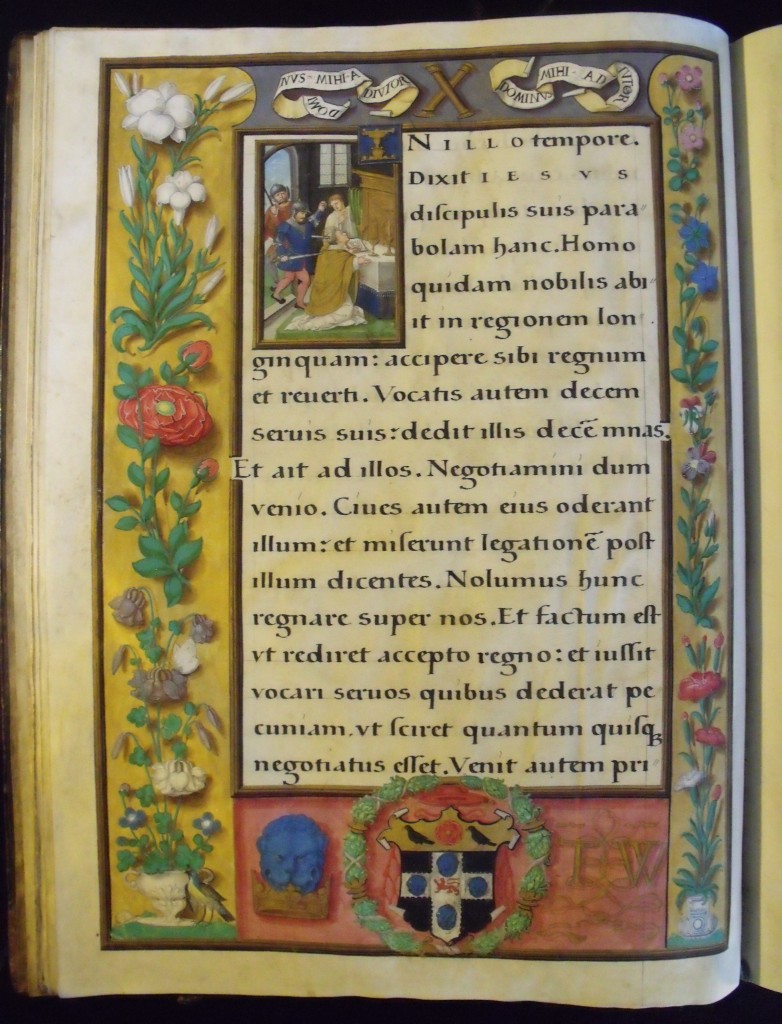 This fabulous book was originally part of a pair, along with an epistle-lectionary (now to be found in Christ Church as MS 101), that contained all of the readings for the high feast days and selected saints' days. These included all the days most closely related to Wolsey's offices and to his establishment of Cardinal College in Oxford, such as the feasts of St. Andrew (Bath and Wells), St. Cuthbert (Durham), St. Hugh (Lincoln), St. William (York), and St. Frideswide (Oxford). The readings chosen precisely match the feasts mandated in the Cardinal College's Statutes of 1526, which some believe suggests that the pair were originally commissioned by Cardinal Wolsey with the intention of giving them to Cardinal College chapel, but equally could simply signify that those are the days that Wolsey gave most weight to.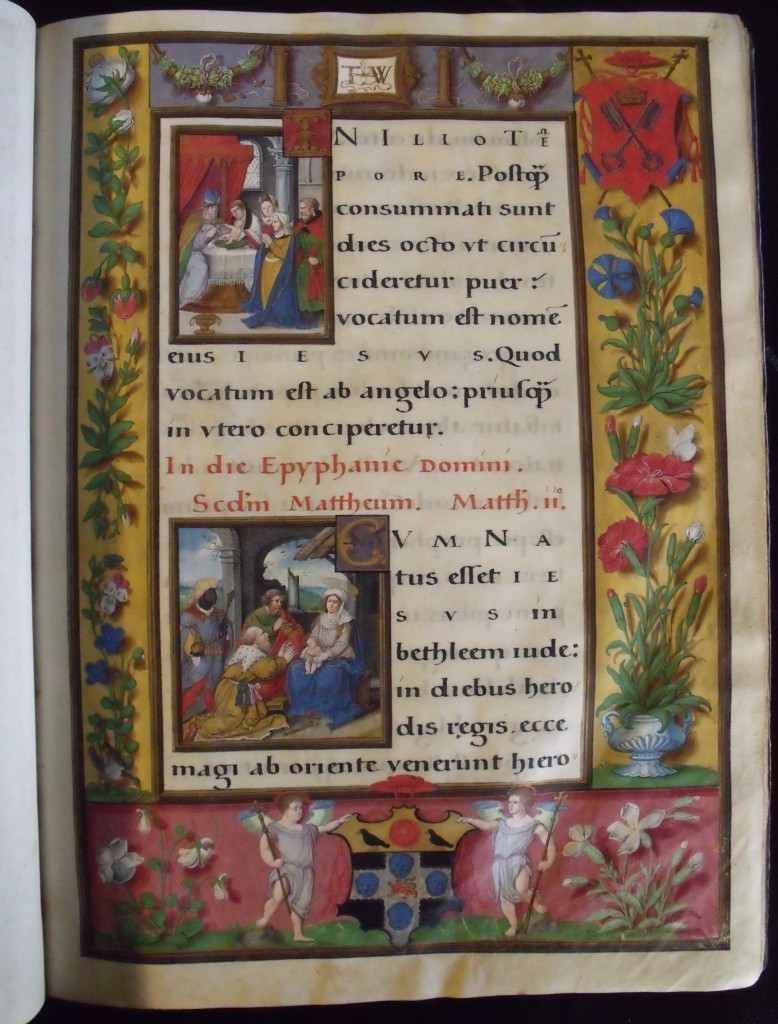 Interestingly, our gospel-lectionary sometimes includes the arms of the Archbishop of York (the crossed keys with the crown, as shown at the top of the right-hand margin above) and sometimes the arms of the Bishop of Winchester (the two keys and the sword, as shown impaled on Wolsey's shield below), two key roles that Wolsey held. However, the Christ Church epistle-lectionary does not include the arms of Winchester, only the arms of York. Wolsey only started to hold Winchester in commendam in 1529, so our book must have been produced in or after that date; whilst the lack of Winchester arms on the Christ Church lectionary suggests that it was produced earlier, probably in 1528 (as that date is inscribed in one of the margins). This means that they both date to the very last years before his fall from grace and death in 1530. The Christ Church epistle-lectionary also includes the Royal arms whilst our gospel-lectionary does not, suggesting that in 1528 Wolsey believed it was possible for him to retain/regain his position and friendship with the King, but by the time our lectionary was made he saw that his days as Lord Chancellor were past.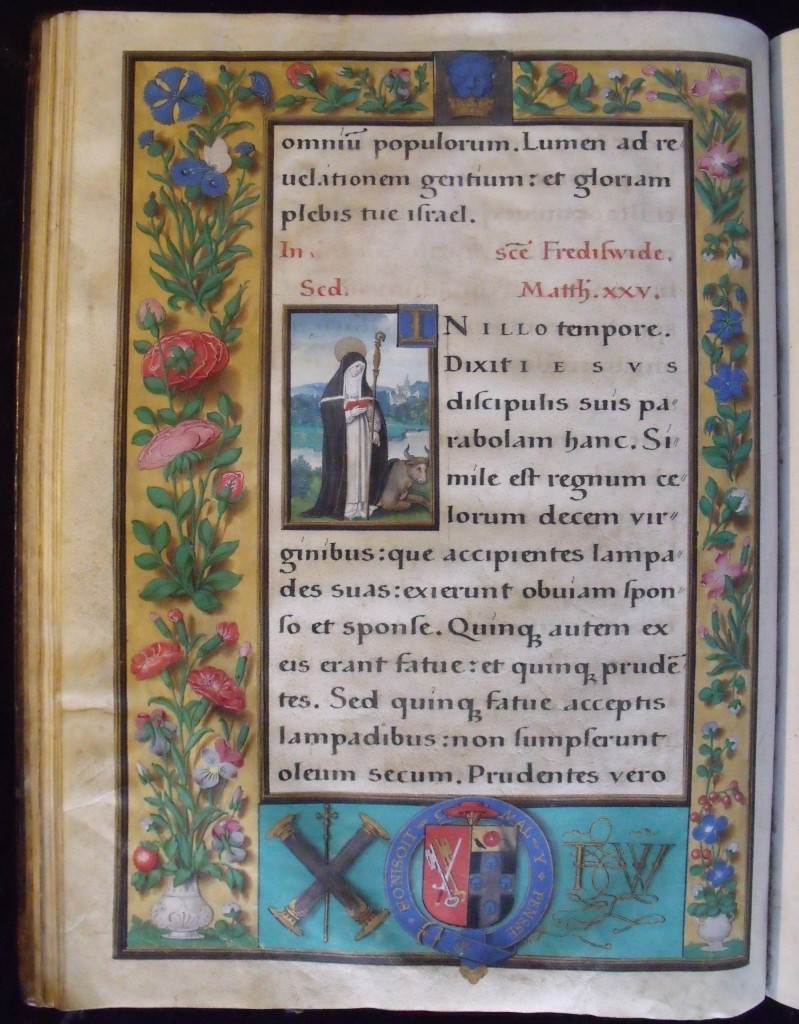 Both this book and the matching epistle-lectionary were created by the scribe Pieter Meghen (1466–1540), a one-eyed Dutch scribe who was a favourite of Erasmus and Henry VIII. As Catholic liturgical manuscripts, produced in England by a Dutch scribe using an Italian humanist bookhand, and illuminated in a Flemish style by an unknown artist (known as the 'Master of Cardinal Wolsey'), they are a powerful symbol of the late-Renaissance trans-continental culture that was being transformed dramatically by the Protestant Reformation, even whilst they were being created. The effects of the Reformation probably explains the defacing of St. Peter's mitre in the image of St. Peter and St. Paul below, a symbolic attack on the Catholic representation of St. Peter as the first in an unbroken line of Popes.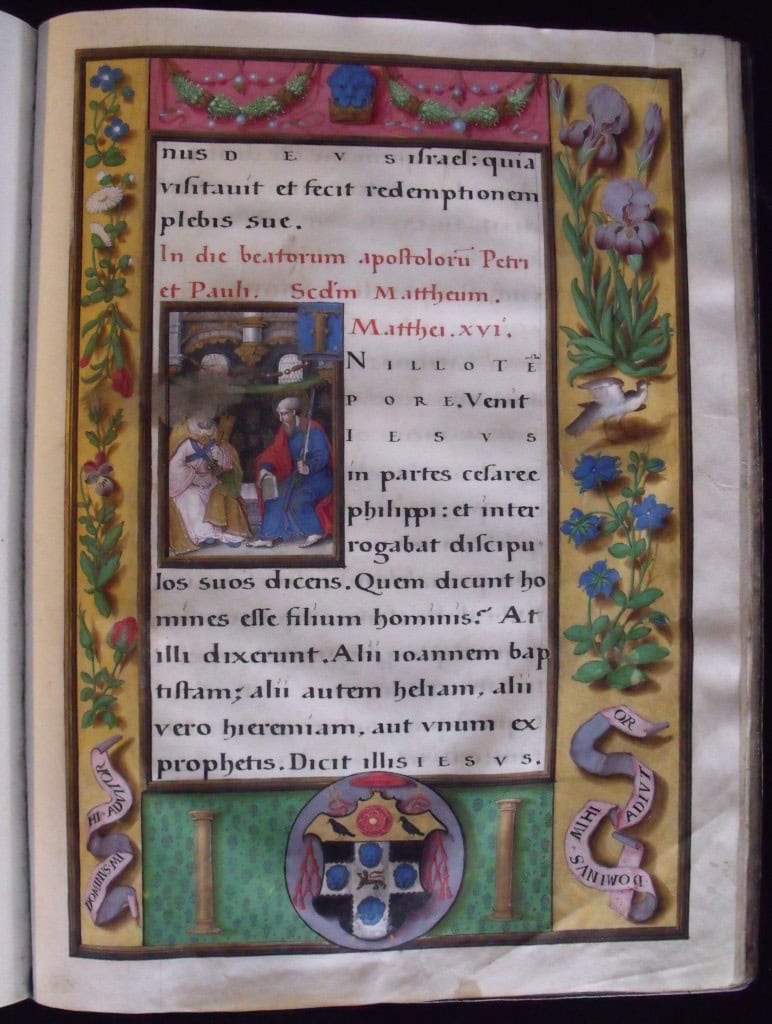 Wolsey died a traitor, with an act of attainder against him, meaning that all of his property then belonged to the King. When Henry Percy, Earl of Northumberland, arrested Cardinal Wolsey he took an inventory of his residence, Cawood Castle. In this he noted 'Oxford stuff belonging to the chapel', which included a number of service books; among these were '2 written parchment mass books, clasped with silver, one covered with crimson, the other with black velvet'. It is possible that this pair of lectionaries were those books, and that they then travelled to the Royal Library where a paired set of lectionaries, each with silver and gilt work weighing about twenty pounds, were kept with royal treasures and appeared in accounts of 1532 and 1547. If so, at some point they must have been stripped of their expensive bindings and rebound, as our lectionary is now bound in leather with a gilt royal binding stamp and fleurs-de-lis (associated with the 'King Edward and Queen Mary Binder').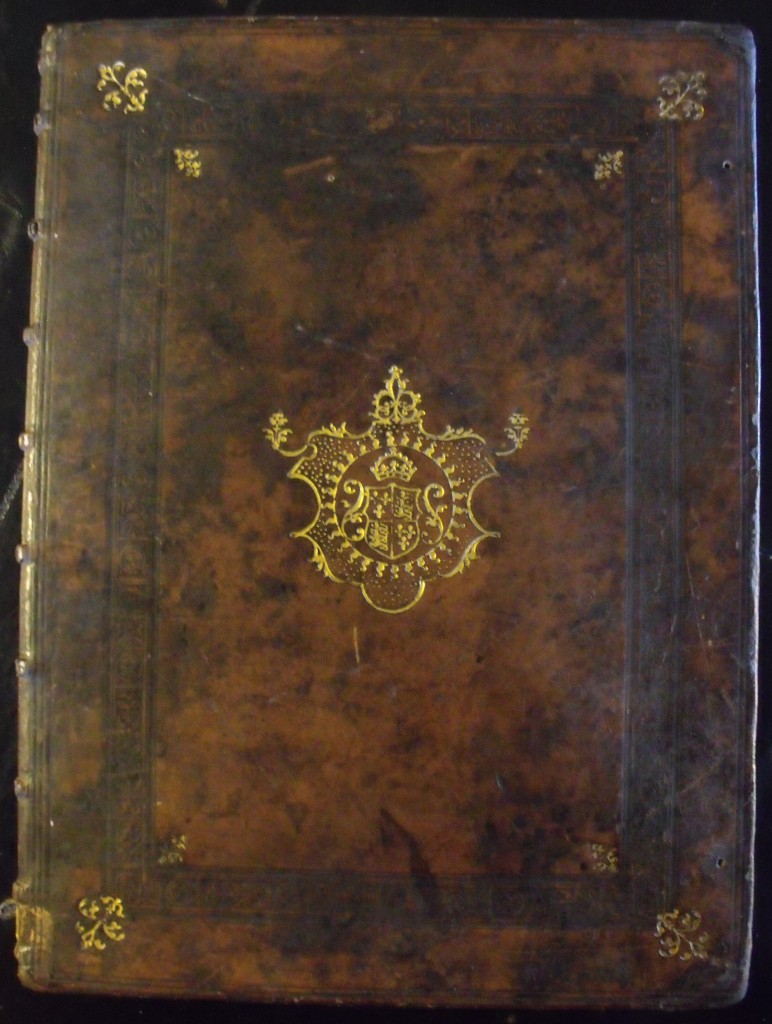 At some point both lectionaries left the Royal Library. It is not clear precisely when this happened, although it may have been in 1551 when the Council ordered that the King's Library should be purged 'of all superstitiouse bookes, as masse bookes, legendes, and suche like'. Another theory is that Queen Mary gave one or both to Winchester, possibly during her wedding there in 1554. Our gospel-lectionary was almost certainly in Winchester by 1556, as on the front pastedown is a copy in secretary hand of the statement of oath taken by Sir Thomas White as proxy for his brother-in-law John White, at John's enthronement as Bishop of Winchester, in 1556: 'Ego T W legum doctor exhibeo procuratorium meum pro reuerendo patre et domino domino Iohanne Wintonienci episcopo moderno . . .' John White was the last Catholic Bishop of Winchester, a post that has loomed large at Magdalen: our founder William Waynflete was Bishop of Winchester; as was St. Swithun (who we have a quad named after); it was the final appointment of our alumnus Wolsey, the original owner of this lectionary; and the Bishop of Winchester is the Visitor of the College.

Christ Church knows that their epistle-lectionary was donated to them in 1614, the gift of their former chorister and fellow, John Lante. Sadly it is not entirely clear how or when our gospel-lectionary came to Magdalen. The only clue is an inscription on the 1st flyleaf: 'Samuel Cappington'. The Chappington family were organ-makers from Devon, who had associations with Winchester. A John Chappington (c.1540–1606) appears in Magdalen College's accounts for 1597, paid £33 13s. 8d. for constructing the Chapel's organ. This family is possibly the link to how the book ended up travelling from Winchester to Magdalen, and becoming one of the stars of our collections. Interestingly, the Christ Church donor John Lante was executor of John Chappington's will, so it is possible that the pair remained together from the Royal Library to Winchester, and then from Winchester to the Chappington family, before being split between Wolsey's alma mater and the college that he founded.

If you are interested in finding out more about this matching pair of lectionaries, the illustrations of the pair are discussed in Illuminating the Renaissance: the Triumph of Flemish Manuscript Printing in Europe by Thomas Kren and Scot McKendrick (Los Angeles : Getty, 2003) pp.503–508, accessible online via Google Books here.
If you want to see more pictures of manuscripts from Magdalen College with fabulous illustrations, last year's Christmas Treasure looked at our collection of Books of Hours.