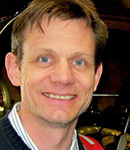 Professor Robin Cleveland
Subject: Engineering
Department: Engineering Science
College appointment: Tutorial Fellow
Officer: Website Officer, Access Fellow
Background
Professor Cleveland grew up in Rotorua, New Zealand and studied Physics at the University of Auckland where he obtained the BSc and MSc degrees. He then went to the University of Texas at Austin, USA where he received a PhD degree in Mechanical Engineering working on the propagation of sonic booms from supersonic aircraft. This was followed by a two year post-doctoral fellowship at the University of Washington in Seattle where he research shock waves for biomedical applications. He then spent 14 years in the Department of Mechanical Engineering at Boston University teaching and carrying out research in sound waves. He joined Magdalen College in 2011. He is a Fellow of the Acoustical Society of America and an Associate Editor of Journal of the Acoustical Society of America. In 2013 he was given the Knobbly Knees Award by Mary Berry at the Cuddington Summer Fete.
Teaching
Professor Cleveland is a tutorial fellow in Engineering Science and in college mainly gives tutorials in fluid mechanics and thermodynamics. Tutorials are held either in groups of 2-3 students or with the whole year group, typically 5-6. At the post-graduate level he teaches courses in ultrasonics.
Research Interests
Professor Cleveland carries out research in nonlinear acoustics with a particular emphasis on biomedical applications. Current area of research include: shock wave lithotripsy (breaking of kidney stones by shock waves), high-intensity focused ultrasound for destroying tumours in the body, and the combination of electromagnetic and acoustic waves for imaging in the body.
Selected Publications
L. E. Goldstein, A. M. Fisher, C. A. Tagge, X.-L. Zhang, L. Velisek, J. A. Sullivan, C. Upreti, J.M. Kracht, M. Ericsson, M. Wojnarowicz, C. J. Goletiani, G. M. Maglakelidze, N. Casey, J. A. Moncaster, O Minaeva, R.D. Moir, C.J. Nowinski, R.A. Stern, R.C. Cantu, J. Geiling, J. K. Blusztajn, B. L. Wolozin, T. Ikezu, T.D. Stein, A.E. Budson, N.W. Kowall, D. Chargin, A. Sharon, S. Saman, G.F. Hall, W.C. Moss, R. O. Cleveland, R. E. Tanzi, P. K. Stanton, A, C. McKee "Chronic Traumatic Encephalopathy in Blast-Exposed Military Veterans and a Blast Neurotrauma Mouse Model," Science Translational Medicine 4(134):1—16 (2012).
Y. Park, A.C. Luce, R.D. Whitaker, B. Amin, M. Cabodi, R.J, Nap, I Szleifer, R.O. Cleveland, J.O. Nagy J.Y. Wong, "Tunable diacetylene polymerized shell microbubbles as ultrasound contrast agents," Langmuir 28: 3766−3772 (2012).
J. J. Rassweiler, T. Knoll, Kai-Uwe Köhrmann, J. A. McAteer, J. E. Lingeman, R. O. Cleveland, M. R. Bailey, C. Chaussy, "Shock wave technology and application – an update," Eur. Urol. 59:784-796 (2011).
P. Lai, J. R. McLaughlan, A. B. Draudt, T. W. Murray, R.O. Cleveland and R. A. Roy, "Real time monitoring of high intensity focused ultrasound lesion formation using acousto-optic sensing" Ultrasound. Med in Biol, 37: 239-252 (2011).