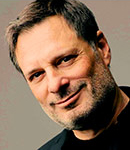 Professor Laurence Dreyfus
College appointment: Emeritus Fellow
Background
Laurence Dreyfus grew up near Philadelphia (USA) and studied cello at the Juilliard School (New York), viola da gamba at the Royal Conservatoire (Brussels), and musicology at Columbia University (New York) which he took his PhD. He taught at leading North American universities, including Yale, the University of Chicago and Stanford before coming to Britain in 1992 to take up a Chair in Performance Studies at King's College London in association with the Royal Academy of Music. In 2005 he joined Magdalen to become a Tutorial Fellow in Music. His world-renowned viol consort Phantasm has been consort-in-residence at Magdalen since 2010 where they teach students the viol, make award-winning recordings and collaborate with Magdalen College Choir. Dreyfus been an Honorary Member of the Royal Academy of Music since 1995 and a Fellow of the British Academy since 2002. He was awarded the DLitt (Oxon) in 2013. He retired from Magdalen College in 2015.
Research Interests
Dreyfus is internationally recognised as a leading interpreter of JS Bach, with two books to his credit, one on historical performance practice, the other on the historically informed analysis of Bach's music. More recently, he has written on Richard Wagner, and research from his book on Wagner and musical eroticism has figured on programmes heard on BBC Radio 3 and 4 as well as on German television channels 3SAT and the Franco-German Arte. Dreyfus's practice-based research is connected to his activities as a performer of Early Music, in particular as director of Phantasm, who have issued 15 CD recordings and continue to explore the rich tradition of instrumental chamber music in 16th- and 17th-century England, from William Byrd to Henry Purcell. Phantasm has been named early music ensemble in residence in the Wigmore Hall for the 2016/2017 concert season. Dreyfus also writes on the interaction of historical research with musical performance, and the role of conceptual metaphors in musical experience.
Selected Publications
Books
Bach's Continuo Group: Players and Practices in His Vocal Works. Harvard University Press, 1987.
Bach and the Patterns of Invention. Harvard University Press, 1996
Wagner and the Erotic Impulse. Harvard University Press, 2010.
Articles
Early Music Defended against its Devotees: A Theory of Historical Performance in the Twentieth Century. The Musical Quarterly 69 (1983), 297-322.
Hermann Levi's shame and Parsifal's guilt: A critique of essentialism in biography and criticism. Cambridge Opera Journal 6:2 (1994), 125-145
Beyond the Interpretation of Music, Dutch Journal of Music Theory – Tijdsc 12:3 (2007), 253-272.
Siegfried's Masculinity, The Wagner Journal 4/3 (November, 2010), 4-26.
The Triumph of 'Instrumental Melody': Aspects of Musical Poetics in Bach's St. John Passion in Bach Perspectives 8: Bach and the Oratorio Tradition (University of Illinois Press, 2011), 96-121.
Allusive representations: homoerotics in Wagner's Tristan in Representation and Meaning in Western Music (Cambridge University Press, 2013)
Sunk in the Mystic Abyss: Wagner's 'Choral' Orchestra in Choruses: Ancient and Modern (Oxford University Press, 2013), 225-42.
Recordings
Johann Sebastian Bach. Sonatas for Viola da gamba and Harpsichord, BWV 1027-1029 (Simax PCD 1024, 1986)
Jean-Philippe Rameau, Pièces de clavecin en concert (Simax PCS 1095, 1993)
Sylvia McNair, The echoing Air: Music of Henry Purcell with Christopher Hogwood, harpsichord, Paul O'Dette, archlute, and Laurence Dreyfus, cello and viola da gamba (Philips 446 081-2, 1995) Winner of the 1995 Grammy Award for the Best Classical Vocal Recording
Henry Purcell. The Complete Fantasias for Viols. Phantasm (Simax PSC 1124, 1996) Winner of the 1997 Gramophone Award – Best Baroque Recording. Diapason d'Or (April 2003). Choc du Monde de la Musique (April 2003).
Orlando Gibbons, Consorts for Viols, Phantasm (AVIE AV 0032, 2004) 2004 Gramophone Award Winner, finalist Gramophone Record of the Year
William Byrd, Complete Consort Music, Phantasm Linn Records CKD372, 2011). Diapason d'or (July 2011); BBC Music Magazine CD of the Month, (August 2011); Gramophone Editor's Choice (September 2011), Gramophone Award Nomination (2011), Nomination for International Classical Music Award (2012)
William Lawes, Consorts to the Organ, Phantasm, with Daniel Hyde, organ (Linn Records CKD399, 2012) Chamber Music Choice (September 2012) BBC Music Magazine, BBC Music Magazine Award Nomination (January 2013)