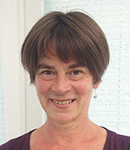 Mrs Louise Robson
Department: Tutorial Office
College appointment: Tutorial Administator
Background
Assistant Registrar at the Council for National Academic Awards and then City University, London.
Role in the College
I work part-time (three days a week) giving support to the Academic Administrator and Senior Tutor. Primarily my role covers:
administration of the tutorial system, primarily through TMS
undertaking right to work checks of students employed as Graduate tutors, Graduate invigilators, Undergraduate Admissions helpers and Open Day helpers
monitoring the hours of work of visa-holding graduates employed by the College
room bookings for academic purposes during term time
co-ordination of vacation study grant applications and claims from undergraduates
administration related to academic reporting of graduates on GSR and overseeing the College Adviser system
monitoring attendance of overseas undergraduates
administration of Freshers' paperwork
organisation of Freshers' dinners, Tuesday night dinners at High Table for new graduates and the Tutor for Graduates' summer garden party.