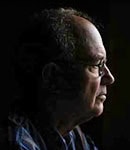 Mr John Fuller
College appointment: Emeritus Fellow
Background
After graduating from New College in 1960 I did some research and teaching at SUNY at Buffalo, N. Y. and the University of Manchester. I was a Fellow and Tutor in English at Magdalen from 1966 to 2002, when I retired. I still have a parallel life as a poet and novelist.
Teaching and Research
In my early days I had to be ready for anything, and lectured on Shakespeare, Elizabethan fiction, Milton, Donne and Shelley. From 1970, when the Oxford English syllabus was extended, I specialised in the 19th and 20th centuries.
My first research interest was in the Augustan poets, and I have lectured and published on Pope, Gay, Philips, King and others. Latterly I have worked on modern poets, particularly W. H. Auden.
Selected publications
The Dramatic Works of John Gay (Clarendon Press, two volumes, 1983)
W. H. Auden: a commentary (Princeton University Press, and Faber & Faber,1998)
The Oxford Book of Sonnets (OUP, 2000)
Who is Ozymandias? and other puzzles in poetry (Chatto and Windus, 2011)