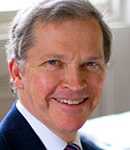 Dr Bill Ives
College appointment: Emeritus Fellow
Academic position: Organist and Informator Choristarum
Background
I was educated at King's School, Ely, where I was a cathedral chorister. I won a Choral Exhibition to Selwyn College, Cambridge, where I took a BA in Music and a Cert. Ed. During that time I studied composition with Richard Rodney Bennett.
After Cambridge I divided my time as a schoolmaster at Reed's School, Cobham, and a Lay Clerk in Guildford Cathedral Choir. During the summer holidays I directed the choir at the Edington Festival in Wiltshire. After a short period teaching at Chichester College of Further Education, I was invited to join the King's Singers as their tenor, and I sang with them for eight years.
Magdalen College Choir
For eighteen years I directed the Choir of Magdalen College where I also taught Music. During my tenure the choir made several recordings on the Harmonia Mundi label, earning a Grammy nomination for a disc of music by Orlando Gibbons. In 2001 the choir gave the première of Paul McCartney's Ecce Cor Meum (written especially for them), which was recorded on EMI and won Album of the Year at the 2007 Brit Awards. The choir also recorded film soundtracks (Shadowlands, Blue Planet, The Golden Compass) and toured Japan, America, France, Belgium and Hungary.
Compositions
Most of my compositions are of sacred choral music, but I enjoy writing and arranging in lighter styles. I have written music for several national occasions, including organ music for HM The Queen's Silver Jubilee (1977), the Canterbury Te Deum for the Enthronement of The Archbishop of Canterbury (1991), and The Gift of Grace, commissioned in 2007 by Westminster Abbey for the National Service of Commemoration for the 200th anniversary of the Abolition of Slavery.
In 2008 my work as a composer and conductor of church music was recognised with the award of a Lambeth DMus and a Fellowship of the Royal School of Church Music.
In retirement I continue to write commissions and arrangements for a variety of choirs both at home and abroad.
Selected Publications
Listen sweet dove: Royal School of Church Music, 1973
Edington Service: GoodMusic, 1973
Nova, nova: OUP, 1973
Let all the world: Novello, 1974
Jubilate: Novello, 1974
Intrada: Banks, 1977
Missa Brevis: OUP, 1987
Sit down you're rocking the boat: Novello, 1989
There is a land of pure delight: RSCM, 1993
O sacrum convivium: Encore, 1995
Missa Brevis: OUP, 1987
Faithful shepherd: RSCM, 2012
Susanni: Novello, 2012