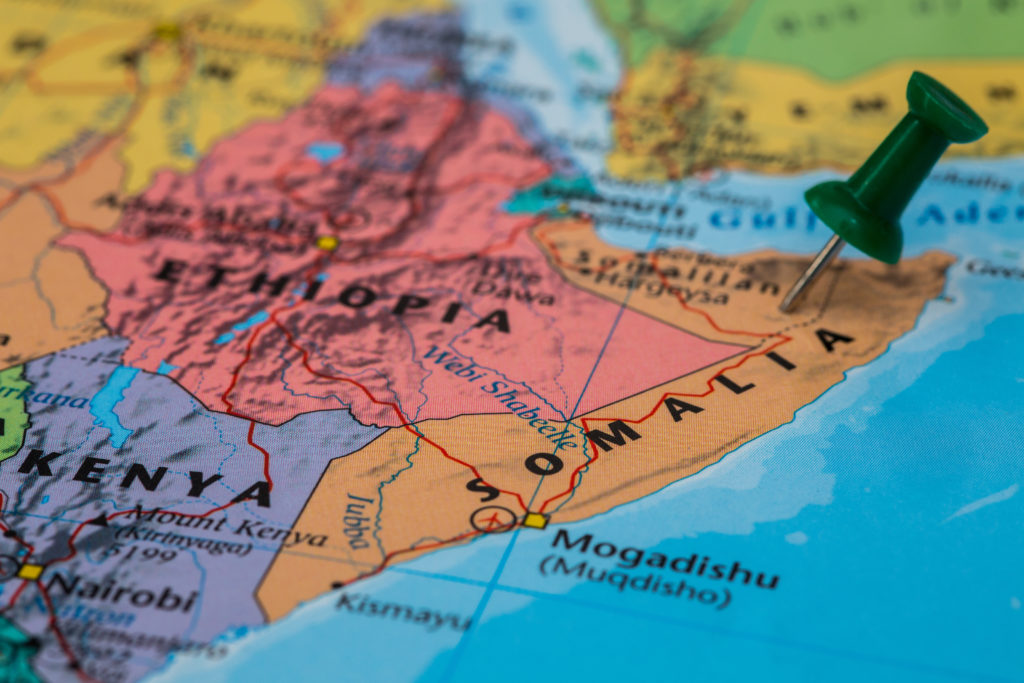 Two Magdalen DPhil students awarded quarter of a million pounds from Innovate UK to develop a renewable energy generation technology which is set to be installed in Somalia in early 2024. 
Sally Lord (2020) and Finlay Ryburn (2019) are DPhil students in the Condensed Matter Physics Department, researching novel magnetic materials for spin-wave computing applications. The pair are both experimental physicists by training and prior to this project their research had never ventured into the realms of renewable energy technologies. However, in 2020, when their laboratory was closed due to Covid, their supervisor Magdalen Fellow Professor John Gregg introduced them to his patented renewable energy generation technology.
In 2008, Professor Gregg, patented an electrical circuit which can be used to turn an induction motor into an efficient electrical generator. This electrical generator was then tried and tested in a self-made wind turbine, constructed using off-the-shelf components, with a tower designed from scaffolding poles. The resulting wind turbine design was not only cost-effective and reliable, but also optimised for off-grid applications.
After operating successfully for over a decade, Professor Gregg, along with Oxford University Innovation decided it was time for the technology to find its place in the wider world. This was the start of Sally and Finlay's involvement in the project and the birth of OxReGen.
Their first task, as interns at Oxford University Innovation, was to work out who might be interested in licensing the technology. Their initial thoughts were induction motor and wind turbine companies; induction motors form the heart of the innovation and wind turbine companies rely heavily on electrical generators. After deciding which companies to target in each sector, they implemented step one of their corporate engagement method: get the companies interested. This involved researching the companies, developing promotional material and devising personalised emails to send to all identified contacts. After two months of perfecting their opening pitch, they hit 'send' and waited for the responses. Surprisingly, the initial response to the technology was largely positive; 60% of the companies responded.
Step two of their corporate engagement method was to keep the companies interested, by pitching the technology. Sally and Finlay, alongside Professor Gregg and Oxford University Innovation, pitched to six companies, including Siemens Energy, Vestas and Nidec. Despite having multiple engaging conversations about the applications of the technology, no-one was interested in taking the conversation further. Induction motor companies did not believe the market was large enough to justify licencing the technology and wind turbine companies were not interested in replacing their own patented technologies. They OxReGen team were back to square one and the question remained: who would benefit most from this technology?
The answer that materialised was NGOs. NGOs often work in off-grid, remote settings, with limited funds for technology and they are very committed to renewable energy solutions, as they often work in areas affected by the climate crisis. After pitching to multiple NGOs, including Oxfam, Water Aid and Save the Children International, Finlay and Sally knew they had found the market niche for the technology. The only drawback was money; none of the NGOs had the necessary funds required to build a second prototype.
Fortunately for OxReGen, Mark Hawkins, the Global Humanitarian Technology Manager at Save the Children International, was not discouraged by the lack of funds available. He was quick to see the turbine's potential in providing an appealing, clean, low-cost alternative to a diesel generator and was enthusiastic to collaborate with OxReGen.
With Save the Children International on board, the next challenge was to source funding. In August 2022, almost two years after Sally and Finlay started working on the project, they submitted a grant application to the Innovate UK Energy Catalyst competition. In October 2022 they were awarded a quarter of a million pounds for the project.
The Innovate UK project is set to start in spring 2023 with a project consortium comprising of the University of Oxford, Save the Children International, and ÉireComposites. The primary aims of the project are to redesign the existing wind turbine technology, develop a compatible mini-grid system, and install the technology at medical warehouse facility situated in Garowe, Somalia. Finlay and Sally plan to travel to Somalia in May to visit the test site and will then return in early 2024 to oversee the construction of the wind turbine mini-grid system. The goal is that by April 2024 there will be a fully functional wind turbine mini-grid system in Somalia, powering medical equipment.